Gloria Bell review: Julianne Moore's performance justifies this remake's existence
Sebastián Lelio's film grants Moore a true actor's showcase, the kind she only gets once every few years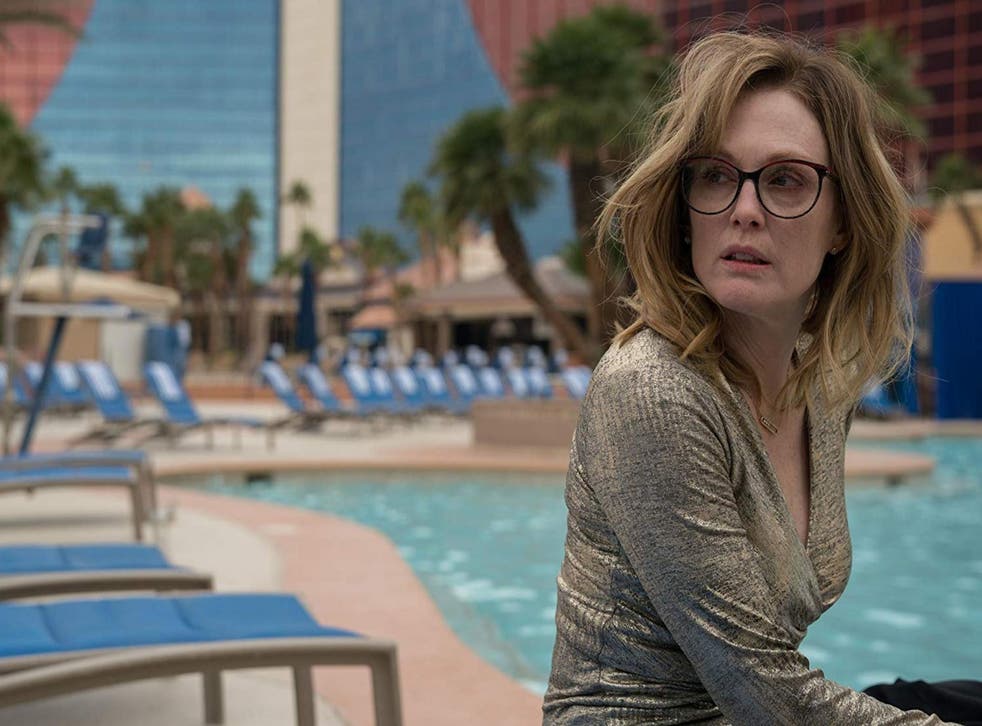 Dir: Sebastián Lelio. Starring: Julianne Moore, John Turturro, Michael Cera, Caren Pistorius, Brad Garrett, Rita Wilson. Cert 15, 101 mins
With his latest film, Chilean director Sebastián Lelio has inspired slight confusion. Gloria Bell is a beat-for-beat reimagining of his 2013 drama Gloria, with only the faintest of cosmetic changes beyond its shift from Spanish to English. But there is a depressing noteworthiness to its second life – American cinema is far less likely than its foreign counterparts to explore the stories of women in their fifties who are busy, curious and sexual – that hints at why Lelio would be interested in relocating his premise. That and the irresistible opportunity to grant Julianne Moore a true actor's showcase, the kind she only gets once every few years.
She is Gloria, an insurance worker with a zest for life and new experiences, whose most blissful moments occur in her local nightclub, where she dances like no one's watching, and flirts and mingles wherever anyone is. Her children are grown; she's been divorced long enough that she and her ex-husband are on good terms, and she's never bored – singing in her car and throwing herself into extracurricular activities. Gloria is intriguingly free of conflict, in a way we don't typically see on film, and the mood is only darkened by the arrival of a love interest. The recently divorced Arnold (played with brilliant unpredictability by John Turturro) is as sweet and exciting as he is indecipherable, morphing Gloria's life into something far more complicated than it ought to be.
Best films of 2019 (so far)

Show all 49
Gloria Bell recalls the "women's pictures" born in Hollywood's Golden Age and briefly resurrected in the 1970s – films dominated by themes of liberation, sexual desire and sense of self, with female characters navigating worlds set up to work against them. It makes the film an odd fit for today, with an often plotless, meandering quality that would be alienating if it wasn't so rich with texture. Lelio has a goldmine in Moore, but makes sure to surround her with interesting character actors who pop in, provide warmth and intrigue, and then depart.
So many narrative detours, few of which build to much, occasionally lend the film a kind of dream logic. Characters appear and disappear at will. Locations are almost unnaturally sparse. And Lelio is just as inclined to stay lodged inside of a scene of inconsequential nothingness as he is to skip forward in time with the slimmest of explanations. And its finale, a funny and cathartic exhale that justifies so much of the pain that came before it, occupies an even stranger place, playing as both fantasy and farce.
Gloria Bell is somewhat exhausting – both unbearably intimate and at a constant remove – but it is endlessly pulled back into focus by Moore, who has a firm understanding of the delicate balance between contentment and yearning, joy and pain, recklessness and spontaneity. In a remake that could have felt indulgent in the hands of people less skilled, she more than justifies its existence.
Join our new commenting forum
Join thought-provoking conversations, follow other Independent readers and see their replies