God's Pocket, film review: Philip Seymour Hoffman shines on the dark side of town
(15) John Slattery, 89 mins Starring: Christina Hendricks, Philip Seymour Hoffman, Eddie Marsan, Caleb Landry Jones
Geoffrey Macnab
Friday 08 August 2014 10:16 Comments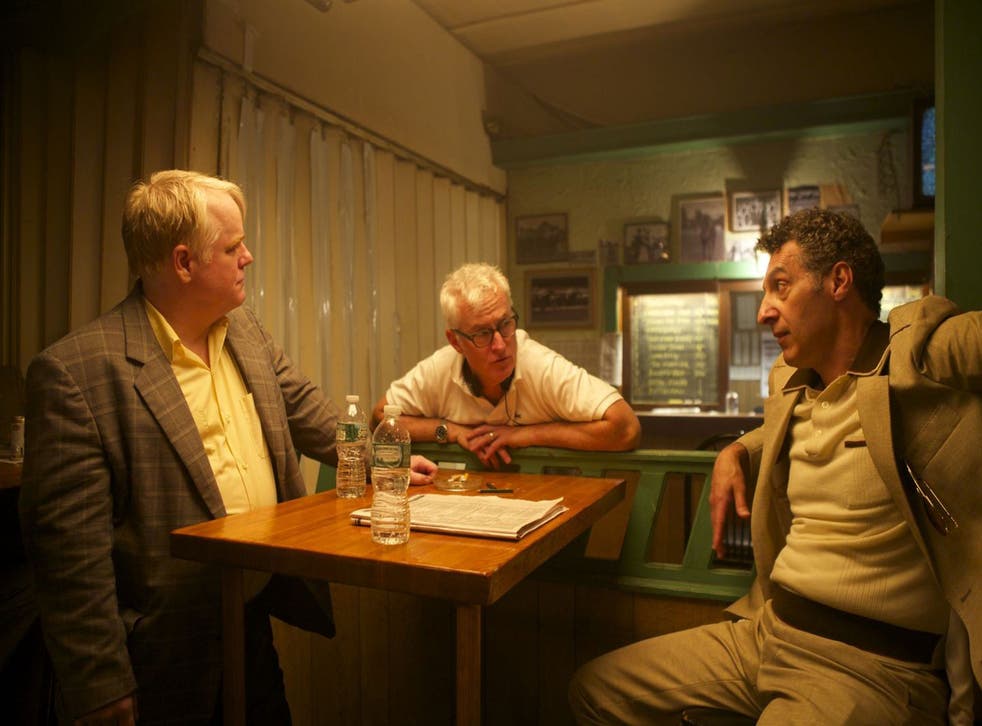 There is a long tradition of hard-drinking American newspaper columnists who write about big city street life in a romantic and comic way. From Damon Runyon to Jimmy Breslin, these writers are fascinated by violence, criminality, gambling, infidelity and family strife. They see the humour and pathos in stories that, in their basic details, are often sordid or banal. They also relish the eccentricities of types others regard as thugs, slobs and deadbeats.
God's Pocket is adapted from a novel by Pete Dexter, a former Philadelphia columnist with more than a hint of Runyon about him. The film marks the directorial debut of John Slattery, best known as the silver-haired charmer Roger Sterling in TV's Mad Men. Its cast features some of Hollywood's most redoubtable character actors, among them Philip Seymour Hoffman in one of his final appearances before his untimely death earlier this year.
Hoffman plays Mickey Scarpato, a hapless trucker, thief and would-be family man, married to Jeanie (Christina Hendricks). His performance fully underlines what made him such a distinctive screen presence. He combines menace with a doe-eyed sensitivity, a Fatty Arbuckle-like sense of slapstick with an underlying melancholy. In one typical scene, we see him threatening an undertaker (Eddie Marsan) but then switching from fury to sympathy in an instant as the two men decide to have a beer instead of fighting. Scarpato shares some similarities with the equally sleazy character Hoffman played in Sidney Lumet's Before the Devil Knows You're Dead, one of his most underrated films, in which he robbed his own parents. Hoffman knew how not to overact.
Here, whether staring forlornly at a TV screen in a bookie's as yet another of his horses fails to win or trying to pack a corpse alongside some stolen meat in the back of a truck, Hoffman keeps his equanimity. His understatement adds poignancy and humour to a role that could easily have slipped into sub-Sopranos-style caricature. It helps that he has an easy rapport with John Turturro as Mickey's best friend, Arthur "Bird" Capezio, a loud-mouthed fellow hoodlum who shares his love of gambling.
God's Pocket was given a muted reception at its premiere in Sundance, where its tonal shifts disconcerted viewers. This is at once a crime thriller, a blue-collar drama and a dark comedy. Its richness, though, lies in its idiosyncrasy. It combines quaintness with brutality. Moments of knockabout comedy are interspersed with scenes in which the characters' misery becomes evident. Slattery doesn't disguise the monotony or oppressiveness of his protagonists' lives. The squalor and violence feel far more real than they ever did in Runyon adaptations. Slattery shows a world in which a mild-mannered foreman has no compunctions about ripping out the eye of a heavy who tries to beat him up and in which even a sweet-natured, elderly florist displays psychopathic tendencies.
God's Pocket is a working-class neighbourhood in Philadelphia. The cinematographer Lance Acord shoots the film in dark, grainy fashion, as if to emphasise how tough life is for the residents. There are several scenes in the local bar, where a booze-driven bonhomie does nothing to disguise the despair of the locals.
The film begins with a funeral and then flashes back in time a few days. Jeanie's delinquent son (Scarpato's stepson) Leon (Caleb Landry Jones) is shown heading off to work on a construction site. Scarpato himself is part of a scam to steal and sell on some meat. It's a typical day of toil and low-level criminality in God's Pocket – until a death causes several lives to unravel.
Richard Shelburn (Richard Jenkins) is the local newspaper columnist assigned to report on the death. He sees himself as a supremely insightful chronicler of everyday life in God's Pocket, someone whose folksy columns capture the community in its contradictions and in its full glory. In fact, he is a sleazy alcoholic whose creative juices long since ran dry.
As a former columnist who knew what it was like to fall foul of his readers, Pete Dexter was presumably drawing on personal experience when he created Richard Shelburn. Jenkins portrays him brilliantly, capturing his seediness and self-deception – the way he hides booze in his desk and sneaks off to bars at every opportunity, even as he tells his editor he doesn't have a drink problem.
Access unlimited streaming of movies and TV shows with Amazon Prime Video Sign up now for a 30-day free trial
Sign up
God's Pocket has a double-edged perspective on its protagonists. It shows them at their best and worst. At certain points, Shelburn really does seem to be a wise, crusading journalist, standing up for the downtrodden and reporting on stories that his newspaper would otherwise ignore. Then, he'll use his influence to seduce a student or make a pass at a grieving mother.
The film is so character-based that the plot risks seeming like an afterthought. The death which causes such commotion (if not much grief) in the community isn't really a mystery at all. It simply provides an opportunity for Slattery to explore the behaviour of God's Pocket's inhabitants. Relatively minor figures are portrayed in depth. The British actor Eddie Marsan's undertaker, Smilin' Jack Moran, is cynical and manipulative – he preys on a family's grief in order to persuade them to buy an expensive casket – but he has his generous side, too. Even the adolescent who racially abuses a colleague on the building site is given scenes that suggest he is not such a bad kid at heart.
God's Pocket is dour in places. It's a downbeat yarn about mixed-up folk making a mess of their lives. Like Shelburn's columns, it is repetitive and sometimes mawkish. These, though, seem minor quibbles when set against the excellence of the cast. Slattery provides such a feast of acting that you hardly notice the creaks in the storytelling. This isn't Hoffman's final screen performance (he is also in A Most Wanted Man and The Hunger Games: Mockingjay, for which part of his performance was digitally recreated following his death) but it is one of the last occasions on which one of the great character actors of recent times can be seen working at full throttle.
Register for free to continue reading
Registration is a free and easy way to support our truly independent journalism
By registering, you will also enjoy limited access to Premium articles, exclusive newsletters, commenting, and virtual events with our leading journalists
Already have an account? sign in
Join our new commenting forum
Join thought-provoking conversations, follow other Independent readers and see their replies