Her, film review: 'Scarlett Johansson is playful and flirtatious'
Joaquin Phoenix's Theodore falls for a software package in Spike Jonze's latest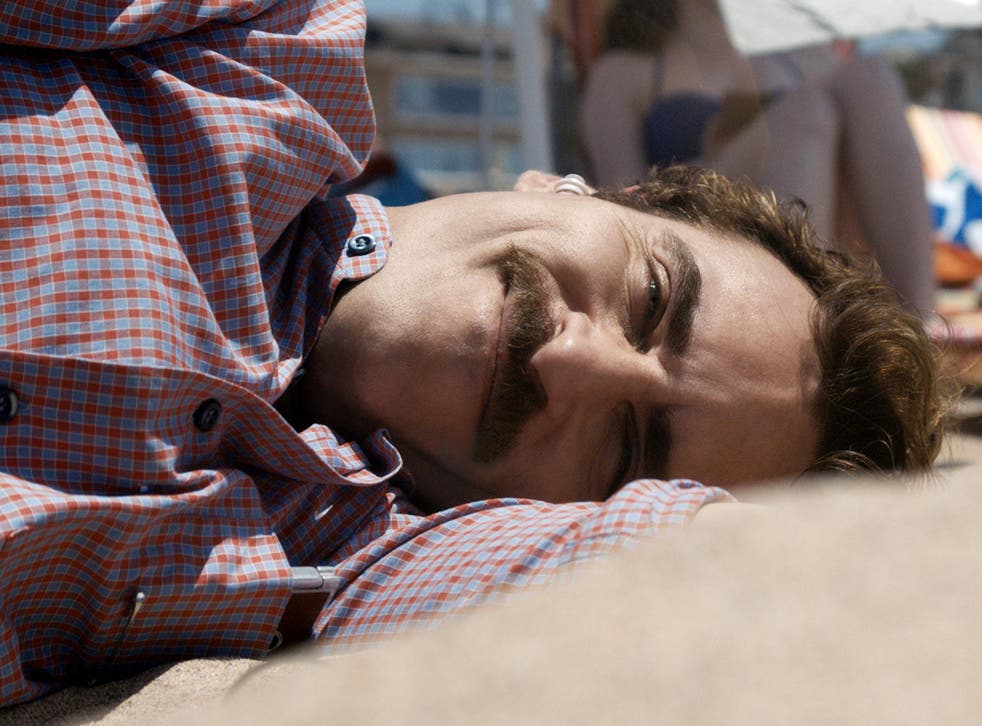 Her is billed as "a Spike Jonze love story" and is being released in time for Valentine's Day alongside a revival of Sleepless in Seattle.
We are a long way, though, from the world of Tom Hanks and Meg Ryan. What makes Her so tantalising and original is that it is as much a story about self-delusion and narcissism on the grandest scale as it is a conventional romantic comedy.
It is a sweet-natured and melancholy film, beautifully directed, that manages to be satirical about love in a digital, distracted age without losing its heartfelt quality.
The basic plot is simple enough – a man falls in love with his new computer operating system. We're in Los Angeles in the near future. Theodore Twombly (Joaquin Phoenix) is going through a divorce to his childhood sweetheart, Catherine (Rooney Mara), a successful writer. His job, at which he is extremely skilled, is writing love letters for other people.
Theodore isn't sure what he wants from life or relationships. As he puts it, in deadpan fashion, "I can't even prioritise between video games and internet porn." In one grimly funny scene, we see him having late-night phone sex with a woman (voiced by Kristen Wiig) obsessed with dead animals ("choke me with that dead cat!") .
On Her: Is mankind heading for a nervous breakdown?
On his daily commute, Theodore sneaks glimpses at intimate pictures of pregnant celebrities and listens to soulful music. His most obvious quality is his empathy. He can guess what people are feeling by their words and body language. When he buys a new software package ("Not just an operating system, it's a consciousness!"), he becomes besotted with it.
Like all the best romcoms, Her is full of witty dialogue. "Samantha," as the computer operating system calls herself, is very seductively voiced by Scarlett Johansson. She has a well-developed sense of irony that greatly appeals to Theodore. She even cracks obscene jokes and makes pornographic drawings on his tiny computer screen to entertain him. "Samantha" is as perceptive about his own moods and feelings as he is about those of the old married couples he writes about.
She seems like a person with real feelings. He knows – and we as viewers know – that her intelligence is artificial and that she has simply been programmed in a sophisticated way. But we buy into the illusion just as eagerly as he does.
There is a wonderful exchange between the lovers which sums up Jonze's skill at combining romantic elements with barbed philosophising. "You seem like a person but you're just a voice in a computer," Theodore challenges his sweetheart. She utterly disarms him with her reply: "I can understand how the limited perspective of an unartificial mind might perceive it that way," she replies.
Access unlimited streaming of movies and TV shows with Amazon Prime Video Sign up now for a 30-day free trial
Sign up
Jonze sets the film in hi-tech office blocks and apartments. The film is warmly lit by the cinematographer Hoyte van Hoytema. There is heavy use of DayGlo colours, especially orange, as if to ensure that the film does not seem too cold in spite of its minimalism and futuristic look. It helps, too, that Theodore is so delightfully played by Phoenix.
In most of his best-known roles, Phoenix has been cast as dark and mercurial characters. He was convincingly and thoroughly obnoxious as a hirsute version of "himself" in Casey Affleck's mockumentary, I'm Still Here (2010). In Her, by contrast, he brings lightness, humour and an unexpected sensitivity to Theodore. Jonze opens the film with a huge close-up of him.
He is in almost every scene but he underplays, bringing a gentle irony to his role even at the most climactic moments. Johansson came to the production late on, taking over voice work that was originally performed by the British actor Samantha Morton. She is playful and flirtatious in her delivery.
Hollywood romances are often contrived affairs, anyway. Here, Jonze foregrounds the artifice. On the one hand, what Theodore sees (or at least hears) in Samantha is a reflection of himself. She knows him inside out, from his computer hard drive and his emails. The persona she adopts is customised for him. In effect, then, Theodore is falling in love with himself.
Real life and real relationships still intrude. Dotted throughout the film are scenes in which Theodore has encounters with other women – ones who have bodies. Samantha helps vet his dates and sets him up with the beautiful, Ivy League-educated Amelia (Olivia Wilde), but he can't commit to her in the way that he does to the (non-existent) Samantha.
She has limits – for example, she doesn't like him kissing her too aggressively – and vulnerabilities that he can't adjust to. She sees him as "a creepy dude". His former wife is, likewise, withering about his inability to commit to someone "real". The one human character with whom he seems completely at ease is Amy (Amy Adams), primarily because she is so similar to him.
The human characters in Her are weak-willed, sentimental and intellectually puny by comparison with the operating systems they've become so dependent on. It wouldn't take very much tweaking to turn the film into yet another dystopian sci-fi fable about the potential perils of artificial intelligence.
That, though, isn't Jonze's way. The darker implications in his story are self-evident. Its ideas about the nature of love ("A form of socially acceptable insanity," as it is called at one stage) and relationships in the age of social media are bound to be the subject of earnest student essays for years to come. Theodore's self-obsession is apparent.
However, Her also works perfectly well as a conventional romantic drama with all the usual highs and lows, lovers' tiffs, reconciliations, outbreaks of jealousy and moments of heartbreak. The only difference – which is as big or as small as audiences want to make it – is that the object of the hero's affection isn't really there at all.
---
Join our new commenting forum
Join thought-provoking conversations, follow other Independent readers and see their replies