Inside Out, film review: Pixar's most ambitious, imaginative and adult film to date
Joy, Fear, Anger, Disgust and Sadness feature inside Riley's mind in Inside Out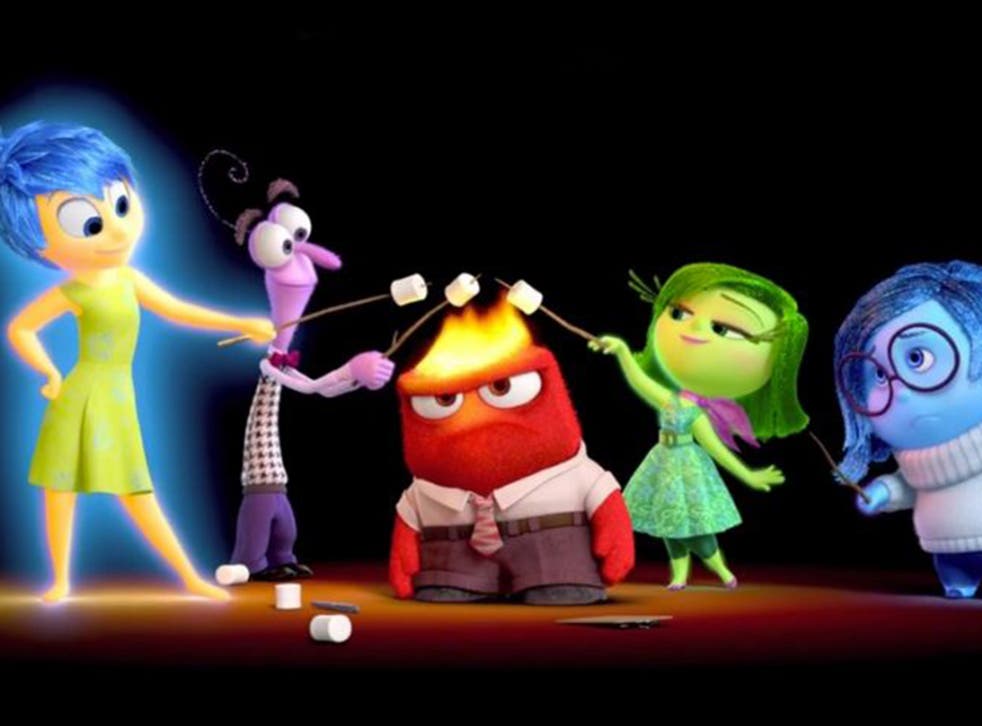 This is what I imagine a Pixar animation would be like if Alfred Hitchcock was sitting in the director's chair.
It's a connection that is tacitly acknowledged by a Vertigo-inspired film poster that appears in Dream Productions – a world that exists inside our minds, where our dreams are made on movie sets.
Pixar's most ambitious, imaginative and adult film takes a look at the emotions that control our wellbeing.
Director Pete Docter made Pixar's best (Up) and worst (Monster's, Inc.) films in the past 15 years, and Inside Out shows that he works best when dealing with more adult themes.
The whirlwind start doesn't quite match the majesty of the balloons and house flying of Up, but it launches us directly into the film's world with watchmaker efficiency. In Minnesota, moments after the birth of Riley (Kaitlyn Dias), we are introduced to Joy (Amy Poehler), the happiness emotion who inhabits a control centre inside our minds.
In her wake arrive Sadness (Phyllis Smith), Fear (Bill Hader), Disgust (Mindy Kaling) and Anger (Lewis Black). Whichever emotion is in charge controls Riley's mood, which then impacts on her memories.
Disney's empire: 25 years at the box office

Show all 8
The thought that has gone into the workings of the mind may look simple at first, but when the action jumps forward to Riley at 11, a deeper complexity emerges in a story concerning the death of childhood. Riley must deal with her first emotional trauma when her father (Kyle MacLachlan) moves the family from their leafy neighbourhood in the Mid-west to a decrepit, narrow abode in San Francisco.
Until this move Joy has largely been the leader of the pack in brain control, but as Riley deals with a new school, losing friends and understanding her father's precarious work situation, Sadness comes to the fore. What happens when joy is merged with sadness is nostalgia, and Docter brilliantly understands this is a sentiment that can afflict 11-year-olds just as much as 78-year-old Carl Fredericksen in Up.
Riley's mind is compartmentalised and we visit Dream Productions, the Dali-esque Abstract Thought, and Imagination Land, where we encounter Riley's pink, cuddly imaginary friend Bing Bong (Richard Kind).
The action has an increasingly melancholic tone as Joy has to accept that her leading role in Riley's life will henceforth be diminished. The film ends at the dawn of puberty, suggesting a sequel.
There was one major unexplained element that stuck out; occasionally we would see into the minds of the characters that Riley interacts with, and there, all the emotions belonged to the same gender as the character they inhabit.
Inside Riley there are three female and two male emotions – and given the San Francisco setting, I couldn't help but wonder if Pixar were planning on their own sexual revolution were we to see more of Riley's life. I hope so, as otherwise it would seem that this decision was made because Pixar didn't want to make a film where the six leading characters were all women, but perhaps that's why it's still Riley's father who works, whereas mum (Diane Lane) is a housewife.
Join our new commenting forum
Join thought-provoking conversations, follow other Independent readers and see their replies