Jersey Boys, movie review: 'Clint Eastwood's Broadway adaptation is a classy affair'
Film version goes beyond schmaltz and nostalgia
Geoffrey Macnab
Friday 20 June 2014 09:02 Comments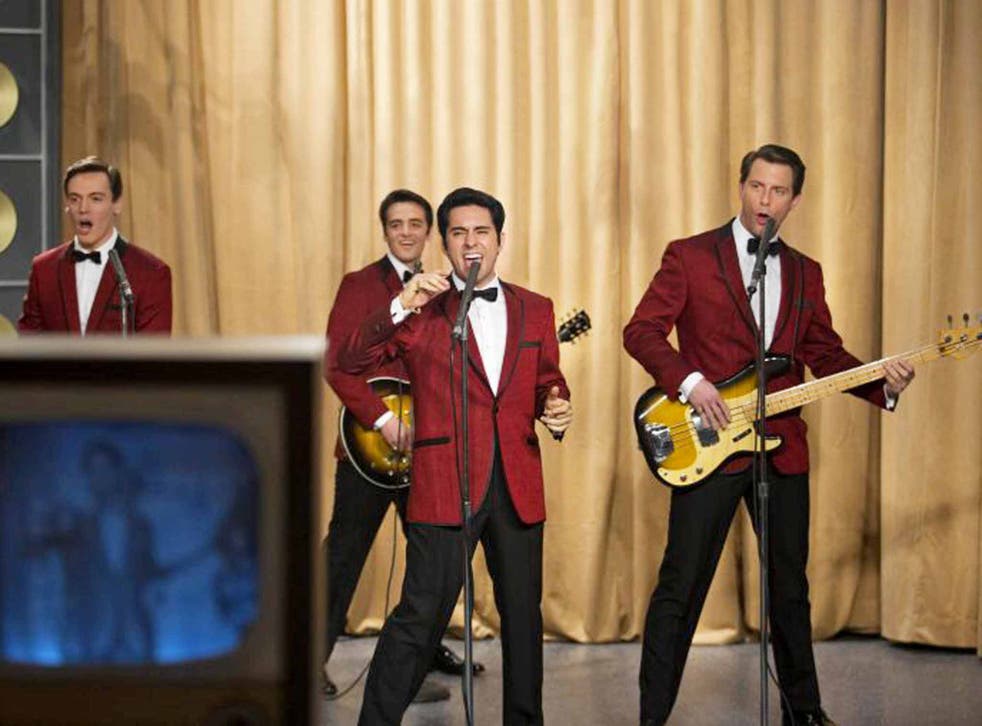 There's a wonderful scene midway through Clint Eastwood's Jersey Boys. We catch a fleeting glimpse of a rugged young cowboy on a black and white TV screen - and it turns out to be none other than Eastwood himself, in an episode of his breakthrough series Rawhide.
Eastwood makes westerns. He makes crime films and gritty dramas. We all know that he loves jazz and once directed a biopic of Charlie Parker. All that, though, is a long way from the world of Frankie Valli singing pop anthems in his high falsetto tenor in front of audiences of screaming teenage girls.
Jersey Boys is already a hugely successful Broadway musical. Eastwood's film version is a classy affair that goes beyond schmaltz and nostalgia (although it has its fair share of both of these.) One of its pleasures is its recreation of post-war America. It is shot in widescreen. The early scenes are in desaturated colours which give the sense that we really are back in the 1950s.
There are quiffs, cars with fins, and scenes set in bowling alleys but the film never lapses into Grease-like caricature. The device of having characters talk direct to camera, commentating on events in which they themselves are participating, isn't as jarring as might have been imagined. As in House Of Cards (in which Kevin Spacey's rogue politician tips the audience the wink) we become quickly become accustomed to this style of storytelling.
In early 50s New Jersey, youngsters had three chances of escaping. They could either join the army or get "mobbed up" (that's to stay, become involved in organised crime) or "become famous."
There are obvious overlaps between Jersey Boys and Goodfellas. Both are about youngsters from tight-knit Italian-American communities. One of Martin Scorsese's favourite actors, Joe Pesci, grew up alongside the future members of the Four Seasons. Portrayed here by Joseph Russo, he is the one who introduces songwriter Bob Gaudio to the other members of the band. Tommy DeVito (Vincent Piazza), the young hustler who pulls the band together, struts around like a character in a gangster movie. Everyone in the community looks up to Gyp DeCarlo (played in typically scene stealing fashion by Christopher Walken), a mobster boss who wears silk dressing gowns, perfectly tailored suits and has a strong sentimental streak. (Valli's singing brings tears to his eyes.)
The early scenes in which the band members blunder around New Jersey, eking out a living through dead end jobs in barber shops and bowling alleys, play like something out of Federico Fellini's I Vitelloni or a Damon Runyon story. The Jersey boys dream of the big time but, at least at first, they get absolutely nowhere.
Eastwood can't escape the clichéd nature of films about bands. Inevitably, there are the years of struggle. Then comes the giddy period of early fame and success. Next follow the recriminations, broken marriages and unpaid tax bills. It's at this point that the band splits up and its members tell each other they won't perform together until hell freezes over. Then, in the final reel, the band is bound to be inducted into the Rock and Roll Hall of Fame amid scenes of semi-sincere reconciliation. You can't blame the screenwriters for following a hackneyed old formula. This is simply the way that it always seems to happen.
At least, Eastwood has a sense of humour in the way he tells the story of The Four Seasons. The band's choice of name comes when they see it on a neon sign. They grumble when they discover some other musician called Vivaldi has already used it. When they are being rejected by everybody, one of the criticisms of Valli is that, yes, he has a nice voice but he "is not Neil Sedaka." We see the band members walking through New York's Brill Building, knocking on the doors of music producers and publishers and being rejected by everyone. "Not bad. Come back when you're black," the crestfallen young Italian-Americans are told by one sardonic producer. Then, after countless rejections, comes the moment of epiphany. Producer Bob Crewe realises that if he "doubles Frankie's voice," it will "explode" off the radio.
Access unlimited streaming of movies and TV shows with Amazon Prime Video Sign up now for a 30-day free trial
Sign up
Detractors have already called Jersey Boys a "jukebox movie" in which the narrative and characterisation is merely there as padding between the songs.That's unfair. The songs are very upbeat but the storytelling here has a surprisingly gloomy undertow. Success doesn't bring the band members the happiness or even the wealth that might have been expected. Valli himself (played in engaging, wide-eyed fashion by John Lloyd Young) ends up on the road, performing 200 concerts a year, estranged from his own family. At his lowest ebb, alone in a diner, he has only a cockroach for company.
The film is structured little untidily. There aren't climactic moments in which they die in a hail of bullets (as the might in a gangster film) or find true love (as they might in a romantic melodrama.) The big musical set-piece that ends the film feels forced and the make-up of the musicians as old men isn't remotely convincing.
Jersey Boys is a nostalgic film but the nostalgia isn't just about wallowing in pop songs that an older generation once savoured. The real yearning here is that of the characters for their lost youth. As in so many stories about friends from the same neighbourhood, they eventually realise that their best years were precisely when they were young delinquents dreaming of escape. This is the paradox that makes the film seem so affecting and personal in spite of its many contrivances.
Clint Eastwood, 134 mins, starring: John Lloyd Young, Vincent Piazza, Erich Bergen, Christopher Walken
Register for free to continue reading
Registration is a free and easy way to support our truly independent journalism
By registering, you will also enjoy limited access to Premium articles, exclusive newsletters, commenting, and virtual events with our leading journalists
Already have an account? sign in
Join our new commenting forum
Join thought-provoking conversations, follow other Independent readers and see their replies