Jonathan Romney on A Field in England: Once upon a time in the Civil War
Ben Wheatley's 17th-century freak-out is a cinematic rarity: a truly strange British film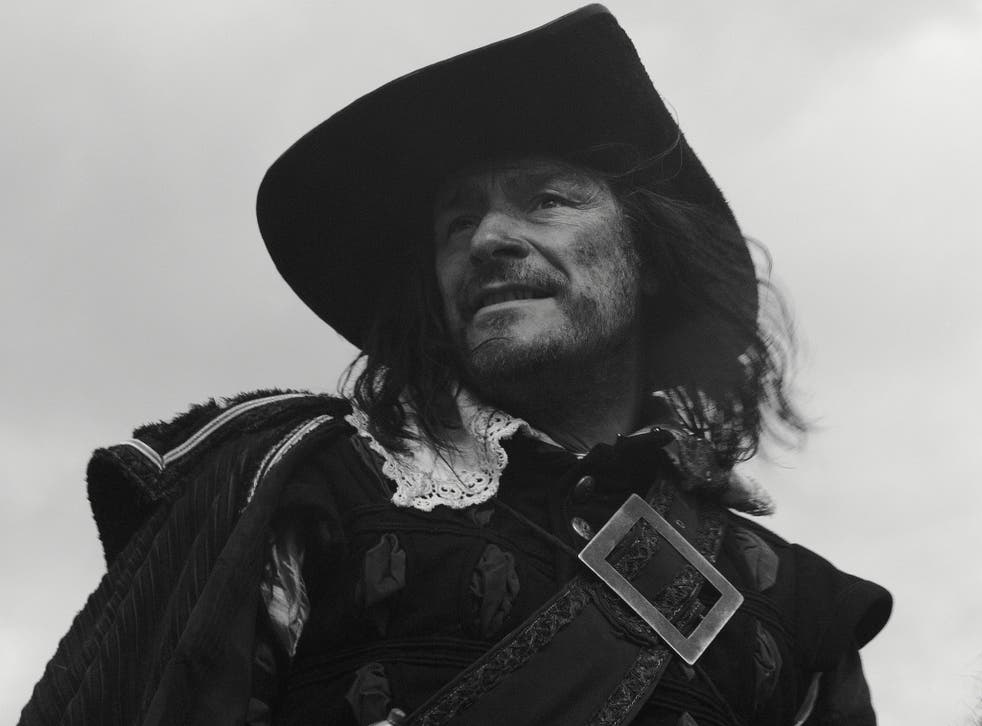 While we wait for the next film by oddball British director Ben Wheatley, entitled Freakshift, it occurs that all his films operate a freaky shift – between genres, that is. His no-budget debut Down Terrace turned from family comedy to brutal gang drama; in Kill List, a hitman thriller veered into occult horror; Sightseers slipped between sitcom domesticity and serial-killer realism. Wheatley's fourth feature A Field in England is his most unclassifiable yet, blending historical drama, 1960s psychedelia and formal experimentation. (It's also the first film ever to be released similtaneously on every platform: in cinemas, on free TV, on DVD and video-on-demand.)
Written by Wheatley's wife and regular collaborator Amy Jump, the film concerns a mysterious hidden treasure – although by the end, I was no wiser about what it was, and some may feel that A Field in England promises more of a payoff than it yields. But what makes it frustrating is also its source of fascination – for this is that hyper-rare object, a genuinely strange British film.
The story takes place during the English Civil War, on the fringes of a battle – which smoke and sound tell us is happening just off-screen, in the next field. Staggering through a hedge to what he hopes is safety, a nervous man named Whitehead (League of Gentlemen alumnus Reece Shearsmith) encounters two rough types, Cutler (Ryan Pope) and Jacob (Richard Ferdinando), and Friend, a placid mumbler (Richard Glover, in the sort of headgear usually seen on peasants in Bruegel paintings).
What happens at the start is somewhat veiled in the fog, not of war, but of frantic direction. The screenplay contains much juicy period dialogue, although the gist is often lost amid hectic cuts, drunken camera moves and the men's habit of grabbing each other by the throat. By the time things calm down, we've learned that the grandiloquent Whitehead is the servant of an alchemist, sent on an urgent mission. The group eventually encounters O'Neil (a sinister Michael Smiley), the very man Whitehead seeks. The dark arts are discussed and seemingly practised. Now and then, the characters abruptly freeze into tableaux vivants, which the camera studies, detail by detail.
Then comes a genuinely arresting moment. Something horrible happens to Whitehead inside O'Neil's tent – we can only guess what, but it causes him to scream, at nerve-racking length. Then, in a long slow- motion take, Whitehead staggers out, his face sporting a deranged rictus. It's the most terrifying special effect I've seen for ages, and all it involves is an actor grinning.
Wheatley and Jump, who co-edited the film, later ignite their big firework display. It's a frenetic "trip" sequence (enduced by mushroom guzzling), a stroboscopic pandemonium of mirror images, flash cuts, bursts of light: a sort of English outdoors version of the "Stargate" sequence in Kubrick's 2001 ....
A Field in England irresistibly sets you playing the "What if?" game. What if, instead of making Performance in 1970, Donald Cammell and Nic Roeg had dramatised the Battle of Naseby from the same hallucinatory perspective? What if Sergio Leone had had to shoot his Westerns for two bob in rainy Surrey? As befits the title, A Field in England suggests the ghosts of many films clustered in a baleful meadow: e.g. the revered Witchfinder General, with a dash of shamanistic screwball auteur Alejandro Jodorowsky and echoes of the wild fringes of UK ruralism, such as Andrew Kötting's mud-steeped This Filthy Earth.
The narrative never quite comes into focus, and I suspect was never intended to. The sharpest moments of clarity come from Jump's dialogue – notably, a deliciously perverse confession from Friend, or one-liners such as: "Last thing I 'et was a stoat – Welsh one at that." Alongside the furious visual panache and the ominous, often abstract beauty of Laurie Rose's black-and-white photography, one of the film's most striking qualities is its address to our ears. In Martin Pavey's sound design, everything floats unmoored, dialogue has the same sonic status as the wind or the eerie music (martial drums, electronic noise, the delicate folk ballad that Friend sings).
What impresses about all Wheatley's features is their provisional, playful nature, more like punk singles than polished albums. Flawed as it is, A Field in England is some achievement, drumming up an earthly inferno out of next to nothing – dirt and wind, a patch of land, some blokes with scraggy beards. The result, in a minor-key fashion, is a blast – Apocalypse Now among the hedgerows.
Access unlimited streaming of movies and TV shows with Amazon Prime Video Sign up now for a 30-day free trial
Sign up
ALSO SHOWING
Paradise: Faith (113 mins, 18)
The second in Austrian director Ulrich Seidl's interlocking Paradise trilogy (the third is out next month) tells the story of a devout Catholic hospital worker (Maria Hofstätter) who clashes with her paraplegic Muslim husband following his return home after two years away.
Bula Quo! (90 mins, PG)
It's the Spinal Tap of action movies: a high-octane thrill ride that celebrates Status Quo's 50th anniversary and imagines the band's Rick Parfitt and Francis Rossi on the run from a murderous Fijian gambling ring. The cast also includes Craig Fairbrass, aka "Dirty Dan" from Eastenders and Jon Lovitz, naturally.
Pussy Riot: A Punk Prayer (88 mins, 18)
Documentary about the Russian feminist punk collective cum protest movement figureheads.
Hugh Montgomery
NEXT WEEK It's monsters vs robots in Guillermo del Toro's Pacific Rim
Register for free to continue reading
Registration is a free and easy way to support our truly independent journalism
By registering, you will also enjoy limited access to Premium articles, exclusive newsletters, commenting, and virtual events with our leading journalists
Already have an account? sign in
Register for free to continue reading
Registration is a free and easy way to support our truly independent journalism
By registering, you will also enjoy limited access to Premium articles, exclusive newsletters, commenting, and virtual events with our leading journalists
Already have an account? sign in
Join our new commenting forum
Join thought-provoking conversations, follow other Independent readers and see their replies