Kingsman: The Golden Circle film review: 'A gilded hamster wheel of a movie'
This film is packed with explosions, chases and visual spectacle. It is often quite witty too in its own tongue-in-cheek and macabre fashion
Geoffrey Macnab
Thursday 21 September 2017 10:21 Comments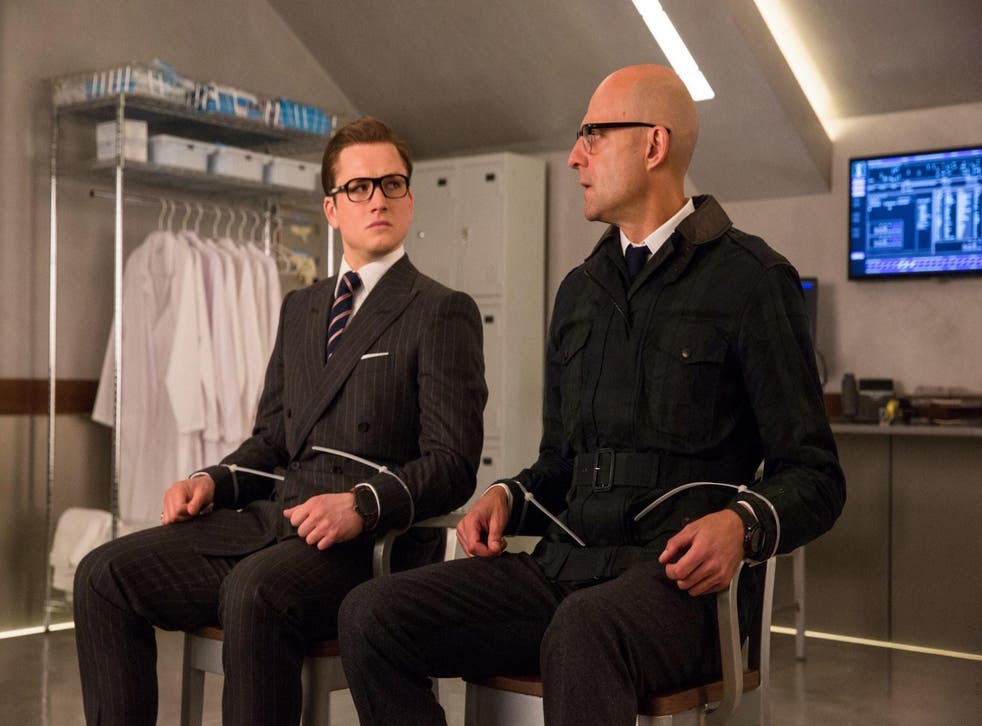 Dir: Matthew Vaughn, 140 mins, starring: Taron Egerton, Colin Firth, Mark Strong, Channing Tatum, Halle Berry, Pedro Pascal, Julianne Moore, Jeff Bridges
Matthew Vaughn loves his gadgets. Spy sequel Kingsman: The Golden Circle is full of them. X-ray spectacles, umbrellas that act as weapon shields, "alpha gel" that miraculously preserves characters you think have been shot dead, London taxis with technology that puts Apollo skyrockets to shame, robotic attack dogs and prosthetic arms are all thrown into the mix. In James Bond movies, Q provides 007 with one or two gizmos. The problem here is that the film is absolutely bulging with them. There is a new toy or piece of hardware or software for every new scene.
Vaughn also has a fetishistic obsession with tailoring: with the suits, ties, watches, boots and shoes the male characters in particular wear. The preoccupation with style gets in the way of the storytelling. He has a formidable cast here including several Oscar winners (Julianne Moore, Colin Firth and Jeff Bridges) but all of them are only allowed to give the most cartoonish of performances.
You can't fault the stunts. As an action movie, The Golden Circle passes muster. It is packed with explosions, chases and visual spectacle. It is often quite witty too in its own tongue-in-cheek and macabre fashion. The evil villainess Poppy Adams (Moore) likes to put her enemies through the mincing machine and turn them into hamburgers. She has kidnapped Sir Elton John (played by himself) and is keeping him in captivity deep in the jungle, where she has built her own compound in the shape of an old American shopping mall. (It has cinemas, fast-food joints and lots of fluorescent lighting.)
Sir Elton doesn't get much in the way of meaty dialogue but we do see him at the piano from time to time and when one of the heroes asks for tickets to a concert, he replies in magnificently camp fashion: "Darling, if you save the world, you can have a backstage pass!"
Trailer- Kingsman: The Golden Circle
The British filmmakers are keen to show off their patriotic credentials. That much is obvious from the car chase/fight sequence which opens the movie. We're plunged straight into the action. Eggsy, the youngster from the council estate who was turned Pygmalion-style into a super-suave spy in the first film, is caught up in a vicious fight with his nemesis Charlie Hesketh (Edward Holcroft), in the back of a black cab. Vaughn stages the scene as if it is the chariot race in Ben-Hur but set in Piccadilly and around Hyde Park Corner rather than in a Roman amphitheatre. Vaughn and his collaborators are doing their part for the export drive. It's hard not to admire the shameless way that even at the most fraught moments, the filmmakers manage to showcase the best of British.
Eggsy (again engagingly played by Taron Egerton) remains remarkably cheerful in the face of setbacks which would floor a lesser spy. He is advised early on that there is "no room for emotion" when you're working as a Kingsman agent. Whether a pet dog dies, a best friend is killed, he is covered in sewage or his beloved but skittish Scandinavian princess girlfriend (Hanna Alstrom) threatens to leave him, he always keeps calm and carries on.
There are continual and often very disorienting switches in location. After the explosive London-set opening, we're quickly whisked away to Kentucky where a sister organisation to Kingsman called Statesman is run from a bourbon distillery. Kingsman's most cerebral operative Merlin (Mark Strong) is very sniffy about the local brew, much preferring single malt from his native Scotland.
Statesman is presided over by the gun-waving Tequila (Channing Tatum in Magic Mike groove), the stetson-wearing patriarch Champagne (Jeff Bridges), the brilliant analyst Ginger Ale (an underused Halle Berry), who would far rather be an agent in the field, and the whip-cracking Whiskey (Pedro Pascal, from Game Of Thrones and Narcos).
Access unlimited streaming of movies and TV shows with Amazon Prime Video Sign up now for a 30-day free trial
Sign up
From Kentucky, we're taken back to Britain for an excruciating Ab Fab-like sequence set, for no very good reason, at the Glastonbury Festival. Eggsy has to seduce It Girl Clara (Poppy Delevigne) in order to plant a tracking device deep within her. Other random stop-offs include the Alps (an excuse for a dizzying cable car scene and a few nods in the direction of On Her Majesty's Secret Service) and Cambodia, where drug baroness Poppy is hiding out. She comes up with a ludicrous idea for holding the world to ransom by contaminating drug supplies. Anybody who touches the wrong kind of cannabis or cocaine comes out in blue splotches, becomes manic, paralysed and then dies. Poppy is the only one who has the antidote.
To anyone who saw the first film, the presence of Colin Firth's Harry is disconcerting. It feels like cheating on a Bobby Ewing-like scale to bring him back from the dead. As first encountered here, he has lost much of his memory and has a strange obsession with butterflies – but he's still as dapper as ever.
Just as in the original movie, the filmmakers are absolutely relentless. When one action set-piece falls flat, they'll follow it immediately with another to distract us. Some of the visual gags (Keith Allen upside down in a sausage machine) are very funny. Others are laddish and crass in the extreme but there is never a moment to pause or reflect on what is actually going on or why. Lasting for well over two hours, this is a gilded hamster wheel of a movie. Enormous energy is expended but it still feels at the end as if the filmmakers are going around in exactly the same circles as at the beginning.
Register for free to continue reading
Registration is a free and easy way to support our truly independent journalism
By registering, you will also enjoy limited access to Premium articles, exclusive newsletters, commenting, and virtual events with our leading journalists
Already have an account? sign in
Join our new commenting forum
Join thought-provoking conversations, follow other Independent readers and see their replies