Kubo and the Two Strings, review: 'A marvellous adventure for both adults and children'
The latest from Laika Studios (Coraline, The Boxtrolls) is an enjoyable ride for all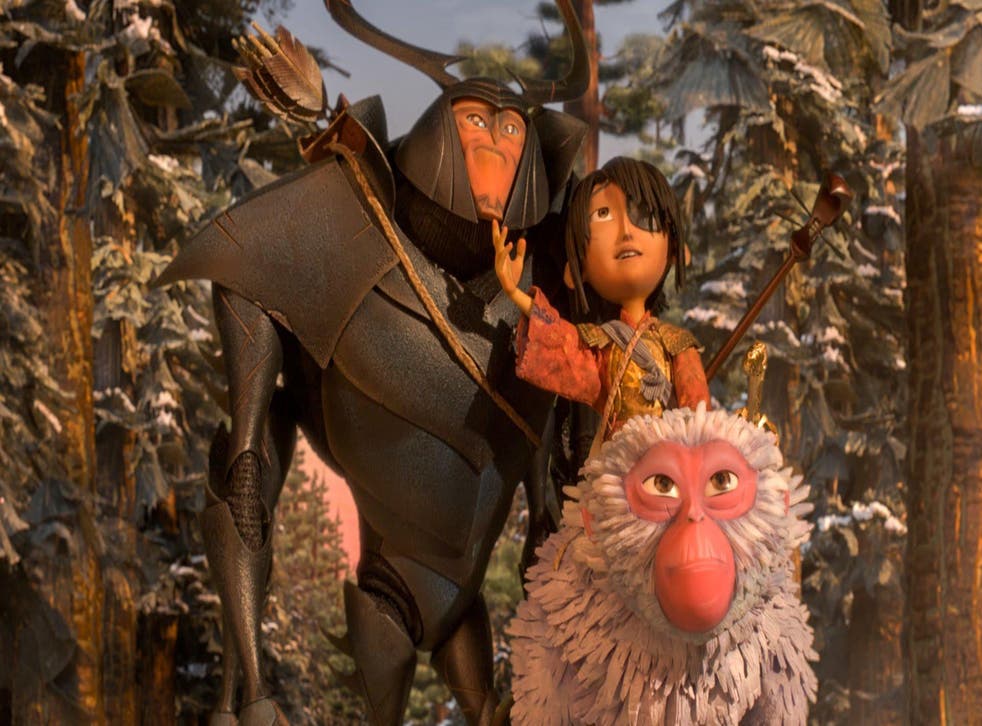 'If you must blink, do it now,' we're instructed in the opening scene of Kubo and the Two Strings, the latest animation from Laika Studios. It's a bold way to begin one's film, but then again, the stop-motion geniuses have been crafting things their own way since Coraline was released in 2009.
The dramatic gambit sees the viewer thrust directly into the tale of this eponymous creation. By day, Kubo (Game of Thrones' Art Parkinson) - inspired by his missing samurai father - entertains the townsfolk using his shamisen, a Japanese instrument possessing the ability to manipulate paper into origami shapes of his choosing.
By sundown, though, Kubo - like his missing left eye - must stay obscured, hiding in the mountains with his sick mother and a monkey charm he lays by his pillow. Why's this? Well, there are family members after his other eye, specifically eerie witchlike aunties (Rooney Mara) and malevolent grandfather, The Moon King (Ralph Fiennes).

Of course, Kubo's curiosity soon leads him beyond the realms of safety as the moon rises and his adventure is kicked into a tenser gear even Pixar would struggle to match. His world soon collides with Monkey (Charlize Theron), a straight-talking anthropomorphic version of our hero's charm, and Beetle (Matthew McConaughey), a heroic samurai long rendered an amnesiac bumbling fool by a curse; think The Lego Movie's Batman given a Cronenberg makeover.
The trio's scenes go from rip-roaring to breathless with a fluidity brought to life by the deployment of real-life puppets; with utmost care applied to every shot, the adults will be marvelling as much as the youngsters. It's to Laika's credit that director Travis Knight manages to fit Kubo's expansive mythology into the film's 102-minute running time with the skill of a seasoned gift-wrapper.
The best films of 2016 (so far)

Show all 22
While an unexpected step up from 2014 charmer The Boxtrolls, much will be spoken of Kubo's box office struggles. Ignore it; if this year's equally as enjoyable yet more commercially viable animated hit Zootropolis enabled children to enjoy cinema, Kubo and the Two Strings will allow them to fall in love with it.
Join our new commenting forum
Join thought-provoking conversations, follow other Independent readers and see their replies