Leave No Trace review: Wilderness-style folklore meets hardboiled social realism
The film could easily have seemed baffling and very pretentious if it had indulged in flights of Terrence Malick-like lyricism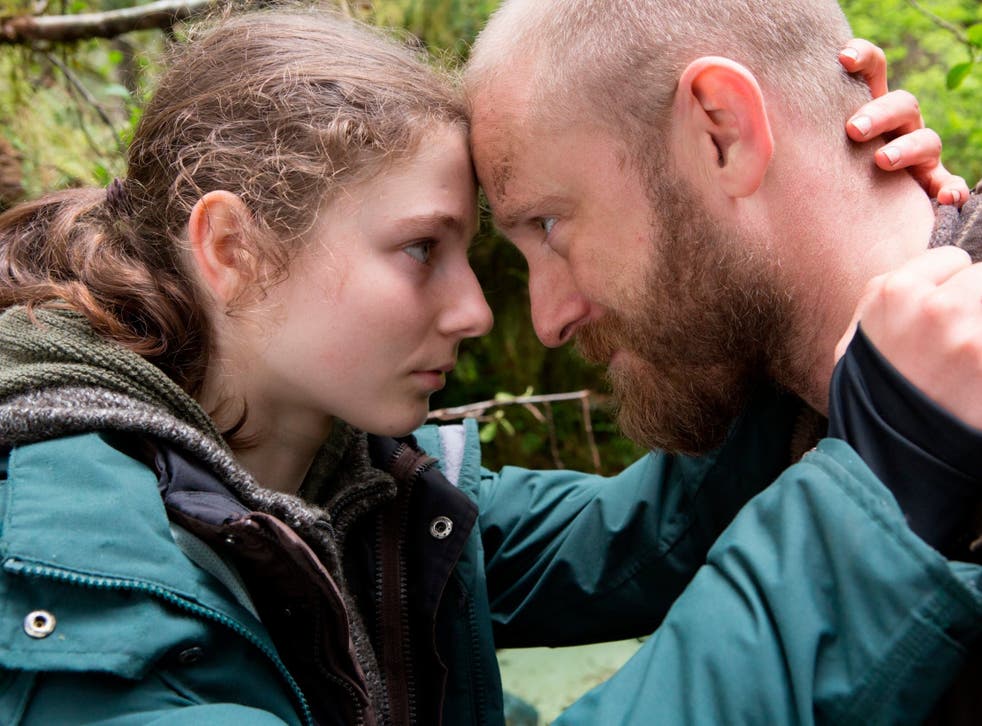 Dir, Debra Granik, 109 mins, starring: Ben Foster, Jeff Kober, Dale Dickey, Isaiah Stone, Dana Millican, Thomasin McKenzie
Leave No Trace is a subtle and enigmatic drama which straddles the line between escape to the wilderness-style folklore and hardboiled social realism. It is about a father and a daughter living deep in the forests. Director and cowriter Debra Granik (who made the similarly pared down Winter's Bone) deliberately withholds much of the background information.
We are not sure why they are hiding but the duo appear content enough in their own private Eden in the Oregon woods. The father Will (Ben Foster) has tutored his precocious teen daughter Tom (Thomasin Harcourt McKenzie). They make fires, forage for food and spend their spare time playing chess.
When they need to, they will head into town to barter for vital supplies but they are otherwise entirely separated from the rest of society.
Granik depicts the father and daughter in an ambiguous way. Their world seems idyllic. They've immersed themselves in nature and are living out a pastoral fantasy. They don't have mobile phones. They think their own thoughts. At the same time, there is a sense of threat. Will has taught Tom how to hide when the authorities come looking for them.
As viewers, we can't help but question why they are there anyway. Oblique references to Tom's mother, who appears to have died, and to Will's traumatic experiences in the armed forces hint at what drove them into the wilderness. It is unsurprising that the authorities are suspicious about an older man and an adolescent girl living in these circumstances.
After the couple are brought in from the wilds, the film briefly appears to be turning into a contemporary equivalent to those Pocahontas or Kaspar Hauser-like stories of outsiders trying to adjust to the so-called civilised world. They're lectured by a social worker and housed in a cabin on a farm where Will is set to work cutting down Christmas trees.
He can't bear the loss of privacy. Tom, by contrast, adjusts well to her new surroundings. She is independently minded enough to question why her father wants her to march off back into the freezing woods when her boots are leaking and the temperature is plummeting.
There's a wonderful Lewis Carroll-like scene in which the couple still manage to get lost even though they don't know where they are going. Tom is aware that her traumatised father is imposing his own views on her. "The same thing that is wrong with you isn't wrong with me," she protests.
Access unlimited streaming of movies and TV shows with Amazon Prime Video Sign up now for a 30-day free trial
Sign up
The brilliance of Leave No Trace lies in its understatement. The film could easily have seemed baffling and very pretentious if Granik had indulged in flights of Terrence Malick-like lyricism. Instead, she takes a much more down to earth approach.
The performances help too. Foster is the type of fiercely committed, frighteningly intense method actor who, when he plays a character with an injured leg, grimaces so much that you don't doubt for a moment the pain is agonisingly real. His character here is pulled in different directions: determined to protect his daughter at all costs but also half aware that he is depriving her of the educational and social opportunities she needs.
Granik "discovered" Jennifer Lawrence in Winter's Bone. It wouldn't be a surprise if her young female lead here, Thomasin Harcourt McKenzie, goes on to have an equally successful career. As the daughter, McKenzie shows intelligence, steeliness and a maturity that belies her age.
'Leave No Trace' hits UK cinemas 29 June
Register for free to continue reading
Registration is a free and easy way to support our truly independent journalism
By registering, you will also enjoy limited access to Premium articles, exclusive newsletters, commenting, and virtual events with our leading journalists
Already have an account? sign in
Register for free to continue reading
Registration is a free and easy way to support our truly independent journalism
By registering, you will also enjoy limited access to Premium articles, exclusive newsletters, commenting, and virtual events with our leading journalists
Already have an account? sign in
Join our new commenting forum
Join thought-provoking conversations, follow other Independent readers and see their replies