Love Is Strange, film review: Streetwise romance reveals New York's brutal side
(15) Ira Sachs, 93 mins. Starring: Alfred Molina, John Lithgow, Marisa Tomei, Charlie Tahan, Darren Burrows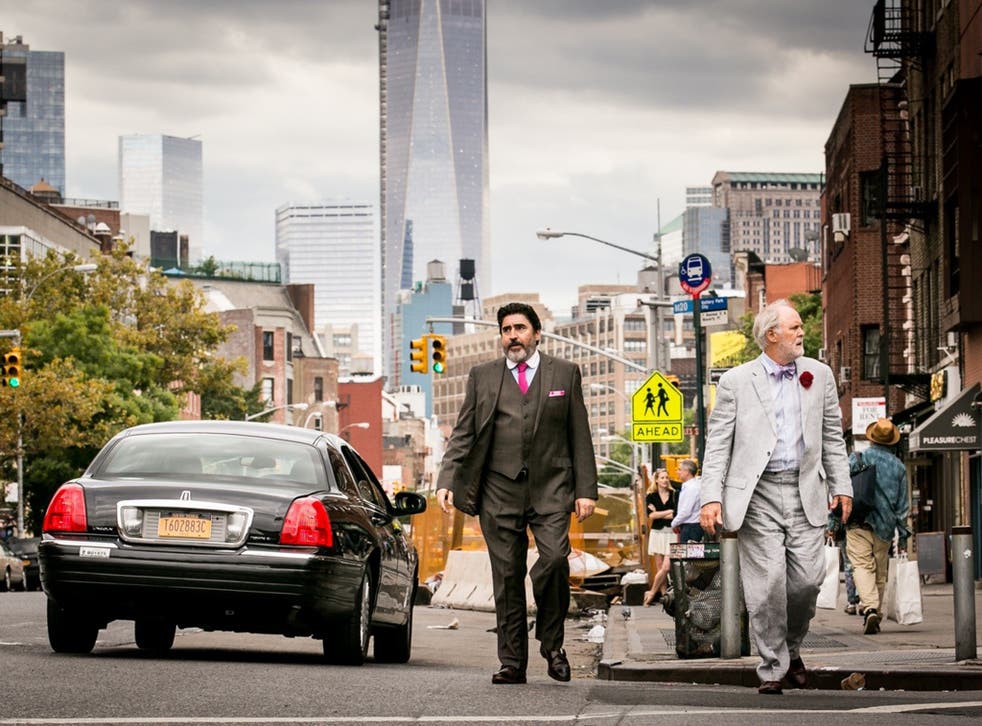 There is a famous saying, attributed to Benjamin Franklin, that guests are like fish: after three days they begin to stink. Ira Sachs' new film, Love Is Strange, underlines the truth in Franklin's observation. This is a New York-set love story in which accommodation arrangements and rental prices play a very major part. Beautifully observed and slow-burning, the film concentrates on aspects of relationships that other romantic dramas routinely ignore.
The "lovers" are Ben (John Lithgow) and George (Alfred Molina), a gay couple who have been together for many years and who, as the film starts, are about to get married. Sachs' offbeat approach is signalled in the film's very first shot, an image of the couple's feet as they lie curled together in bed, about to get up. They live a comfortable and contented bourgeois existence – at least, until they lose their apartment. George, a music teacher, is fired from his job at a Catholic school that doesn't accept gay marriage. Ben, 71, is an artist, but not one whose paintings sell.
Love Is Strange takes its tempo from the Chopin and Beethoven piano music that we hear unobtrusively on the soundtrack. There are very few big climactic moments. The most dramatic event in the movie isn't even shown on screen. Instead, Sachs concentrates on the everyday problems that his characters face. When they sell the apartment they can no longer afford, Ben and George are forced to live separately while they look for somewhere else. George stays with neighbours while Ben moves in with his nephew Elliot (Darren Burrows), Elliot's kind-hearted novelist wife, Kate (Marisa Tomei), and their teenage son Joey (Charlie Tahan). It seems like the perfect arrangement… for about three days, until Benjamin Franklin's fish problem begins to apply. Ben's presence in an already cramped apartment quickly irks his new hosts. He himself is uncomfortable. As he puts it, "Sometimes, when you live with people, you know them better than you care to."
Molina and Lithgow are brilliant character actors who have given many very flamboyant performances on screen. Think of Molina, for example, in his Tony Hancock-like beret as Joe Orton's lover (and eventual killer) Kenneth Halliwell in Prick Up Your Ears or of Lithgow in drag in The World According to Garp. In Love Is Strange, both men are very restrained.
The emotion is in the writing and in the story. The actors realise that it's the details which count here – the looks and gestures – not the showy speeches. The angriest Molina's George becomes is when one of his piano students plays a Chopin piece in too flowery and self-indulgent a fashion. "Follow the rhythm, you can't just create your own rhythm to Chopin," he berates her.
This is a subtle and understated film in which Sachs shows how quickly seemingly stable lives can unravel. Without their own home, Ben and George lose control of their lives. They're both painfully aware that they are outsiders in the households where they now have to live.
Ben makes a very awkward house guest. Kate works from home and he continually distracts her with his well-meaning chatter. His relationship with his teenage nephew quickly begins to deteriorate. Joey doesn't like to have to share his room with a man old enough to be his grandfather. There is one poignant moment when Ben returns to the apartment. Kate and her husband are having an intense conversation and so he looks for refuge in the bedroom. Joey is there with his mysterious Russian friend Vlad and shoos him away, complaining that he wants "some private time, please". Ben is left stranded. There is nowhere for him to go. He "doesn't want to intrude," but the very fact that he is there at all grates on the family's nerves.
In its oblique way, Love Is Strange is exposing homophobic attitudes that persist in a seemingly liberal New York community. For all their seemingly progressive attitudes, Elliot and Kate can't hide their dismay at the idea that their teenage son might be gay. Ben and George become homeless partly because of their sexuality. If George had been heterosexual, he would never have lost his job. The irony is obvious. Same-sex marriage became legal in New York in 2011. Ben and George are delighted finally to take advantage of what seems to be a new-found tolerance – but marrying is the cause of all their subsequent problems.
Love Is Strange isn't intended as a polemical drama. It has the feel of an elliptical and enigmatic short story in which everything is implied rather than spelled out. Sachs directs in an unfussy fashion that complements the performances. Everything here is about subtext. Casual conversations about moviegoing or schoolwork never mean quite what they seem. Characters are terrified of saying directly what they feel. It's the silences and the pained expressions of their faces which reveal their true emotions.
In spite of being set largely in cramped city apartments and having little in the way of obvious dramatic action, the film never feels stilted or stagy. Like the music pieces that George so admires, it strikes its own graceful and quietly insistent rhythm. Sachs is dealing with pivotal moments in his characters' lives: love, marriage, illness and enforced separation. It portrays New York in a double-edged fashion. At one stage, we see it from Ben's point of view as he paints from a rooftop at dusk. It looks quite magical, a city for romance, but if you can't find a place with a controlled rent or you're a guest outstaying a welcome or your health is failing, it can be a very brutal place indeed.
Register for free to continue reading
Registration is a free and easy way to support our truly independent journalism
By registering, you will also enjoy limited access to Premium articles, exclusive newsletters, commenting, and virtual events with our leading journalists
Already have an account? sign in
Register for free to continue reading
Registration is a free and easy way to support our truly independent journalism
By registering, you will also enjoy limited access to Premium articles, exclusive newsletters, commenting, and virtual events with our leading journalists
Already have an account? sign in
Join our new commenting forum
Join thought-provoking conversations, follow other Independent readers and see their replies