Loving review: A quiet, powerful film about one of America's most historic cases
Loving is an intimate domestic drama in which the protagonists themselves hardly seem to notice their own historical roles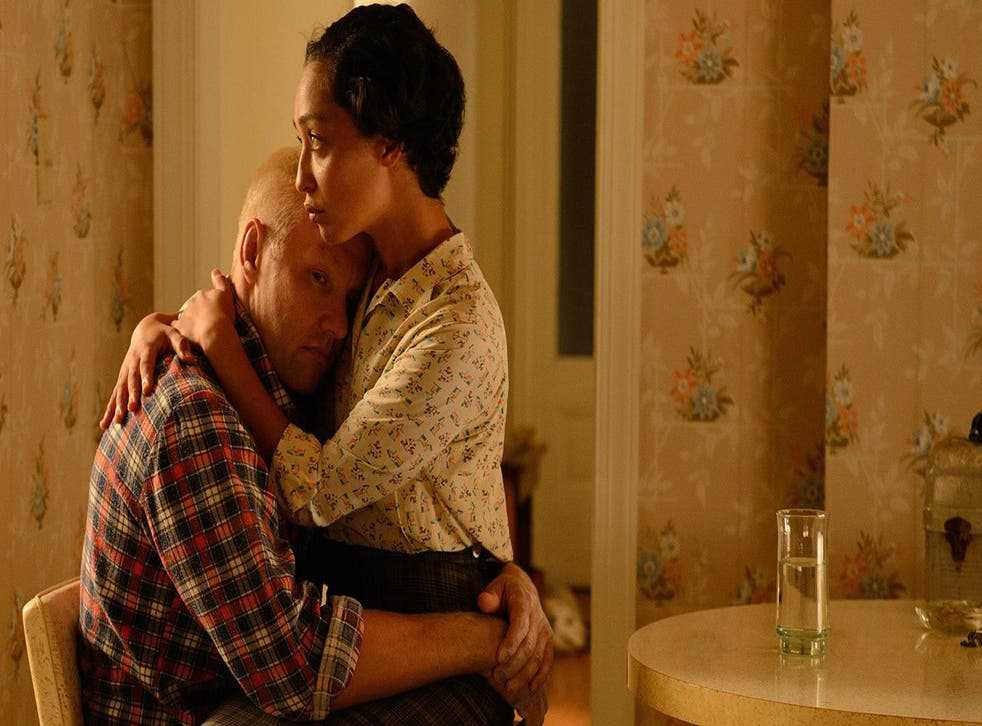 Jeff Nichols, 123 mins, starring: Joel Edgerton, Ruth Negga, Marton Csokas
Most movies set during the Civil Rights-era are confrontational affairs. There will be marches, protests, police violence, rousing speeches, and probably a chorus of "we shall overcome". Jeff Nichols' admirable new feature Loving approaches its subject matter from a very different angle. Its perspective is that of an interracial couple Richard and Mildred Loving (Joel Edgerton and Ruth Negga), who are planning to get married and start a family.
As the film starts, Mildred is already pregnant. There may be social upheaval around them but their concerns are purely practical. They want to stay together. In late 1950s Virginia, where anti-miscegenation rules are in force, that is a considerable challenge in itself.
Loving is a subtle and carefully crafted film in which speechifying is kept to a minimum. Neither Richard nor Mildred say very much at all. Richard, in particular, is taciturn. He works with his hands, as a mechanic and bricklayer, and always seems to have a puzzled frown on his face but his devotion toward Mildred is apparent.
Edgerton is superb in a very unshowy role, convincing us of his love for Mildred and of his desire to protect her at all costs. Negga, who is Oscar-nominated, captures her character's gentleness, verging on diffidence at times, but also her absolute loyalty to her husband and children. Like Richard, she is resilient. Both are told by close relatives that they'd be safer apart but that's advice that they ignore.
The white folk in the community don't like the couple's outward show of affection at all. Nichols doesn't need to spell this out with big dramatic set-pieces. All it takes is a few shots of the hostile and suspicious expressions on faces when they see the couple together.
All of Richard's decisions are pragmatic. He takes Mildred to Washington to marry her there because "there's less red tape" and he then hammers the marriage licence onto the wall, as if it is an amulet that will protect him from the racist cops and judges. Of course, it doesn't. There is something Kafka-esque about the couple's experiences as they hear a knock on the door in the middle of the night and are hauled off to jail for the crime of marrying. "That's no good here," the sheriff (Marton Csokas) snarls when Richard points to the wedding licence.
The film is ostensibly about the Loving v Virginia Supreme Court Case of 1967 which overturned laws trying to restrict or forbid interracial marriage. Nichols, though, is far more interested in the intimate, domestic lives of his protagonists than in making a courtroom drama. The courtroom scenes are dealt with in very cursory fashion.
The judge is a pettifogging figure who thinks that a lengthy suspended prison sentence constitutes leniency and that he is being far kinder than he needs to be in allowing the couple to remain free as long as they go far away. The defence lawyer seems to agree. Racist attitudes are so ingrained that nobody in this corner of Virginia will accept the fact of a white man living with a black woman.
Not a huge amount appears to happen here. The couple have more children. They grow older. They are intensely homesick and Mildred doesn't like the idea of bringing up her kids in a big city. She wants them to be back home, in the countryside. There's something almost comical in Richard's reticence and in his suspicion of the media, who become very interested in the couple when lawyers from the ACLU (American Civil Liberties Union) talk about taking their case all the way to the Supreme Court. He won't comment at all and if he does speak, it will be to say something like "tell the judge I love my wife".
Oscars 2017: Our film team discuss who will win and who should
There's a short but effective cameo from Nichols' regular collaborator Michael Shannon as Grey Villet, a LIFE photographer who turns up at the family home to take pictures of Richard and Mildred. Grey, who wins their trust, spots exactly what makes the couple so special – namely their ordinariness. His photographs, like the film itself, capture them as a very typical all-American husband and wife, at complete ease in one another's company.
Produced by Colin Firth, the film at times has a British sense of understatement to it. Richard and Mildred don't ever make heart-wrenching declarations of their love for one another but it is apparent all the same. The irony is that this couple, with no particular interest in politics but with a sense of common decency and an utter determination to stay together, helped change American law. Loving is a quiet film but a powerful and uplifting one – an intimate domestic drama in which the protagonists themselves hardly seem to notice their own historical roles.
Register for free to continue reading
Registration is a free and easy way to support our truly independent journalism
By registering, you will also enjoy limited access to Premium articles, exclusive newsletters, commenting, and virtual events with our leading journalists
Already have an account? sign in
Register for free to continue reading
Registration is a free and easy way to support our truly independent journalism
By registering, you will also enjoy limited access to Premium articles, exclusive newsletters, commenting, and virtual events with our leading journalists
Already have an account? sign in
Join our new commenting forum
Join thought-provoking conversations, follow other Independent readers and see their replies