Ma review: Octavia Spencer's on unsettling form in enjoyably creepy horror
Spencer plays against type in this new film that reunites her with the director of The Help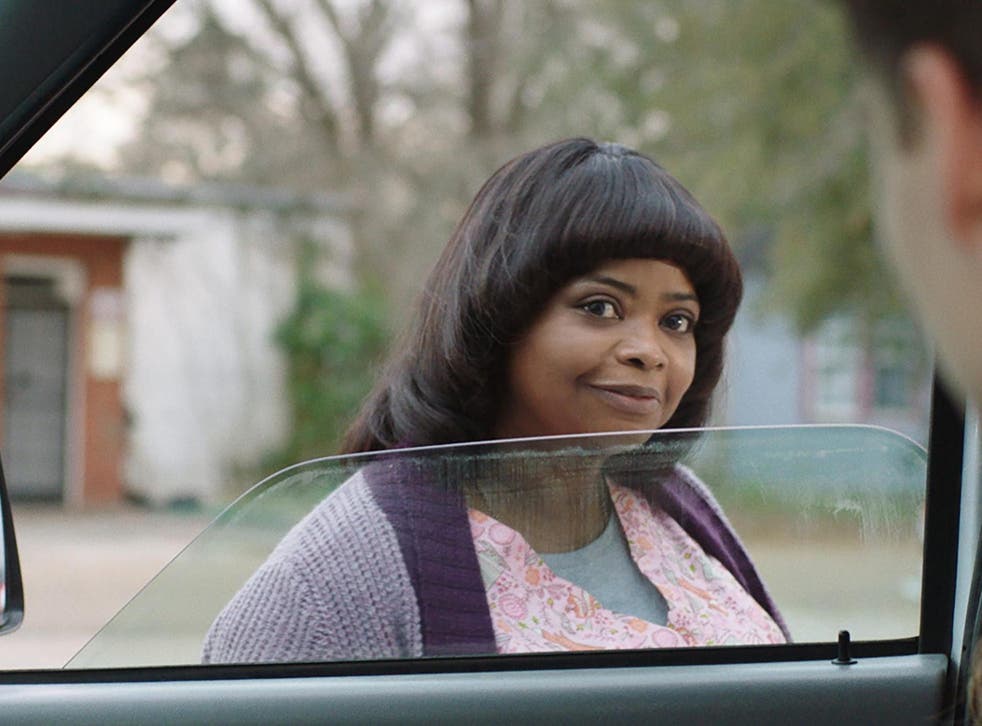 Dir: Tate Taylor; Starring: Octavia Spencer, Diana Silvers, Allison Janney, Luke Evans, Missi Pyle, Juliette Lewis, McKaley Miller. Cert 15, 99 mins
Octavia Spencer is cast against type in this enjoyably creepy revenge thriller. The Oscar-winning star of The Help and Hidden Figures has an instantly likeable quality on screen. She tends to play decent and resilient women. That is what makes her such an unsettling presence here as Sue Ann – or "Ma" as she is nicknamed by the high school students she befriends. With her beaming smile, she seems as friendly and level-headed as ever. The longer the film lasts, though, the more menacing and deranged she becomes.
Ma is set in nondescript small town America. A mother, Erica (Juliette Lewis), and her teenage daughter Maggie (Diana Silvers, also currently on screen in Booksmart), have arrived here. Erica is coming home after the breakup of her marriage. She lands a job as a waitress in the local casino. Maggie enrols at the local high school. She knows no one but is quickly accepted by the in-crowd.
With very little to do, Maggie's new friends like to drive around town in one of their father's vans, getting drunk. They're too young to buy booze themselves but ask adults to do so on their behalf. That is how they first encounter Sue Ann, the browbeaten assistant to the local vet (Spencer's fellow Oscar-winner Allison Janney in a cameo). Sue Ann not only procures the alcohol for the teenagers but invites them to "hang out" in her basement.
Director Tate Taylor (who also worked with Spencer in The Help) takes his time in cranking up the tension. We've seen horrormeister Jason Blum's name on the opening credits and so we are fully expecting something very nasty will happen soon – but it takes its time. Early on, the most shocking sight is the middle-aged woman, disco dancing to the strains of "everybody was kung fu fighting" as if she is still 17. Sue Ann's attempts at ingratiating herself with the high school students are grotesque. She follows their social media feeds avidly and texts them constantly.
The film plays on the clash between generations in the same way as recent Greek midlife crisis satire Suntan, about a paunchy middle-aged doctor desperately following around a group of much younger tourists. There are also echoes of Neil Jordan's recent thriller Greta, in which Isabelle Huppert played the demented older woman preying on young adults.
37 horror films that are genuinely scary

Show all 37
At first, Maggie and her friends are intrigued by Sue Ann, but their discomfort and sense of social embarrassment mount as the older woman becomes more and more intrusive.
Parts of the screenplay (by Taylor and Scotty Landes) don't quite add up. There are too many coincidences and non-sequiturs. The kids clearly first encounter Sue Ann by chance and yet the film suggests that she engineered the meeting. Parts of Sue Ann's back story are skimmed over. She has a teenage daughter but we don't learn about the father or why this daughter is so sickly.
There are clumsy flashbacks to Sue Ann as a teenager, when she attended the same school that the kids are at now. She was bookish and naive. The other students took advantage of her, playing a cruel sexual prank on her. She hasn't forgotten her humiliation. Years later, she is still plotting revenge.
Access unlimited streaming of movies and TV shows with Amazon Prime Video Sign up now for a 30-day free trial
Sign up
The one element the film doesn't mention directly, but that is always there lurking in the background, is race. Sue Ann was a black kid in a predominantly white school. That may have been why she was victimised. The wealthy white kids who tormented her then are the parents of the high school students she has befriended.
Ma features an unusual number of broken families. Either spouses have divorced or lost their loved ones to cancer. Bringing some brassy humour to the film is Missi Pyle who plays Mercedes, the cruellest and most obnoxious of Sue Ann's old classmates and now the drunken girlfriend of Ben Hawkins (Luke Evans), the schoolmate Sue Ann once had the biggest crush on.
The subtlety of Octavia Spencer's performance is belied by the crudity of much of the plotting. Director Taylor makes sure we know that Sue Ann's job as the vet's assistant gives her easy access to drugs and syringes. We see her administering Diazepam-like substances to so many mangey old dogs and cats that we can guess it is only a matter of time that she starts using the same medicine on humans as well.
Early on, Sue Ann is as pathetic as she is sinister. Her needy, clinging behaviour is shown as being a direct consequence of the traumas she endured as a kid. The students who start partying in her basement are selfish and obnoxious. They are taking advantage of her just as she is using them. However, a film that starts as a psychological thriller eventually turns into a full blown and very bloody horror movie. Perhaps in a nod to Nagisa Oshima's In the Realm of The Senses, it even has a scene in which one unfortunate character comes close to being emasculated.
The slasher tactics and scenes of torture and mutilation can't help but feel perfunctory. These moments may make audiences grimace and advert their eyes but they are far less uncomfortable to watch than Sue Ann on her charm offensive. Ma is at its most unsettling when its middle-aged anti-heroine is trying so hard and in such a forlorn way to insert herself into the lives of the high school kids who so obviously despise her.
Join our new commenting forum
Join thought-provoking conversations, follow other Independent readers and see their replies