Mission Impossible - Rogue Nation, movie review: Tom Cruise, 50, is still like a puppy in this relentless action soap opera
Christopher McQuarrie, 120 mins, starring: Tom Cruise, Jeremy Renner, Simon Pegg, Rebecca Ferguson
Geoffrey Macnab
Thursday 30 July 2015 10:58 Comments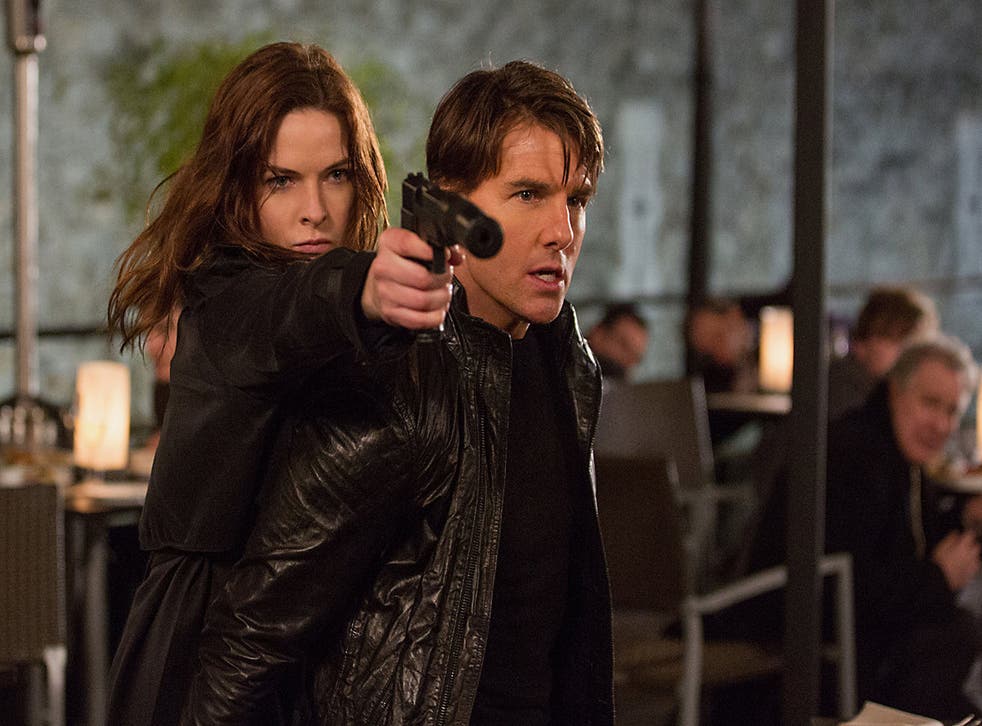 Mission Impossible is a movie franchise that feels as if it has been built around a theme song. Lalo Schifrin's mesmeric music, written for the original TV series back in the 1960s, still provides the atmosphere and relentless narrative drive. As soon as you hear the faintest echo of it, you know that the drama is about to quicken and that Tom Cruise's Ethan Hunt will respond, Pavlov reaction-style, by performing yet another death defying stunt.
The new film, Rogue Nation, unfolds set-piece by set-piece. Its plot line doesn't bear too much scrutiny and its characterisation is sketchy but the action itself is frequently exhilarating. Writer-director McQuarrie takes stock ingredients we've seen in countless other movies from Bond to Bourne and beyond and somehow makes them fresh. Motorbike chases, scenes of assassins prowling backstage in opera houses and underwater sequences follow each in rapid succession. There is a continual race against time. As Ethan dangles from aeroplane wings or faces being cut into pieces by the "bone doctor" or goes for over three minutes without taking a breath, viewers are likely to be so caught up in the moment that they won't question why he needs to take such hare-brained risks in the first place. Nor will they be too bothered by the sudden changes in location. This is a film which whisks us for no very good reason from London to Vienna to Morocco with brief stop-offs in Havana and elsewhere - and then back to London.
Rogue Nation begins with an airborne stunt that features Cruise's Ethan jumping onto a plane just as it is taking off. His hapless fellow agent Benji (Simon Pegg) is fiddling with computer equipment in a field below, trying to get the plane door to open. The scene is spectacular in its own vertiginous way but perfunctory. The enemies at this stage are only "low level Chechen separatists," easy prey for Ethan.
After an excruciating scene in which we hear Ethan discuss classic hipster jazz in very stiff fashion as he leafs through the vinyl in a London record shop, we discover his real adversaries. They're old foes in "the Syndicate," a shadowy organisation run by agents who've turned to the dark side. They're hell bent on world domination - and on eradicating the IMF (The Impossible Mission Force for which Ethan works.)
The CIA under director Alan Hunley (Alec Baldwin) is gunning for the IMF too. Hunley sees Ethan as a rogue agent and the IMF as a dysfunctional agency that needs to be "dissolved" as soon as possible. Ethan therefore quickly ends up as an outlaw himself, "a man without a country," pursued by enemies and his ostensible allies alike.
Tom Cruise is in his early 50s but he still has that youthful, puppyish demeanour fans will remember from his Risky Business days. He is endlessly enthusiastic. Whether he is beaten up, almost drowned or suffering whiplash, he will always dust himself down and then throw himself straight back in the fray. To allay any suspicions that he is out of shape, the filmmakers throw in an early scene in which he is shown tied up and bare above the waist as Syndicate members prepare to torture him. Cruise looks very buff indeed, as if he has been pumping iron. He is still lithe, too. Like a latter-day Douglas Fairbanks, he shimmies up pipes, leaps off high ledges, dives into whirlpools and generally shows off his acrobatic ability at every opportunity.
Cruise is so busy running and jumping that very little time is given over to developing the romantic sub-plot between Ethan and the beautiful spy Ilsa Faust (Rebecca Ferguson) who shadows him. They tend to meet not at candlelit dinners but during moments of maximum dramatic tension, when one or the other of them is about to be killed, and they express their affection by saving each others' lives. She is as lethal as he he is, drives as fast, and even matches him when it comes to sardonic irony. Ferguson plays Ilsa with an Emma Peel-like zest (and she even gets to dress a bit like Diana Rigg in TV's The Avengers in black leather.) "She tried to shoot me," one agent complains about her. "It doesn't make her a bad person," Ethan protests.
Rogue Nation deserves awards for its music (scored by Joe Kraemer) and sound editing: the ingenious way it combines Lalo Schifrin's theme with opera and then, during the prolonged motorbike chase, creates a mini-symphony out of the sounds of engines and gunshots. Its most bravura sequence in the film is the gorgeously shot one in the Vienna Opera House. Here, for a few moments at least, the Mission Impossible theme gives way to Puccini's Turandot (and a very spirited rendition of the Nessun Dorma aria) as Ethan, Ilsa and Syndicate assassins fight in the wings.
The film's underlying problem is its own self-mocking approach. Sean Harris plays the The Syndicate's bespectacled leader Solomon Lane in suitably sneering and malicious fashion but is never quite as intimidating as might have been expected. Jeremy Renner, a notably intense actor, is at half throttle as Ethan's sharply suited colleague, pulling the strings behind the scenes. Simon Pegg, returning as his loyal friend Benji, has plenty of funny moments as does Ving Rhames as the hardbitten old agent Luther Stickell. There is a sprightly cameo from Tom Hollander as the British prime minister and an enjoyably sinister one from Simon McBurney as a duplicitous British spy boss who seems to have stumbled out of a George Smiley novel. The humour, though, stops us from taking events remotely seriously.
Access unlimited streaming of movies and TV shows with Amazon Prime Video Sign up now for a 30-day free trial
Sign up
At times, Rogue Nation seem as hemmed in as the characters who, at various stages, are trapped in glass booths with gas asphyxiating them. There seems nowhere at all for the story to go. Then, that musical theme will start playing again and the film will again somehow take wing. The plotting may be fuzzy but, as a cartoonish action-opera, the latest Mission Impossible is very lively indeed.
Register for free to continue reading
Registration is a free and easy way to support our truly independent journalism
By registering, you will also enjoy limited access to Premium articles, exclusive newsletters, commenting, and virtual events with our leading journalists
Already have an account? sign in
Join our new commenting forum
Join thought-provoking conversations, follow other Independent readers and see their replies