Moonlight review: A lyrical triumph that comes straight from the heart
What makes Moonlight distinctive is its offbeat quality and ability always to wrong-foot us: we know that Barry Jenkins comes from the world he is dramatising 
Geoffrey Macnab
Wednesday 15 February 2017 11:45 Comments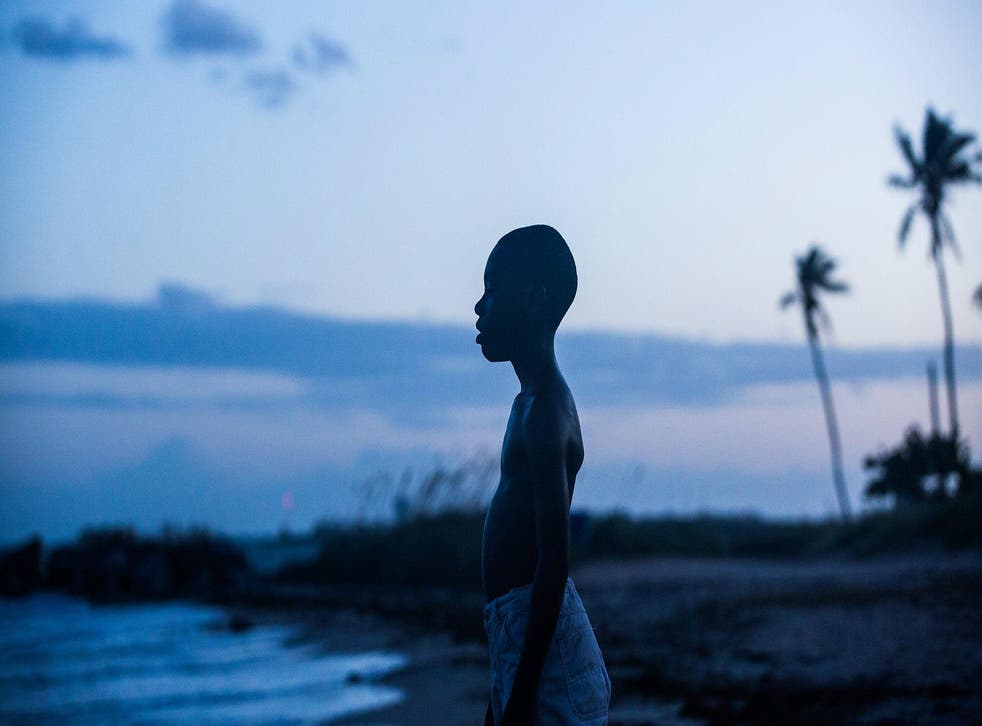 You won't find a more sensitively rendered, evocative, or surprising coming-of-age film than Barry Jenkins's Moonlight, now nominated for eight Oscars. Jenkins takes characters who are usually portrayed on screen as crude stock types – the drug dealer, the junkie mother, the mixed-up kid – and gives them complexity and humanity.
The director's lithe and lyrical approach is signalled right at the outset, as the camera follows the crack dealer Juan (Mahershala Ali) as he shoots the breeze with some associates. In a more conventional film, there would be heavy music on the soundtrack and big close-ups of the dealers. Instead, here, the camera glides around the characters.
We see Juan's eye suddenly caught by the sight of a black school kid fleeing a posse of classmates. This is Chiron (played as a child by Alex Hibbert), a shy but stubborn and self-reliant boy from a very difficult background. His mother Paula (Naomie Harris) is a crack addict. Chiron is so accustomed to being treated badly that, at first, he reacts with extreme suspicion when Juan takes a kindly interest in him.
Jenkins can make even a shot of Chiron being driven down the freeway by Juan, waving his hand out of the car window, seem poetic. It helps that (as Chiron) Hibbert has such huge eyes and such an expressive face. He seems to feel and register every experience very deeply but insists that he "ain't soft". The everyday scenes have a strong symbolic undertow. When Juan gives Chrion a swimming lesson in the sea, it is filmed complete with devotional music on the soundtrack as if it is baptism or a rite of passage.
Over the course of the film, Chrion slowly comes to terms with his race, his sexuality, and his background. "At some point, you've gotta decide for yourself who you are going to be. Ain't nobody who can make that decision for you." Juan tells him early on. "What's a faggot?" the boy plaintively asks the older man.
Moonlight has a self-consciously dreamy feel. We see events from Chrion's perspective as he tries to make sense of the adult world around him. Naomie Harris's Paula is a seedy, strung-out figure who seems to despise her son because he is gay, but Harris plays her with such defiance and pathos that we feel a sympathy for her that she hardly deserves.
Jenkins, who adapted the film from Tarell Alvin McCraney's drama In Moonlight Black Boys Look Blue, doesn't skimp on the brutality. In all three of the episodes there is physical and emotional violence. If Chiron is knocked down in the playground, he will always get up again. There is a huge contrast between the tender way the characters here behave in private, for example in the nighttime tryst between Chiron and Kevin, and their aggression when they are with their peers.
As an audience, we can't help but applaud when the teenage Chiron (Ashton Sanders), in the second episode, takes retribution against one of his oppressors. At the same time, we realise that in resorting to violence, he is destroying something within himself. The sensitive, dreamy kid suddenly develops a very mean streak himself.
Chiron as a young adult (played by Trevante Rhodes) in the third, Atlanta-set episode is a very long way removed from the doe-eyed kid encountered at the beginning of the movie. Now a drug dealer himself and with the bling to prove it, he is an intimidating, macho figure, as aloof as ever but much more threatening. He is defensive about his sexuality and far too strong to allow himself to be bulled anymore. He has become very like Juan but without Juan's powers of empathy.
Access unlimited streaming of movies and TV shows with Amazon Prime Video Sign up now for a 30-day free trial
Sign up
Oscars 2017: Our film team discuss who will win and who should
Some aspects of Moonlight aren't especially original. There have been countless other coming-of-age films about troubled kids trying to make sense of the adult world or to come to terms with their sexuality or to reconcile themselves with their abusive parents. Jenkins's impressionistic and subjective shooting style isn't so far removed from that of some of Terrence Malick's equally personal and heartfelt films or of David Gordon Green's George Washington.
What makes Moonlight distinctive is its offbeat quality and ability always to wrong-foot the viewer. The film, shot in the same parts of Florida where the director and writer grew up, feels like an inside story. We know that Jenkins comes from the world he is dramatising. It's refreshing, too, that he doesn't resort to clichés and that he tries so hard to give us a sense of the inner lives of the characters.
There is no special pleading on their behalf but Jenkins is able to show us their complexities and contradictions. It was also an achievement to find three actors of different ages who all manage to play Chiron with the same sensitivity and intensity.
Register for free to continue reading
Registration is a free and easy way to support our truly independent journalism
By registering, you will also enjoy limited access to Premium articles, exclusive newsletters, commenting, and virtual events with our leading journalists
Already have an account? sign in
Join our new commenting forum
Join thought-provoking conversations, follow other Independent readers and see their replies