Mr Turner, first look Cannes review: Mike Leigh back to his rambling, rich and magnificent best
The British director stands a good chance of winning the Palme D'Or this year at Cannes for his fine exploration of painter JMW Turner's life
Geoffrey Macnab
Tuesday 20 May 2014 09:52 Comments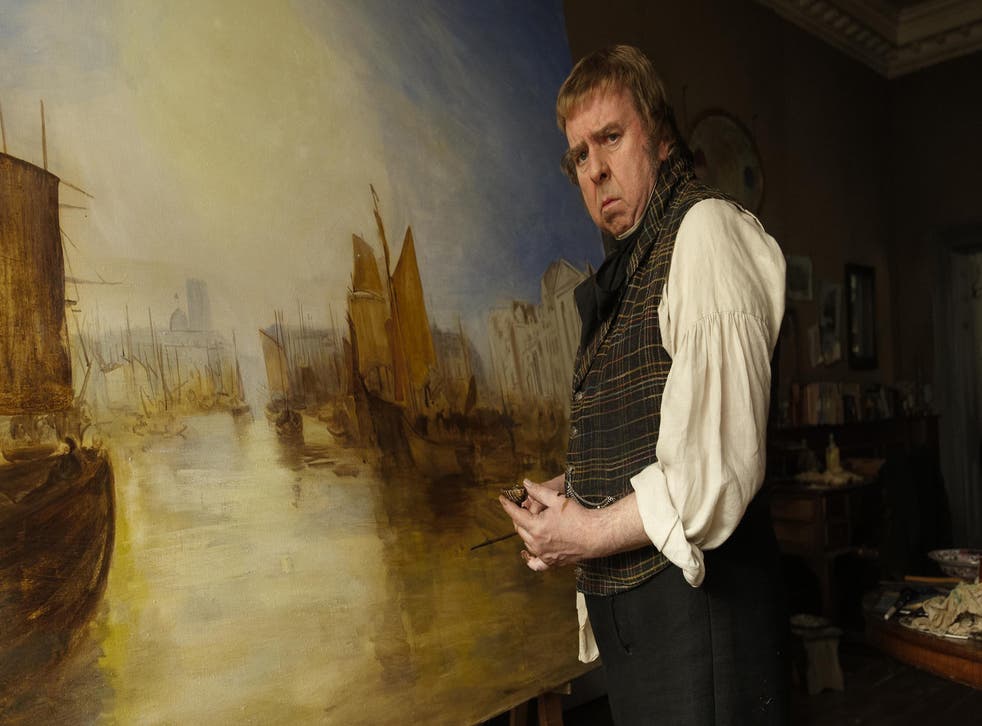 Mike Leigh's biopic of JMW Turner (screening in the main competition in Cannes) is a rambling, richly detailed character study with a magnificent central performance from Timothy Spall.
This may be 19th Century costume fare but it is made with the same precise attention to its protagonists' yearnings and comic foibles as its director's contemporary dramas.
Leigh's storytelling style here is deliberately episodic. He follows Turner (1775-1851) in the final 25 or so years of his life as the artist paints in his studio, roams around seaside towns, gropes his housekeeper, courts a seaside landlady, deals reluctantly with family matters and consorts with fellow members of the Royal Academy.
As played by Spall, Turner is a grunting, walrus-like figure with a hint of Charles Dickens' Sam Weller about him.
Father and son are earthy characters without any pretensions. There is a funny sequence early on in which Turner Snr. is shown shaving the hair of a pig's head in the kitchen one moment and then attending to his son's equally porcine face with his razor the next.
Turner here is a bumbling, comical figure but one who also possesses huge intellectual curiosity and single-mindedness. Leigh's cinematographer Dick Pope does bravura work in portraying the "damn fine storms" that Turner liked to paint and the cloudscapes and crepuscular scenes ("the fiery firmament") that so fascinated him.
He is even able to recreate on screen some of Turner's best known paintings, among them The Fighting Temeraire, in spectacular fashion. At one stage, we see Turner lashed to the mast so he can experience a storm at sea.
In spite of its occasional flights of visual splendour, one of the most engaging aspects of the film is its mundane quality. Biopics of great artists tend to be overwrought affairs in which the artists have turbulent love affairs and are driven mad by their muse.
In Mr Turner, Leigh is more interested in exploring the everyday life of his subject. The paradox is that such an ordinary seeming man is responsible for such visionary art. Turner's bluntness about his profession is contrasted with the absurdly high-minded language in which the effete young critic John Ruskin (a droll cameo from Joshua Maguire) talks about art.
Access unlimited streaming of movies and TV shows with Amazon Prime Video Sign up now for a 30-day free trial
Sign up
As Ruskin waxes forth about the shortcomings of Claude Lorraine, Turner's response is to ask him which he prefers: steak and ham or veal and ham pie.
Spall's Turner isn't above vanity. He wants his paintings to be hung in prominent positions and is clearly hurt when Queen Victoria scorns his work or the public grumble of his more abstract work that he "has taken leave of form altogether."
He is astute about money (unlike some of his wastrel colleagues.) He is also capable of behaving with extreme callousness to his own family. This, it becomes apparent, is not because he is unkind. It is simply that he is so preoccupied with his work that he doesn't have time to notice them.
It will be intriguing to see what the Cannes jury makes of Mr Turner. Spall will surely be among the front runners for the festival's Best Actor award and Leigh himself must stand a chance of emulating the Palme D'Or winning success he enjoyed in Cannes with Secrets And Lies in 1996.
Register for free to continue reading
Registration is a free and easy way to support our truly independent journalism
By registering, you will also enjoy limited access to Premium articles, exclusive newsletters, commenting, and virtual events with our leading journalists
Already have an account? sign in
Join our new commenting forum
Join thought-provoking conversations, follow other Independent readers and see their replies