Nightcrawler, film review: Jake Gyllenhaal stars in a warped snapshot of the American dream
(15) Dan Gilroy, 117 mins Starring: Jake Gyllenhaal, Riz Ahmed, Rene Russo, Bill Paxton
Geoffrey Macnab
Thursday 30 October 2014 23:00 Comments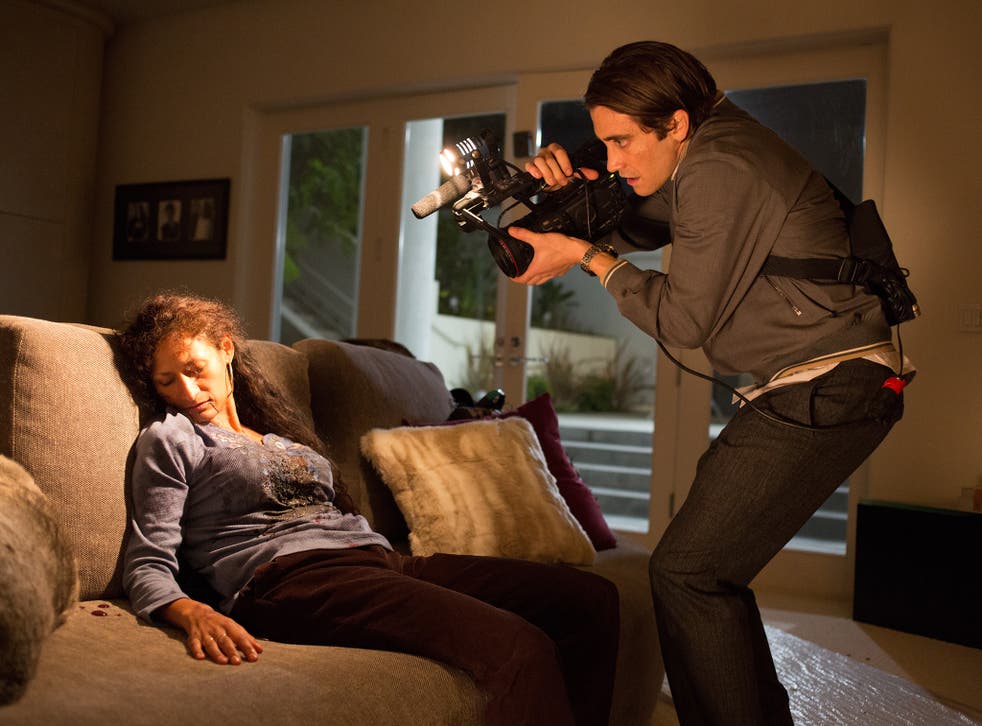 "If it bleeds, it leads," is the mantra of the LA TV networks whose news gathering practices are scrutinised in Dan Gilroy's wonderfully creepy and ambiguous thriller Nightcrawler. The station bosses want images of violent crime and car crashes to show on their bulletins, the gorier the better. Ratings soar whenever the victims are white and middle-class: the networks love it when "urban crime creeps into the suburbs". To feed the appetite of the TV news shows, a morbid new industry has sprung up: nightcrawling. Its practitioners are self-trained citizen journalists with video cameras and police scanners, looking for imagery of death and disfigurement that can be served up on the early morning shows.
Nightcrawler deliberately blurs the lines between David Cronenberg-like satire, crime thriller and horror. It also poses as a twisted version of the traditional story about the all-American entrepreneur, trying to get ahead any way he can.
The man on the make is Lou Bloom (Jake Gyllenhaal), a drifter and a killer. As played by Gyllenhaal, he seems like a cross between the demented, would-be comedian Rupert Pupkin in Martin Scorsese's The King of Comedy and the two murderers in Truman Capote's In Cold Blood. Lou is well-spoken and has a wide-eyed, ingenuous charm about him that makes him appealing, however repulsive his behaviour becomes. He prowls around nighttime LA like a grim reaper with a video camera instead of a scythe, looking for extreme footage of human suffering to serve up to the breakfast audience. If he needs to cheat a little, re-arrange the bodies or choreograph the crimes, KWLA News isn't going to complain too much.
Nightcrawler might be seen as the writer-director Dan Gilroy's barbed and despairing look at the debasement of journalistic ethics in the digital era. Then again, Lou has plenty of real-life ambulance-chasing antecedents from time past. The New York photojournalist Weegee built an international reputation on the back of his pictures of corpses and car crashes in the 1930s and 1940s. Tabloid newspaper reporters from that era went to extreme lengths to get the scoop on executions and murders. The industry in which Lou flourishes has been there for a very long time.
There have been many other films that play on their characters' morbid voyeurism – and that of the audience. Lou is a chancer who makes being a peeping tom into a career. The nighttime LA here is reminiscent of that described in James Ellroy novels, which take a similar, fetishistic pleasure in the minutiae of violence and death.
Gilroy (co-writer of The Bourne Legacy) has a flair for staging action sequences. Nightcrawler is full of scenes of Lou and his driver/navigator Rick (Riz Ahmed) racing down freeways at breakneck pace to reach the site of the accident before their rivals. As viewers, we're rooting for them. We become so caught up in the chase that we, like Lou himself, lose perspective on what he is actually doing. Lou has no feelings whatsoever for the victims he films. Getting close-up footage of the mangled body of a car-crash victim is his equivalent of scoring a home run. His ethical lapses don't bother his chief patron Nina (Rene Russo), the producer so desperate for ratings she will buy his material without questioning how he came by it.
There is one tremendous sequence midway through the film in which Lou films the victims of a mass murder at a luxurious home in the suburbs. The sequence is morbid and revolting. Lou is busily filming imagery of blood-stained carpet and of corpses that are dotted throughout the house. At the same time, there is an incongruous strain of comedy. The scene plays like a perverted version of Celebrity Cribs as he snoops into every room in the house.
Lou himself is as hapless as a character in a silent, slapstick comedy. He is the underdog, hiding in the bushes, losing his bearings and risking being beaten up or killed by real criminals. His naivety is what makes him so suited to his job. "On TV, it seems so real," he says, as if he can't quite believe in anything, even his own footage, unless he sees it on a screen.
Gilroy plays up the rivalry between Lou and the more experienced nightcrawler Joe Loder (Bill Paxton) in comic fashion – until it turns spectacularly nasty. The humour is very uncomfortable. Lou is given to making jaw-dropping remarks that seem ironic or tongue in cheek – but are actually always in deadly earnest.
Access unlimited streaming of movies and TV shows with Amazon Prime Video Sign up now for a 30-day free trial
Sign up
In his sweeter moments, Lou could pass for the kind of holy innocent played by Peter Sellers in Being There. Then, when he starts talking in pseudo-business jargon about his "career goals" and performance reviews for Rick, whom he pays a pittance, we realise the extent of his malevolence. At one stage, in the matter-of-fact manner that he adopts throughout the film, he tries to barter atrocity footage for sexual favours. He is a self-made man with a ferocious work ethic. With the internet at his disposal, he doesn't need Dale Carnegie's self-help book How to Make Friends and Influence People. He can learn everything he needs online.
As its title might suggest, Nightcrawler is a slithery film on which it is hard to get a solid grip. It straddles genres, shifts perspectives and tones. Gyllenhaal, in one of his finest performances, is funny, engaging and sinister all at the same time. With a chameleon at its core, this isn't a film that engages us much on an emotional level. Gilroy's observations about the hypocrisy of the media and the corruption of the American dream aren't original. Even so, in its clammy way, the film is both entertaining and provocative – and it gives Gyllenhaal his best role since he was out at the campfire with Heath Ledger in Brokeback Mountain.
Register for free to continue reading
Registration is a free and easy way to support our truly independent journalism
By registering, you will also enjoy limited access to Premium articles, exclusive newsletters, commenting, and virtual events with our leading journalists
Already have an account? sign in
Join our new commenting forum
Join thought-provoking conversations, follow other Independent readers and see their replies