Phantom Thread review: A wondrously bizarre final performance from Daniel Day-Lewis
The pleasure here lies in the unpredictability of Paul Thomas Anderson's approach, his ability and that of his actors to surprise us with every new stitch of the movie
Geoffrey Macnab
Wednesday 31 January 2018 14:36 Comments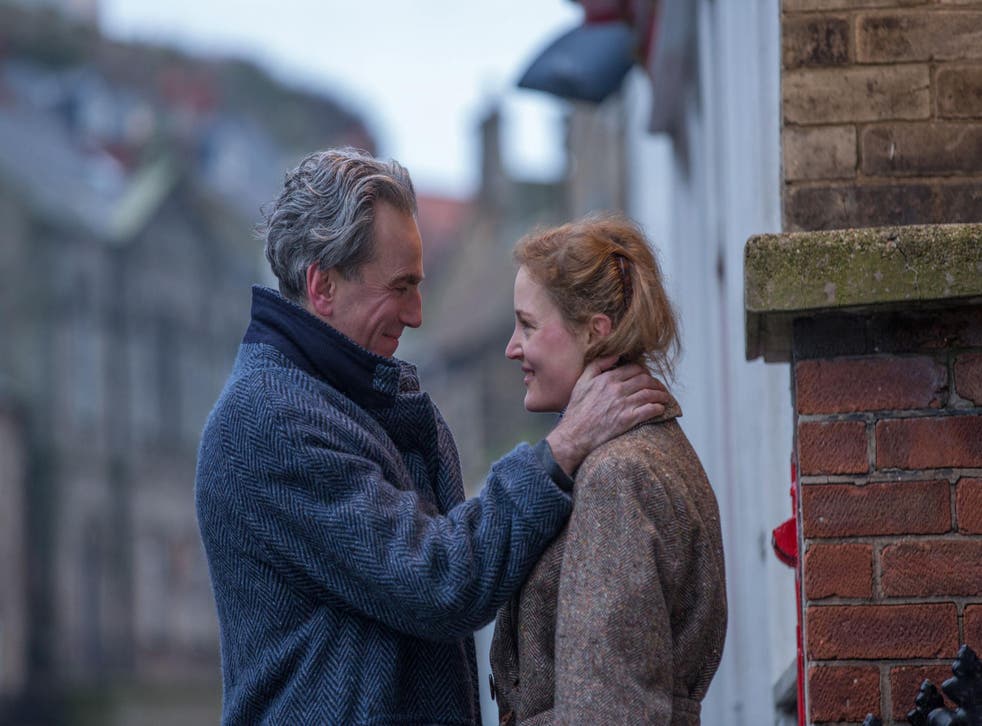 Paul Thomas Anderson, 130 mins, starring: Daniel Day-Lewis, Vicky Krieps, Lesley Manville, Camilla Rutherford, Jane Perry
If Phantom Thread is indeed Daniel Day-Lewis's final film as an actor, he is going out on a wondrously bizarre note. This must be the oddest film in his career, one in which he gives a typically commanding but very idiosyncratic performance. Almost everything here is jarring – but generally in a very positive way.
Writer-director Paul Thomas Anderson's script is impossible to classify. One moment, we think we are watching a fashion movie. The next, the film turns into a love story, a twisted and fantastical one with a very morbid core which takes its tempo from the swirling, orchestral Jonny Greenwood score.
The setting is London in the early 1950s. The filmmakers have gone to extraordinary lengths to recreate the period accurately but seem somehow to have forgotten about one crucial element – namely the class system. Certain key plot points simply aren't explained.
Day-Lewis plays Reynolds Woodcock, a leading fashion designer who makes bridal dresses and ball gowns for very aristocratic customers. Reynolds in an extremely fastidious man, the type who, when he shaves, will also painstakingly trim his nostril hairs.
He is softly spoken with a lilting, slightly camp delivery. We might think that he's a British equivalent to Christian Dior but his fey manner is misleading. He is aggressively heterosexual, drives a sports car and eats huge breakfasts of bacon, sausages, toast and raspberry jam, washed down by lapsang souchong tea.
He also swears like a trooper when riled. In short, he is a mix of charm and boorishness. "Why are you not married?" Reynolds is asked at one stage.
"I make dresses," he replies, making it very clear that he cares more about fabrics than flesh and blood. Besides, no woman he meets can match up to the memory of his mother, about whom he gets very sentimental.
The romance here is set in motion in random fashion. Reynolds, with the assistance of his sister and business manager, the Mrs Danvers-like Cyril (Lesley Manville), has just dispensed with his previous girlfriend.
Access unlimited streaming of movies and TV shows with Amazon Prime Video Sign up now for a 30-day free trial
Sign up
"No more stodgy things," he pronounces at the breakfast table, deliberately leaving it ambiguous as to whether he is referring to the pastries the girlfriend is offering him or to the poor woman herself.
Presumably to recover from the trauma of uncoupling, Reynolds heads off to into the country in his sports car, checking himself into a provincial seaside hotel. It's here he catches his first glimpse of Alma (Vicky Krieps), a waitress in the hotel.
Anderson deliberately withholds Alma's backstory. She has a slight German accent but we are not told if she is, in fact, German. (That would presumably be the source of tension so soon after the war in which, we discover in passing, Reynolds fought. His main preoccupation wasn't with killing Nazis, though, but with saving Flemish lace.)
Reynolds is immediately smitten by her. He may be an upper-class Englishman living in very snobbish times but no-one seems to think it is in the slightest unusual he has started an affair with a lowly hotel worker.
Krieps gives a sly and subtle performance as Alma. At first, she seems like an ingenue, a nervous, shy woman, in awe of her wealthy lover. She lets Reynolds mould her, Pygmalion-fashion. "You have no breasts," he tells her during a fitting. "It's my job to give you some… if I care to."
He is the Zeus-like figure who doesn't just dress women but whose clothes define their body shapes and even personalities. Krieps' Alma is far less meek and passive than she first appears. Her personality is as strong as his. She turns out to share his ruthlessness, his obsessiveness and his ideas about beauty.
She is even more outraged than he is when one wealthy but very dowdy client, the hapless and matronly Barbara (Harriet Sansom Harris) gets drunk on her wedding day and has the temerity to fall asleep still wearing the gown that Reynolds and his team laboured so hard to make for her.
With its glimmering close ups of Krieps and Day-Lewis, strange plot twists and constant use of music, the film at times resembles those equally bizarrely plotted Hollywood melodramas from the 1940s in which Bette Davis and Joan Crawford would play the long-suffering heroines or one of those Hitchcock films in which we can't work out whether the main characters are in love or want to murder one another.
It has the feel of a psychoanalytic case study. Alma his helping Reynolds exorcise the memory of his mother and enabling him to see women as more than just mannequins who wear his dresses. To do this, she teaches him what it means to be dependent and helpless.
The film has plenty of humour, some of it very arch. You'll never regard mushroom omelettes in quite the same way after you see how Alma cooks them here. Anderson uses sound editing in ingenious fashion.
The scraping of a knife on a piece of toast or the pouring of tea is amplified so that it makes as much of a din to us, the audience, as it does to the long-suffering, ultra-sensitive Reynolds.
Day-Lewis brings a tongue in cheek quality to Reynolds, especially when he is telling doctors to "f**ck off" or beating Alma at backgammon. At the same, the treatment of the love story at the centre of Phantom Thread is in deadly earnest.
The pleasure here lies in the unpredictability of Paul Thomas Anderson's approach, his ability and that of his actors to surprise us with every new stitch of the movie.
Phantom Thread hits UK cinemas 2 February.
Register for free to continue reading
Registration is a free and easy way to support our truly independent journalism
By registering, you will also enjoy limited access to Premium articles, exclusive newsletters, commenting, and virtual events with our leading journalists
Already have an account? sign in
Join our new commenting forum
Join thought-provoking conversations, follow other Independent readers and see their replies