Pride And Prejudice And Zombies, film review: An energetic 'mash-up' of Jane Austen and George Romero
(15)​ Burr Steers, 108 mins. Starring: Lily James, Sam Riley, Bella Heathcote, Matt Smith
Geoffrey Macnab
Thursday 11 February 2016 20:45 Comments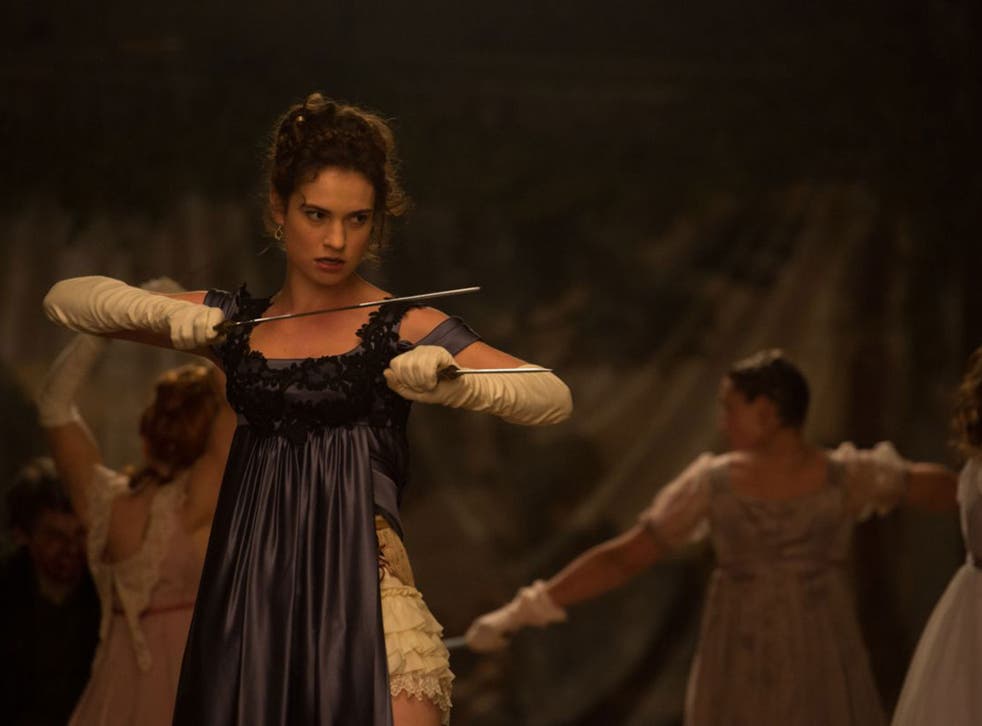 Zombies come to 19th-century Hertfordshire in this energetic and occasionally inspired "mash-up" of Jane Austen and George Romero. The trick is to play the film straight. Adapted from the Seth Grahame-Smith novel, it is a handsomely made affair that shows off the beauty of English meadows and country houses to fine effect. When the cast are not shooting off zombies' heads, they give performances that would pass muster in a BBC costume drama.
Sam Riley makes a dashing and bad-tempered Darcy while Lily James is very well cast as the headstrong Elizabeth Bennet: both an ingenue and a Shaolin warrior. Matt Smith gives the most overtly comic performance as the creepy, scone-obsessed clergyman Mr Collins, as chauvinistic as he is cowardly.
The downside is that the parodic elements undermine the drama, and the drama undermines the parody. Whenever someone tries to express their innermost feelings, they're likely to be interrupted by zombies. The scenes of the undead being decapitated become repetitive.
Despite its production values, the film plays like a 1990s Comic Strip Presents spoof. It is lively and entertaining early on but once we get accustomed to its strange mix of gentility and blood-letting, the magic dissipates.
Register for free to continue reading
Registration is a free and easy way to support our truly independent journalism
By registering, you will also enjoy limited access to Premium articles, exclusive newsletters, commenting, and virtual events with our leading journalists
Already have an account? sign in
Join our new commenting forum
Join thought-provoking conversations, follow other Independent readers and see their replies