Raya and the Last Dragon trailer
Raya and the Last Dragon review: Sits comfortably within the Disney canon, but never stands out
Raya may feel instantly at home with Jasmine, Elsa, Tiana, and co, but that familiarity always feels in danger of slipping into the formulaic
Dir: Don Hall, Carlos López Estrada. Starring: Kelly Marie Tran, Awkwafina, Gemma Chan, Daniel Dae Kim, Sandra Oh, Benedict Wong. PG, 130 mins
Disney's latest princess is exactly as we expect her to be: fierce, funny, and independent – with a dash of relatable awkwardness. Raya, who hails from the mythical land of Kumandra, rich in Southeast Asian influences, is a warrior on a mission. She must find the last dragon, Sisu, in order to reunite the clans and bring harmony to her people. And she's winningly played by Star Wars's Kelly Marie Tran, whose voice radiates tenderness, able to capture the character's edges both hard and soft.
There's an undeniable cultural power in the kind of representation Raya and the Last Dragon offers – a mirror held up to a neglected audience. But directors Don Hall and Carlos López Estrada seem more concerned with nestling their film within the Disney canon than with making it stand out. Raya may feel instantly at home with Jasmine, Elsa, Tiana, and co, but that familiarity always feels in danger of slipping into the formulaic.
The source of the problem may lie with its one major break from convention. No one in Raya and the Last Dragon ever bursts into song, beyond the odd ritual chant. This is an adventure yarn. The film shares some of its DNA with the Indiana Jones series, as Raya outwits booby traps and scours temple ruins for the pieces of an ancient, powerful gem – the key to unlocking the long-dormant power of the dragons. It's all so tactile and luminous that the effect is startling. But there are none of the musical flights of fantasy – say, the swirling ice crystals of Frozen II – that give animators the freedom to be at their most imaginative.
When Raya fights – in a way that evokes the martial arts of Pencak silat, Arnis, and Muay Thai – there's a sense of both the agility and the weight of her movements. Qui Nguyen and Adele Lim's script is rich in these kinds of details. The sword she wields is the double-edged kalis, which originates from the Philippines. But Disney has an odd reputation for intermixing care and carelessness when it comes to cultural authenticity. For a story so rooted in Southeast Asian folklore, much of the voice cast is actually East Asian.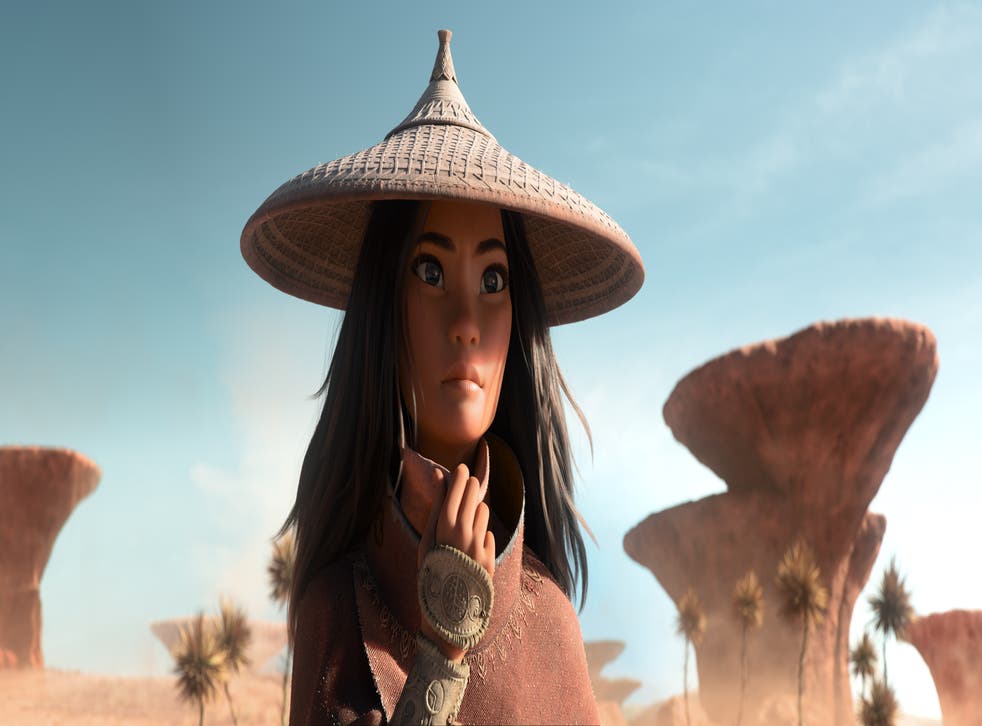 Raya and the Last Dragon is ravishingly beautiful, but its world has been stretched over a framework hastily cobbled together from the studio's past films. Without the usual musical breaks, there's a pressure to conform elsewhere. Raya builds a gang of unlikely allies: her animal sidekick, an armadillo-louse hybrid called Tuk Tuk (Alan Tudyk); not one, but two precocious children (Izaac Wang's Boun and Thalia Tran's Little Noi); and a brute with a heart of gold (Benedict Wong's Tong) who seems to have walked right out of Tangled's Snuggly Duckling pub. Her rivalry with Namaari (Gemma Chan) hews close to the enemies-to-lovers narrative without actually offering Disney's first LGBT+ leads, in what may be some of the studio's most blatant queer-baiting yet.
Then there's the elusive, pastel-blue, adorably fluffy Sisu, voiced by Awkwafina. The actor's always a reliable comedic presence, though she shines in the film's more dramatic moments – there's something heartbreaking about hearing that trademark husky voice start to crack. But the lessons Sisu has to offer Raya feel arbitrary. For all the splendour around her, our hero's own internal journey is short and simple – she just has to get over her trust issues. There's not much more to it. Raya and the Last Dragon will mean a lot to some. It will disappoint others. Either way, the Disney status quo remains intact.
Join our new commenting forum
Join thought-provoking conversations, follow other Independent readers and see their replies