Redoubtable review - Cannes 2017: Flimsy Jean-Luc Godard biopic from the director of The Artist
Michel Hazanavicius, starring: Louis Garrel, Stacy Martin
Geoffrey Macnab Comments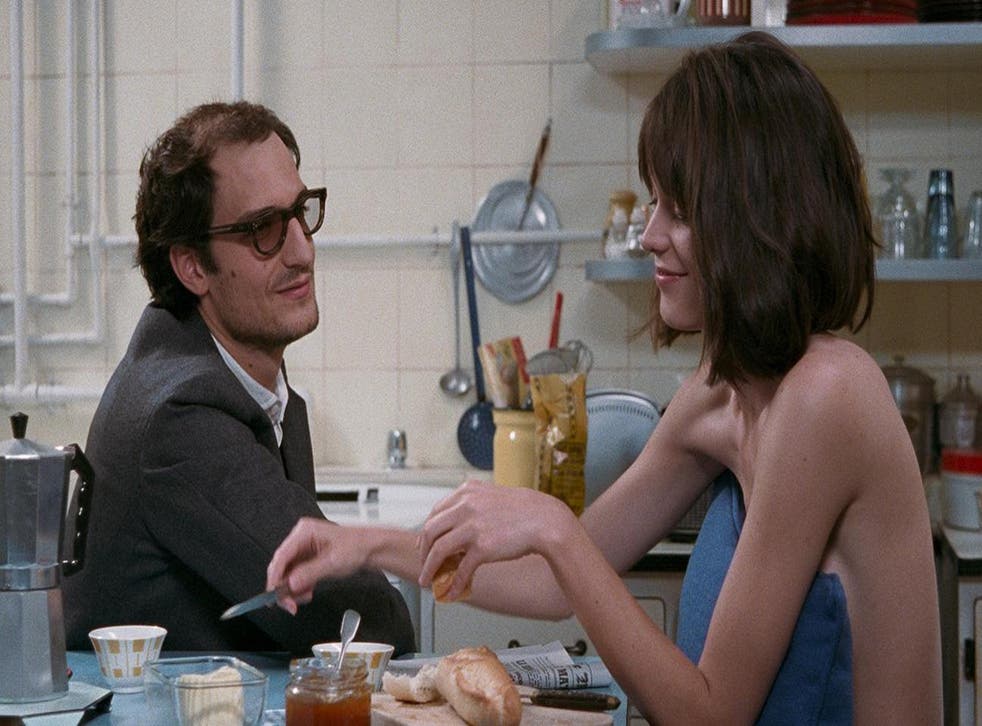 It's a case of Carry On Jean-Luc Godard in this very lightweight comic film dramatising key moments in the life of the sacred monster of French New Wave cinema. Hazanavicius won Oscars for The Artist but Redoubtable is unlikely to repeat the feat. It's a witty but determinedly superficial affair that rarely rises above the level of pastiche. As a director himself, Godard always knew how to provoke and surprise audiences. He infuriated them as much as he delighted him but he was never bland. The same, sadly, can't be said for Hazanavicius.
The Godard we encounter here in 1967/78 is already a near legendary figure - "Wolfgang Amadeus" Godard as he is called in the opening credits. He is married to Anne Wiazemsky (played by British actress Stacy Martin.) It's a time of extreme political turbulence and the great director is about to enter his Maoist phase. He has decided that his friends and most of his fellow filmmakers are irredeemably bourgeois and is busy boxing himself into a corner and, Hazanavicius implies, extinguishing his own creative flame. (Determined not to seem autocratic, he ends up directing his films by committee.)
As played by Louis Garrel, the auteur is part visionary, part nincompoop. He looks as much like silent comedian Harold Lloyd as he does like Godard himself. Throughout the film, he keeps on losing and breaking his glasses. Maximum comic capital is squeezed out of his mishaps. Poor Jean-Luc yearns to be a man of the people but he never quite fits in. He's not very confident in his use of his camera either and seems embarrassed by his own celebrity.
As students riot in the Paris streets and the Cannes Festival is abandoned, Godard and Anne are negotiating their relationship. He often ignores her but grows instantly jealous the moment she speaks to any other man. He ridicules her profession, dismissing actors as mindless whores.
Films to get excited about in 2017

Show all 13
Hazanavicius throws in constant, self-conscious references to Godard movies. Le Mepris is invoked several times. He even recreates the famous widescreen images of a naked Brigitte Bardot but this time with Stacy Martin's Anne. The shots, though, never have the force they should. This is mimicry, clever enough in its way, but often it only serves to highlight the gulf between Hazanavicius and the filmmaker whose work he is satirising.
In one scene, we see Godard and Anne bickering in a cinema as we see Antonin Artaud and Falconetti are on the screen above them in Carl Dreyer's silent classic Joan Of Arc. The scene invokes memories of another of Godard's wives, Anna Karina, in a celebrated scene in his 1962 classic, Vivre Sa Vie. The hitch here is that Redoubtable has none of the searing intensity of Vivre Sa Vie - and Stacy Martin isn't a patch on Karina. Martin's Anne is a passive character who shows no spark whatsoever.
As a comedy, Redoubtable has its fair share of chuckles. There's a wonderful scene in which a very pompous Godard, addressing a room full of students and revolutionaries, ties himself in knots comparing Jews with Nazis. He's trying to be provocative but ends up being merely idiotic. Hazanavicius also shows up the sexism and double standards of some of the New Wave directors by questioning just why it is that women, not men, always have to take their clothes off. (Bucking this trend, Godard is portrayed as a bit of a naturist.)
The real Godard had a knack for antagonising even those closest to him. His fellow director François Truffaut famously dismissed him as "a piece of shit on a pedestal." The Godard portrayed by Garrel is always spoiling for a fight and takes a delight in insulting other filmmakers but he's such a hapless and comic figure that his barbs bounce off their intended targets.
Redoubtable is accurate enough in the way it whisks us through the turning points in Godard's life and career in the late 1960s. It is also very stylish in the way it recreates Nouvelle Vague chic. (Godard and his colleagues may have been revolutionaries but they were also narcissistic and fashion conscious.) That doesn't change the fact that it is a very flimsy affair that never really gets to grips with what made its subject such an influential figure in the first place.
Register for free to continue reading
Registration is a free and easy way to support our truly independent journalism
By registering, you will also enjoy limited access to Premium articles, exclusive newsletters, commenting, and virtual events with our leading journalists
Already have an account? sign in
Join our new commenting forum
Join thought-provoking conversations, follow other Independent readers and see their replies