Review Round-up: Bobby Sands, Up for Love, The Carer, Sid and Nancy
A documentary on Bobby Sands, a Jean Dujardin-starring French rom-com, and the re-release of a punk classic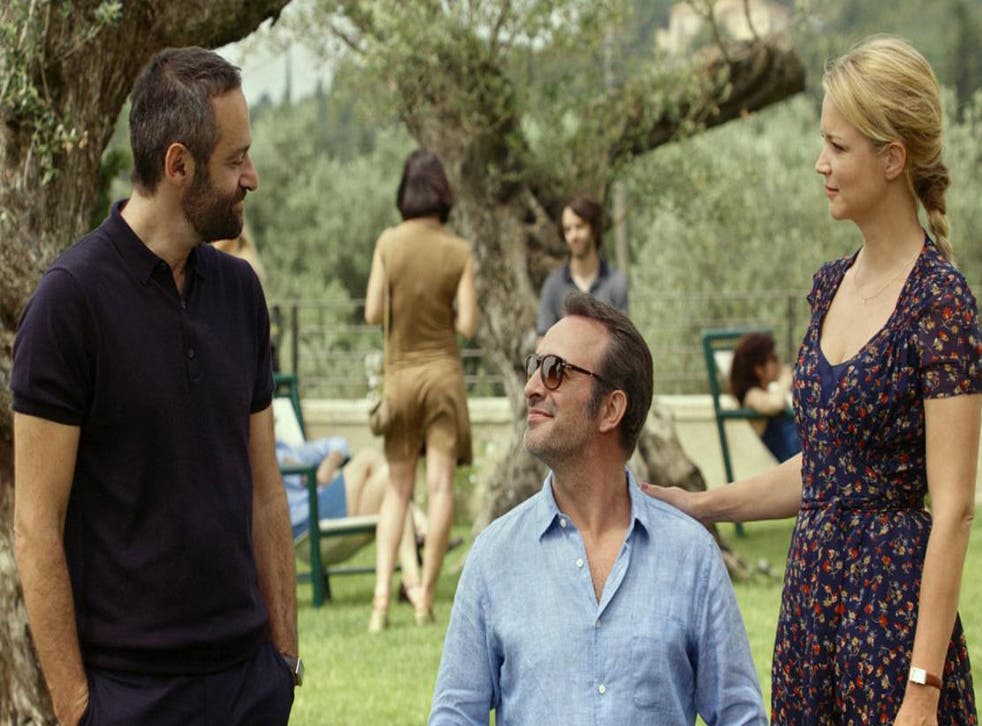 Bobby Sands: 66 Days (15)
★★★★☆
Dir: Brendan J Byrne, 106 mins, featuring: Fintan O'Toole, Danny Morrison, Norman Tebbit, Gerry Adams, Charles Moore
Byrne's documentary about IRA hunger striker Bobby Sands (who died in 1981 after fasting for 66 days) is thoroughgoing, absorbing and surprisingly dramatic. It includes commentary from figures who were once (and probably still are) inveterate political opponents. Everyone from former Sinn Fein spokesman Danny Morrison to Tory politician Norman Tebbit, from Sinn Fein leader Gerry Adams to Margaret Thatcher's biographer, Charles Moore, speaks on camera.
There is analysis from historians, journalists, doctors and even prison warders as well as copious use of Sands's dairies. The filmmakers count down the days of the hunger strike, listing Sands's weight and condition as they detail the tumultuous events carrying on outside the prisoner's cell in Long Kesh. There is also a comprehensive account of the by-election in which Sands became an MP from behind bars.
The documentary isn't really able to explain just how Sands, the bubbly, football-loving youngster with the Rod Stewart haircut, turned into a modern-day martyr, ready to starve himself to death for his beliefs. There is only very fleeting mention of his world beyond the IRA – his marriage or his relationship with his beloved mother. He joined the "provos" aged 18 and a half – and from then onward his family life was seemingly put on hold.
The hunger strikes are put in context. They were a tactic borrowed from the suffragettes but also followed in an ancient tradition of Irish sacrifice.
One of the more intriguing theories put forward here is that the hunger strikes by Sands and the nine other men who died helped eventually to bring about the end of armed conflict in Northern Ireland. As journalist Fintan O'Toole suggests, Sands's death proved there was no need to kill people. Enduring pain, not inflicting it, and dramatising your own suffering, was the way to win the argument.
Such a verdict would have seemed perverse in 1981 at the height of the troubles, but 35 years on it makes sense. The film itself stands alongside David Beresford's book Ten Men Dead as one of the best and most even-handed accounts of a traumatic and still very contentious episode.
Up For Love (12A)
★★☆☆​☆
Dir: Laurent Tirard, 98 mins, starring: Jean Dujardin, Virginie Efira, Cédric Kahn, Stéphanie Papanian
This is a very conventional French romcom with one big twist – its hero is so very small. In fact, Alexandre (Dujardin) is approximately 4ft 5in tall. This Tom Le Thumb is a very dashing figure, an architect who likes fast cars, fine food and taking his dates on impromptu parachuting trips. A little like Cyrano de Bergerac, he is a (generally) sweet-natured romantic who wants to play the handsome prince but knows that he is always being mocked behind his back.
Access unlimited streaming of movies and TV shows with Amazon Prime Video Sign up now for a 30-day free trial
Sign up
Efira plays Diane, the married lawyer, in the throes of a messy separation from her husband and business partner Bruno (Kahn). She begins a relationship with Dujardin after he retrieves her mobile phone. Tirard throws in some effective moments of slapstick – the mother in law driving recklessly the wrong way up a busy road as she contemplates her daughter marrying a dwarf, Dujardin hanging perilously from a cupboard ledge after he unsuccessfully tries to grab some napkins.
There are some well-observed scenes detailing the embarrassment of the lovers as they try to adjust to each others' heights, one straining his neck by staring upward, the other hurting her back by looking downward. What the film lacks, though, is charm. Dujardin, so irrepressible in The Artist, is a diminished and slightly seedy figure here. It isn't clear why he, as an actor of average height, is playing a character with a hypopituitary condition in the first place. The subplot about his needy son is a distraction.
The Carer (15)
★★★☆☆​
Dir: János Edelényi, 88 mins, starring: Brian Cox, Anna Chancellor, Emilia Fox, Coco König, Karl Johnson, Selina Cadell
Brian Cox gives a roaring performance as retired Shakespearian actor, Sir Michael Gifford, in this Dresser-style drama. Sir Michael has Parkinson's disease, his faculties are beginning to fail and he is prey to embarrassing moments of incontinence. The ageing thespian regards his daughter (Emilia Fox) with the same hostility that King Lear has for Goneril and Regan. She wants to have him put in a home.
Dorottya (Coco König), a young Hungarian carer, is hired to look after him in his country house. An aspiring actress herself, she jolts him out of his self pity and delights him by refusing to be browbeaten by his his fruity, expletive-filled insults. With her encouragement, Sir Michael steels himself to collect a lifetime achievement award from the London critics - and to appear in public for a last time.
The screenplay (co-written by the late Gilbert Adair) lurches too frequently into sentimentality. Some of the dialogue is arch and trite. A cameo from Sir Roger Moore doesn't help and there is a toe-curling scene in which Sir Michael holds forth on the beauty of his girlfriend's "golden delicious" breasts. Nonetheless, Cox is in rambunctious form and has an obvious rapport with König.
Sid And Nancy (18)
★★★☆☆
Dir: Alex Cox, 114 mins, starring: Gary Oldman, Chloe Webb, David Hayman.
Anyone who saw Lynn Barber's recent BBC interview with self-proclaimed "king of punk" John Lydon will have been startled by Lydon's revelation that his philosophical hero is Gandhi and his insistence that nothing is achieved in life without "hard serious work". Lydon also recalled to Barber that Sid Vicious, his bandmate in the Sex Pistols, had no aptitude for music whatsoever.
That final observation is borne out by Alex Cox's 1986 film about the wildly self-destructive love affair between Vicious and his American girlfriend Nancy Spungen.
Sid And Nancy is uneven. Vicious is played brilliantly by Gary Oldman in best British method fashion (at one stage, he head bangs a wall). Chloe Webb is also impressive as Spungen – needy, manipulative, a heroin addict but with a strange, little girl lost charm about her. The film, though, is oddly cast.
As Lydon/Johnny Rotten, Andrew Schofield has little of the snarling charisma of the real-life Lydon while David Hayman is an unlikely choice as the Sex Pistols' manager, Malcolm McLaren. It is easy to become exasperated by the sheer chaotic nihilism of Sid and Nancy's life together as dysfunctional drug addicts in the Chelsea Hotel.
There are some magical moments along the way, though. Both in the London and New York scenes, cinematographer Roger Deakins throws in lyrical imagery of skylines and cityscapes. The storyline is grim and morbid but is leavened by the humour. At the darkest points in the story, there's always likely to be a kid at the edge of frame, vandalising a car or trying to get Sid to dance to the boom box.
Join our new commenting forum
Join thought-provoking conversations, follow other Independent readers and see their replies