Review: Skyfall, Sam Mendes, 140 mins (12A)
The new 007, with its wit, panache and crashing thrills, is the freshest, most entertaining in ages
Jonathan Romney
Monday 29 October 2012 14:26 Comments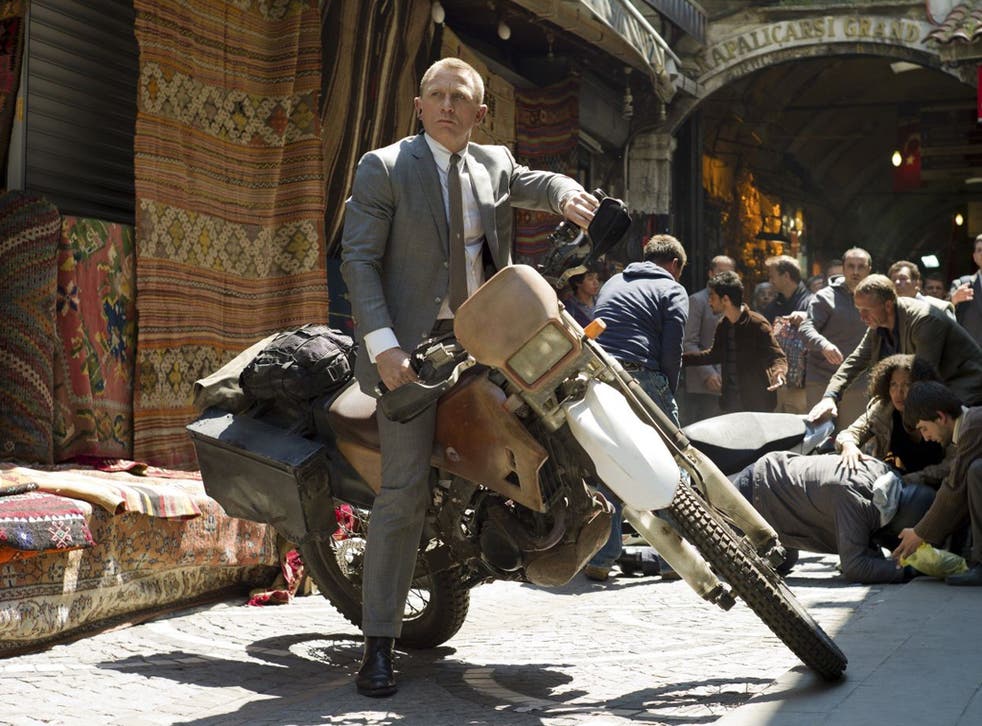 'Were you expecting an exploding pen? We don't really go in for that any more," says MI6 quartermaster Q to James Bond, as he presents him with some basic field kit – a gun and a radio transmitter. Skyfall is the third in the relaunched series of back-to-basics Bond, stripping away the flashier absurdities of old.
I didn't much care for the new approach in 2006's reboot episode, Casino Royale, which struck me as joyless and brutish. But Skyfall, which sees the series entrusted to the prestigious hands of Sam Mendes, puts fire back into the old formula. It takes the 007 legacy seriously, and gives us all the quintessential ingredients, without the coy self-mockery that dogged the series at its weakest. Here's an intelligent, narratively propulsive Bond, the freshest, most entertaining episode in ages.
Even before we've reached Daniel Kleinman's swimmy fever-dream take on the opening titles, Skyfall has already crammed more into one pre-credit sequence than most action movies achieve in two hours. The intrigue this time revolves around a mysterious enemy who's personally targeting secret service head M (Judi Dench). But we don't meet this nemesis for a while. First, we're treated to a terrific sequence in a Shanghai tower block, vividly coloured laser projections flickering on the glass walls, in an chicly modern showpiece shot with exuberant chromatic gusto by Roger Deakins. Then comes an update on something more familiar, as the old dicky bow is dusted down for a visit to a Macau gambling den where Bond tangles with Chinese heavies, Komodo dragons and Bérénice Marlohe's femme fatale, Sévérine – cue a line that could have come from the back pages of Sean Connery's or even George Lazenby's chat-up books: "Only a certain kind of woman wears a backless dress with a Beretta strapped to her thigh."
Only after all this does the film play its trump card, Javier Bardem's villain Raoul Silva. First seen in his lair on a deserted island, he makes his entrance very slowly, telling a story about radical pest control – a memorably eccentric monologue that is Skyfall's answer to Harry Lime's cuckoo-clock speech in The Third Man. Bardem's Silva is magnificently unnerving – a pallid, sexually equivocal, purringly feline presence who could almost be the result of an experiment to clone a human from one of Blofeld's cats.
There's a motive to Silva's malevolence: he's a former operative of M who feels she betrayed him. He's a Miltonic fallen angel out to get even with a maternal God. The character grows richer and stranger as the film develops: by the time he's led Bond on a chase through the London Underground, he's taken on touches of Hannibal Lecter and the Joker. Lapping up the role like double cream, Bardem makes one of the series' classiest and creepiest fiends.
He could well have eclipsed Bond, but Daniel Craig's steely presence has deepened, and you feel he's really in command in his third outing. He's less cold-bloodedly muscular than in Casino Royale, his taciturnity now genuinely suggesting that 007 has a turbulent emotional life, but little inclination to talk about it. Scripted by Neal Purvis, Robert Wade and John Logan, Skyfall skates closer to psychoanalysing Bond than any other episode – "unresolved childhood trauma" is diagnosed – but the film wisely steers clear of getting all self-help about it.
What emerges most sharply is Bond's relation to authority, and particularly to M. Dench makes the character variously sympathetic and honourable, yet also cold-blooded and manipulative, a fearsome, castrating mother. Like Craig, Dench takes the less-is-more approach. Everything goes on behind her clipped, imperious Whitehall diction and mask-like features, and by the time she rather movingly recites Tennyson, she has brought genuine nuance to a character with a single letter for a name.
There are still some unreconstructed Bond-isms: distinct callousness in the dispatch of Sévérine (her doomed vamp a jazzed-up version of the Victorian fallen woman), for instance. But what emerges most strongly is the film-maker's belief (not always clear in Casino Royale) in delivering value for money through twists on the traditional. That includes top-notch supporting performances (Ralph Fiennes, Ben Whishaw's wet-behind-the-ears Q, Naomie Harris as Bond's sharpshooter sidekick and love interest). The clever play with old tropes even gives us, at a key moment, a certain famous car and Monty Norman's 007 theme, while Albert Finney appears in a novelty role that must surely have been written for Sean Connery.
Most of all, Mendes's breezily, imaginatively directed film shows faith in the thrill of the real – not the weightless dazzle of CGI but the feeling of actual objects (bikes, cars, Tube trains) crashing and colliding in a solid world. More than any other major movie property, the Bond series has always been predicated on the idea of value for money, and Skyfall fulfils its brief: a real show, proper excitement, executed with wit, colour and panache. You won't miss the exploding pens for a minute.
Access unlimited streaming of movies and TV shows with Amazon Prime Video Sign up now for a 30-day free trial
Sign up
Next week
Jonathan Romney watches The Master, Paul Thomas Anderson's drama about Scientology (or is it?)
Critic's choice
American indie prodigy Behn Zeitlin makes a delirious and enigmatic debut with his Louisiana swampland reverie, Beasts of the Southern Wild. British director Sally Potter plays it personal with her tender evocation of 1960s girlhood: Ginger and Rosa stars Elle Fanning alongside Christina Hendricks, Annette Bening et al.
Register for free to continue reading
Registration is a free and easy way to support our truly independent journalism
By registering, you will also enjoy limited access to Premium articles, exclusive newsletters, commenting, and virtual events with our leading journalists
Already have an account? sign in
Join our new commenting forum
Join thought-provoking conversations, follow other Independent readers and see their replies