Reviews round-up: Teenage Ninja Mutant Turtles 2, Me Before You, Versus: Life and Films of Ken Loach
Plus Stéphane Brizé's The Measure of a Man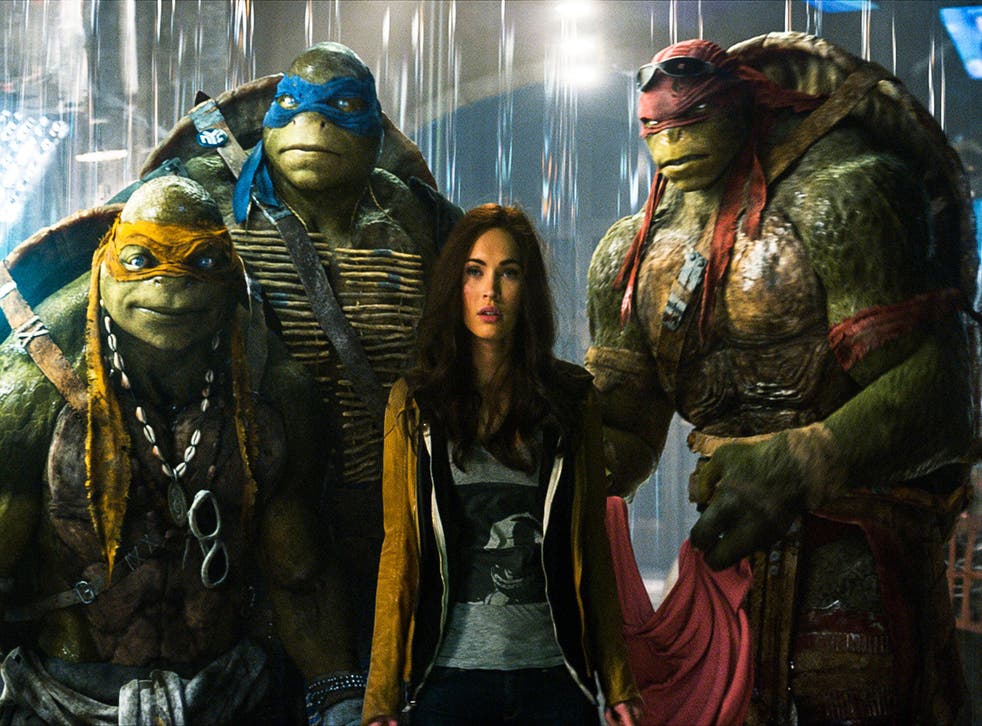 Teenage Mutant Ninja Turtles: Out Of The Shadows (12A)
★★☆☆☆
Dir: Dave Green, 112 mins, starring: Megan Fox, Stephen Amell, Alan Ritchson, Will Arnett
The adolescent green reptiles are back – and they haven't grown up in the slightest since their last film. They still bicker, eat pizza, wear bandanas, hide out in the sewers of New York and come to the surface every now and then to save the world from destruction. Their new adventure is strictly routine. Their arch enemy The Shredder escapes jail with the assistance of a mad scientist and a strange amoeba-like entity called Krang.
Together with newscaster Megan Fox and an ice-hockey-stick wielding young cop/vigilante Casey Jones (Amell), the turtles are tasked with preventing Armageddon and keeping the extra-terrestrials at bay. There's lots of noise and mayhem but this is glorified kids' matinee fare at heart. It's a pity to see an actress as accomplished as Laura Linney reduced to playing the Commissioner Gordon-like role as the harassed police chief who seems shell-shocked by the antics of the turtles.
Me Before You (12A)
★☆☆☆☆
Dir: Thea Sharrock, 110 mins, starring: Emilia Clarke, Sam Claflin, Matthew Lewis
Me Before You is toe-curling in the extreme, a glossy romantic drama that skims over complex issues to do with disability and assisted suicide in a frivolous and manipulative way. Emilia Clarke, grinning like Tommy Steele, dressed like a munchkin and scatty in a way that will take Game Of Thrones fans by surprise, plays Louisa Clark, a young woman who is hired as caregiver to upper-class Will Traynor (Sam Claflin).
He's a quadriplegic – a Heathcliff in a wheelchair. Before his accident (shown in melodramatic fashion in the opening scenes), he was a City whizz-kid who loved action man adventure holidays. At first, Will and Clark can't stand one another but, with a grim inevitability, they begin to fall in love.
They watch DVDs of foreign language films. She takes him to the races, to classical music concerts and even to meet her family. His love of life is rekindled – at least to an extent. This is a love story with a contorted logic to it and a very morbid undertow. It uses all the familiar devices found in weepies but its underlying vision is surprisingly bleak.
Versus: The Life And Films Of Ken Loach (12A)
★★★★☆
Dir: Louise Osmond, 93 mins, featuring: Ken Loach, Tony Garnett, Gabriel Byrne
This is a timely moment for the release of Osmond's excellent new documentary about British filmmaker Ken Loach, who won his second Palme D'Or in Cannes last month. Osmond delves into areas of her subject's life that aren't often covered in profiles or interviews. We learn of his love of kitsch musicals and regency furniture.
Loach himself talks a little sheepishly about being reduced to directing McDonald's ads in the early Nineties, when his career was at a low ebb. There is a section on the car crash that devastated his family. More predictably, politics are shown as being front and centre in Loach's life and career. There is a riveting account of his staging of Jim Allen's play Perdition, about the collaboration between Zionists and Nazis in Hungary in 1944. Loach accuses the Royal Court's director Max Stafford-Clark of "moral cowardice" for his decision to take the production off.
Deceptively mild-mannered, Loach is revealed as someone who simply doesn't bend and who never shows a shred of moral cowardice himself. (Gabriel Byrne, an actor in Perdition, refers to his "quiet power".) The documentary also reveals the ruses he uses to coax such natural performances from his actors, many of them relatively inexperienced.
From David Bradley in Kes to Crissy Rock in Ladybird, Ladybird and Hayley Squires in I, Daniel Blake, Loach knew just how to win their trust and to give them confidence. Old friends liken him to a "bank clerk" and talk about how quiet and conservative he seems – but they also point out you underestimate him at your peril.

Access unlimited streaming of movies and TV shows with Amazon Prime Video Sign up now for a 30-day free trial
Sign up
The Measure Of A Man (PG)
★★★☆☆
Dir: Stéphane Brizé, 91 mins, starring: Vincent Lindon, Karine de Mirbeck, Mattieu Schaller, Yves Ory
There is a flavour of the Dardenne brothers and of Ken Loach about Brizé's drama. The main character is Thierry (Lindon), a middle-aged factory worker who has lost his job and is struggling to find a new one. He's a proud, self-reliant man desperate to provide for his disabled son. Whatever the buffetings he endures, he always keeps his emotions in check. When Thierry finds work, it is as a security guard in a supermarket - a position that requires him to use surveillance cameras prey on shoplifters who are themselves vulnerable.
Brizé shoots the film in detached fashion, as if he is looking in at Thierry's life through such a camera himself. The subject may be downbeat but the film is always absorbing. Seemingly minor events such as a job interview conducted over Skype or Thierry's attempt to sell his mobile home take on an unlikely dramatic significance. Lindon brings gravitas and pathos to his role as the French everyman trying to stay afloat in a society that has spurned him.
Join our new commenting forum
Join thought-provoking conversations, follow other Independent readers and see their replies