Reviews round-up: Now You See Me 2, Weiner, Maggie's Plan, The Legend of Tarzan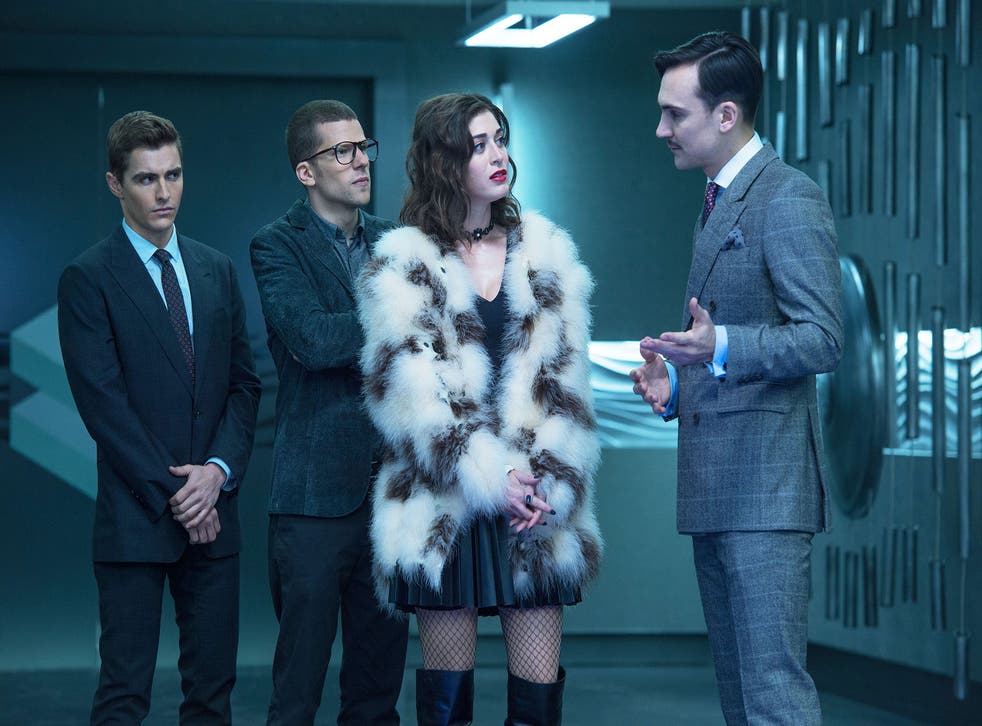 Now You See Me 2 (12A)
Two Stars
Dir: Jon M Chu, 129 mins, starring: Mark Ruffalo, Jesse Eisenberg, Woody Harrelson, Dave Franco, Lizzy Caplan, Daniel Radcliffe, Morgan Freeman, Michael Caine
This sequel begins breezily enough. The magicians from the first movie (the "four horsemen", as they're called) are back, minus Isla Fisher but with a new recruit, Lula (Lizzy Caplan), who turns up out of nowhere in Jesse Eisenberg's apartment. Their ability to play card tricks, pull pigeons from people's underwear and rabbits from under rugs is undimmed. With the help of their FBI agent accomplice and mentor Dylan Rhodes (Ruffalo), they use their sleight of hand to expose a corrupt Silicon Valley type tycoon who is doing dirty deeds with people's private data. Their gambit backfires. They're whisked off to Macau and discover that they've been played for fools by shadowy but very urbane financier Walter Mabry (a cheerful Daniel Radcliffe.)
The film has a strong cast. Eisenberg is as sardonic and obnoxious as he was in the first movie. Harrelson enjoys himself in a dual role as the hypnotist and trickster – and as his character's even more slippery and sleazy twin brother. Ruffalo plays his character with his familiar earnest intensity.
Morgan Freeman is back – and so, late on, is Michael Caine. What makes the film unravel is its sheer tricksiness. Everyone is conning everyone else. Carpets are pulled from beneath the feet so often that no stability is left for anyone. The convoluted sub-plot about Ruffalo's beloved dad, a Houdini-type conjurer and escapologist last seen in the 1980s, doesn't help. Nor does it enhance the swing of the story that the magicians spend so long backtracking and explaining just how they performed their tricks. In "real" life and real time, these tricks would be much more impressive but when they're staged with the help of editing and CGI, they don't seem so special.
Weiner (15)
Four Stars
Dir: Josh Kriegman, Elyse Steinberg, 96 mins, featuring: Anthony, Weiner, Huma Abedin, Sydney Leathers
Back in 1960, Robert Drew revolutionised political documentary with his film Primary, in which he followed John F Kennedy fly-on-the-wall style as Kennedy campaigned for the US presidential nomination. This startling new documentary shows just how far Drew's brand of direct cinema has now evolved.
The film's subject is Anthony Weiner, a pugnacious and charismatic seven-term Democrat congressman standing to be Mayor of New York. Weiner has two related problems that collide in spectacular fashion. One is his name, which is slang for a hot dog or a penis. (The filmmakers begin the film with a quote from Marshall McLuhan: "The name of a man is a numbing blow from which he never recovers.") The other is his strange habit of using social media to send strangers intimate pictures of his anatomy. He is a repeat offender, one reason why, having led the polls early on, his ratings quickly droop.
The filmmakers have been granted extraordinary access. This is a portrait of a marriage as much as it is a record of a political campaign. Again and again, inside the campaign room or in Weiner's own home, the camera will tilt to show Weiner's long-suffering wife Huma, standing on the sidelines, looking utterly forlorn at the mess her husband has contrived. She is a formidable political figure in her own right, a key aide to Hillary Clinton. Dignified, intelligent and glamorous, she does her best to support her husband as he leaves havoc in his wake.
Like his fellow New York politician Eliot Spitzer (whose career was derailed by a scandal involving call girls), Weiner becomes a cartoon figure in the pages of New York's tabloids, which relish publishing headlines about him "sticking it out". It's hard to feel too much sympathy for a candidate who, in his own words, has a "virtually unlimited ability to fuck things up from day to day".
Access unlimited streaming of movies and TV shows with Amazon Prime Video Sign up now for a 30-day free trial
Sign up
Weiner doesn't try to push the filmmakers away once the scandal breaks. They respond by treating their subject in an even-handed way. He's more than the butt of TV chat show hosts' endless jokes. You can't help but admire the way he continues to try to talk about housing problems in Brooklyn even when all his interviewers want to ask him about is his "weiner" and why he can't keep it under wraps.
Maggie's Plan (15)
Three Stars
Dir: Rebecca Miller, 99 mins, starring: Greta Gerwig, Julianne Moore, Ethan Hawke, Bill Hader
Early on, writer-director Rebecca Miller's comedy drama is utterly delightful – an acutely observed, very witty drama with another of Greta Gerwig's winning performances as a New York everywoman trying to make sense of her private life. She plays Maggie, single but yearning to become a mother. To achieve her goal, she looks for a sperm donor. The candidate for father is Guy (Travis Fimmel), an old high-school acquaintance who was once a maths prodigy and now runs his own business making pickles. Her exhaustively detailed plans for single motherhood are sabotaged when she falls in love with John (Ethan Hawke) an academic and would be novelist who already has an overbearing and very brilliant professor wife (Julianne Moore in imperious, scene-stealing from.) Multiple romantic complications ensue.
One of Miller's references is A Midsummer Night's Dream and the film also plays like a superior Woody Allen-style farce (minus the chauvinism) or like one of Richard Linklater's relationship dramas. Sadly, the magic here eventually begins to fade. As Maggie becomes increasingly exasperated with John's self-centred neediness, so do we. The pressures of Maggie's new domestic routine dull the sparkiness which made the film seem so special.
The Legend Of Tarzan (12A)
Three Stars
Dir: David Yates, 110 mins, starring: Alexander Skarsgard, Samuel L Jackson, Margot Robbie
Tarzan is back, customised for a contemporary audience in a visually impressive but strangely contorted new adaptation that doesn't quite know in which direction it wants to swing. The film strives both to be a riproaring matinee adventure and a parable about colonialism. John Clayton/Tarzan (Skarsgård) is first encountered as an enlightened and well mannered Victorian aristocrat, his jungle days seemingly far behind him. He is asked back to the Congo on the invitation of King Leopold of Belgium, who wants to show off all the good works he has accomplished in Africa. In fact, as his travel companion George Washington Williams (Samuel L Jackson) makes clear, the Belgians are slave trading, diamond smuggling mercenaries.
John's American wife Jane (Margot Robbie) accompanies him on his African journey. Little do the travellers realise that their trip has been engineered by the ruthless Leon Rom (Christopher Waltz), who plans to betray Tarzan. In the course of the journey, there are several flashbacks sketching in the formative years of Tarzan. We learn how his parents were stranded in the jungle and how the apes took him in as baby. His unconventional jungle courtship of Jane (on first meeting her, he sniffs her all over) is also shown.
David Yates has directed several Harry Potter films and has an obvious flair for handling films on an epic scale without neglecting the human factor or the humour. There is lots of swirling camerawork here as we are whisked across spectacular landscapes and caught in the middle of ostrich stampedes or of angry apes. The European colonialists in their white suits and panama hats have no respect at all for the animals, the people or the environment.
For all the background historical information and exhaustive production design, the film eventually turns into a very primal tale about Tarzan rescuing Jane. We don't get to see him beat his chest but we do hear that familiar roar, rather hoarser and more intimidating than when Johnny Weissmuller used to make it.
Skarsgard plays Tarzan as an all-round good egg whose selfless and heroic behaviour doesn't change, whatever company he finds himself in, ape or human. It's a likeable but bland interpretation of the role, lacking much in the way of rage or darkness. Robbie's Jane is like a younger, more glamorous version of Katharine Hepburn's character in The African Queen, fiery, imperious and always ready to roll with the punches. Waltz reprises his urbane villain routine, familiar from Tarantino and Bond movies but enjoyable all the same. Samuel L Jackson isn't very well served by a script that lacks many of the zinging one-liners he puts across better than anyone.
The action sequences are staged with plenty of elan but there are times when so much CGI is used that it seems as if we are watching an animated movie. This is a perfectly serviceable stab at updating the Tarzan story. What it lacks is any real attitude, oomph or new perspective on the characters created by Edgar Rice Burroughs.
Join our new commenting forum
Join thought-provoking conversations, follow other Independent readers and see their replies