Rocks, review: The most authentic film about British teens in years
Sarah Gavron's lived-in ode to young womanhood is a tragedy with an irrepressible spirit
Clarisse Loughrey
Thursday 17 September 2020 13:24 Comments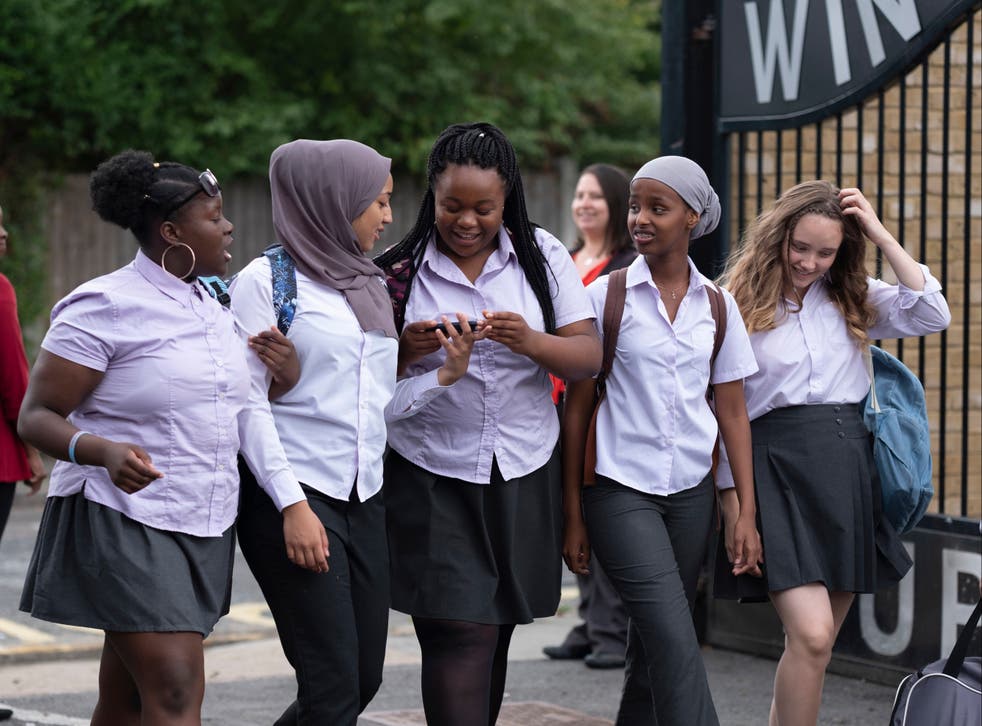 Dir: Sarah Gavron. Cast: Bukky Bakray, Kosar Ali, D'angelou Osei Kissiedu, Shaneigha-Monik Greyson, Ruby Stokes, Tawheda Begum. 12A cert, 93 mins.
Olushola's (Bukky Bakray) friends all remember the time she stepped in to defend her best mate Sumaya (Kosar Ali) from bullies. It's why they call her Rocks now – solidarity is part of what defines her. This is girlhood as seen through the lens of director Sarah Gavron, best known for 2015's Suffragette. Here, to be a young woman is to be as steady and immutable as the most ancient of mountain ranges.  
The film drops us into the middle of Rocks's east London clique as they excitedly plan the junk food they'll binge on after class, argue over whether someone can lose their virginity to a tampon, and start food fights in the middle of home economics. Gavron, alongside casting director Lucy Pardee, assembled the film's teen stars (many of them making their debuts here) before a single word of its script had been written. Theresa Ikoko and Claire Wilson then crafted a story drawn directly from the world and experiences of its cast. The result is the most authentic film about British teens in years.
Rocks's mother (Layo-Christina Akinlude) waves her and her brother Emmanuel (D'angelou Osei Kissiedu) goodbye, as they head off to school. The camera lingers for a moment. It studies her face, as its emotions start to slip down some imaginary drain. Something's off. The siblings return to an empty home and a note explaining that their mother has gone to clear her head. Rocks doesn't seem worried, at first. This has happened before. But every day that passes without her mother there, a chunk of her innocence is quietly knocked away, while she watches Emmanuel spiral helplessly into confusion and disarray. One day, he'll stand waiting by the window like a dejected puppy, the other he'll start screaming that he never wants to see his mother again.
Rocks always sticks up for others, but she has a tougher time sharing her own vulnerabilities. It's the biggest test her friendships will have to face. Ikoko and Wilson's script subtly explores the small hollows created between people by class and race. All of her friends want to help, but a middle-class white girl (Ruby Stokes's Agnes) won't necessarily know the right way to fix a working-class black girl's problems. Good intentions have a tendency to turn sour. Gavron, meanwhile, finds depth in Rocks' surroundings. There's neither a house nor a street here that doesn't tell its own story. Sumaya's Somali family are in the middle of celebrating an engagement, their living room draped in silks and crowded with plates of bite-sized delicacies. The girls always hang out on the same rooftop, where central London's skyline rises up like sharp, jagged daggers behind them. The world of corporate deals and crisp suits seems a million miles away.
The events of Rocks are tragic, but the film – much like its hero – refuses to get knocked down by despair. Rocks can always find joy (even if it's fleeting) in her friends. They may struggle to understand her pain, but do what they can to soothe it. They'll make her giggle in dance class or whisk her off to a day at the seaside. Rocks is a heartfelt testament to the resilience of teenage girls.
Rocks is in UK cinemas from Friday 18 September
Register for free to continue reading
Registration is a free and easy way to support our truly independent journalism
By registering, you will also enjoy limited access to Premium articles, exclusive newsletters, commenting, and virtual events with our leading journalists
Already have an account? sign in
Join our new commenting forum
Join thought-provoking conversations, follow other Independent readers and see their replies