Selma, film review: A majestic David Oyelowo deserves an Oscar for this uncanny performance
(12A) Ava DuVernay, 128 mins Starring: David Oyelowo, Tom Wilkinson, Carmen Ejogo, Tim Roth, Oprah Winfrey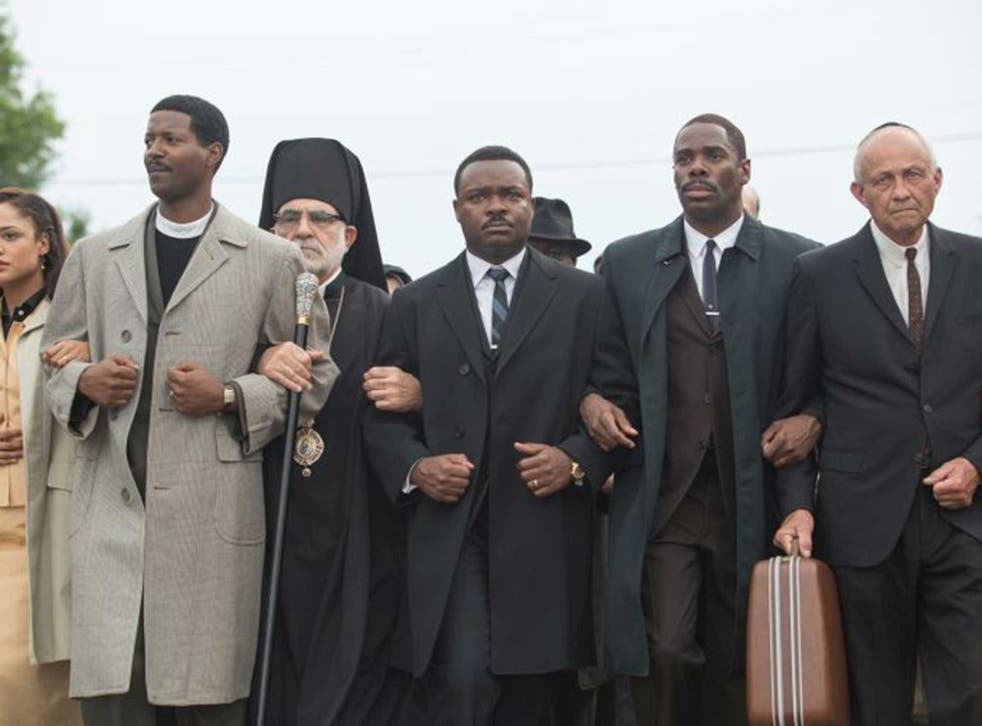 Selma is a rousing political drama, made with enough verve and passion never merely to seem didactic. Its near complete absence from this year's Oscar nominations is baffling and suggests a double standard. It is difficult to fathom how Steven Spielberg's Lincoln (2012) received 12 nominations when Selma has limped in with only two, for Best Picture and Original Song. Both are studies of great American leaders at pivotal points in their political careers. Spielberg's film concentrates on President Abraham Lincoln's struggles to pass the Thirteenth Amendment and thereby abolish slavery in the US.
In Selma, the director Ava DuVernay is telling the story of Dr Martin Luther King's equally momentous battle to pass the 1965 Voting Rights Act. Both are exceptional films and boast uncanny central performances. Whereas Daniel Day-Lewis won the Academy Award for playing Lincoln, his fellow British actor David Oyelowo's portrayal of the African-American civil rights leader hasn't even secured a nomination.
As Selma begins, Dr King is about to accept the Nobel Peace Prize in Oslo. It is late 1964, a year after King's celebrated "I Have a Dream" speech. He is uncomfortable at being feted in luxurious surroundings while many of his fellow African-Americans are unable to vote.
Back in the US, Annie Lee Cooper (Oprah Winfrey) turns up at her local courthouse to try to have her name put on the electoral roll. The court clerk mocks her. First, he asks her to recite the preamble to the Constitution. (To his chagrin, she does so.) Then, he demands she tell him how many county judges there are in Alabama. Again, she has the answer, but he is able to humiliate her and send her away by telling her she needs to be able to name them all.
Even more shocking is the slow-motion recreation of the 1963 church bombing in Alabama that killed four African-American girls.
There are tensions within Selma that are never fully resolved. On the one hand, DuVernay is trying to stay true to "history". The main incidents here are well documented; many happened in the public eye. On the other hand, she is trying to create tension and atmosphere. Interiors are lit in dark, brooding fashion as if this is some Godfather-style gangster thriller.
Selma film stills

Show all 8
The film's portrayal of President Lyndon B Johnson (Tom Wilkinson) has been criticised for historical inaccuracy but, in dramatic terms at least, it works well enough. The President is the de facto villain. He is first seen skulking in a doorway. He is a Machiavellian figure who owes as much to Kevin Spacey's political schemer Frank Underwood in House of Cards as to the real LBJ. In one early scene, he warns Dr King, whom he patronises relentlessly, "This voting thing is going to have to wait." Johnson's focus is on his "eradication of poverty" programme – and protecting his own popularity. He is unwilling or unable to accept King's argument that without the power to vote, African Americans have no way to protect themselves against a law-enforcement system which, in states such as Alabama, at least, openly terrorises them.
If Johnson is vaguely sinister, he is nothing compared to the creepy J Edgar Hoover (Dylan Baker), Director of the FBI, whose team set out to undermine Dr King by targeting his family and exposing his private life. Completing the unholy triumvirate is Alabama Governor George Wallace (Tim Roth), a smoothly spoken southern segregationist who sneeringly refers to the civil rights movement's desire to make all Americans into "one mongrel" race.
As the film progresses, we see different, slightly more positive aspects to LBJ and Wallace but they are part of a white establishment that is shown to be deeply suspicious of Dr King and his followers. Paul Webb's screenplay uses FBI logs to give the film a sense of dramatic momentum and of time passing, and to underline how closely the civil rights activists' movements were being monitored by the authorities. The screenplay also, cleverly, focuses not just on the 1965 Selma to Montgomery civil rights marches but, very specifically, on the marchers' symbolic battle to cross the Edmund Pettus Bridge.
Access unlimited streaming of movies and TV shows with Amazon Prime Video Sign up now for a 30-day free trial
Sign up

DuVernay gives the film a brisk narrative tempo as she deals with multiple characters, many plot strands and the obligatory scenes of Dr King's rousing speeches. "Black Power" leader Malcolm X (Nigel Thatch) pops up briefly. He is the "type" LBJ fears the most. The White House far prefers King's non-violence to Malcolm X's militancy – but, as the film shows, King's strategy isn't just about turning the other cheek. By provoking his opponents into their own acts of violence, especially if the victims are white liberal supporters of the movement, he not only takes the moral high ground. He wins over the media and public opinion.
The riot scenes are shot in hyperbolic fashion. Every time a civil rights marcher is hit with a fist or a truncheon, there will be a deafening thud on the soundtrack. DuVernay shows just how terrifying it must have been for the marchers, waiting to confront Sheriff Clark (Stan Houston) and his thuggish officers, knowing they are bound to be beaten up and arrested.
Oyelowo's exceptional performance captures not just Martin Luther King's distinctive way of speaking but his gravitas and moral authority, too. This isn't exactly a critical portrait of its subject. King is in his late 30s but already seems like someone from an older generation to his younger followers, some of whom are dismayed by his cautious tactics. We hear his wife, Coretta (played with a winning mix of fortitude and vulnerability by Carmen Ejogo), lament the "constant closeness of death… the fog of death" that envelops King and his followers. There are references to his womanising and moments in which he seems assailed by doubt but his heroism is never in doubt.
DuVernay is determined to make Selma a dramatic and ultimately upbeat movie, celebrating the achievements of Dr King and the civil rights movement. Her approach isn't subtle or even-handed but Selma has a passion and an intensity that a documentary simply couldn't have matched.
Join our new commenting forum
Join thought-provoking conversations, follow other Independent readers and see their replies