Sonic The Hedgehog (2020) new official trailer
Sonic the Hedgehog review: File this one away next to the live-action Alvin and the Chipmunks
The redesign might have been worth it, but Sonic himself is one of the few elements that actually feels tied to the Sega games 
Dir: Jeff Fowler. Starring: Ben Schwartz, Jim Carrey, James Marsden, Tika Sumpter, Lee Majdoub, Adam Pally, Neal McDonough. PG cert, 99 mins
Back in April of last year, the first trailer for Paramount's live-action Sonic the Hedgehog pumped Lovecraftian horror into the eyes of unwitting film fans. The video game character they knew and loved – with his enormous eyes, rotund little body, and gangly legs – had been replaced with what looked like an adult man in a Sonic morph suit. Why were his calves so shapely? Why were his teeth so prominent? The online reaction was swift and brutal. The studio panicked. The film's release date was pushed back by several months so that the VFX team had time to come up with a redesign.
Was it worth it? Yes and no. Sonic certainly looks like Sonic now, but (for whatever reason) his design is so sharp and oversaturated that it's impossible to believe him as a real being moving and interacting with his world. He's no Detective Pikachu, who drove audiences insane over the fact they could never cuddle him.
Beyond that, Sonic is one of the few elements here that actually feels grounded in the original Sega games. While the film opens on a familiar-looking island busy with undulating trails and convenient loop-de-loops (the same paths players would send Sonic speeding down in order to collect gold rings), we only spend a few moments here. Writers Pat Casey and Josh Miller have instead opted for the traditional fish-out-of-water narrative: it's revealed Sonic is actually an alien and the rings are portals used by advanced cultures to travel from planet to planet. They're also Sonic's escape route when his home is attacked and his mentor (an owl in a fancy headdress) sends him to Earth to hide.
He ends up in Green Hills, Montana, which is protected by its sheriff Tom Wachowski (James Marsden) – a man who desperately wants to save lives, but who's stuck in a town where the biggest threat is bagel-stealing ducks. He's bored out of his mind. So is Sonic (voiced here by Ben Schwartz, who nails the squeaky, Saturday morning cartoon-style voice). Both of their worlds are disrupted by the arrival of Dr Robotnik, who's been sent by the government to hunt down and capture the extraterrestrial beastie. Except he doesn't look much like Robotnik. He looks like Jim Carrey in a crew cut. It's a surprisingly intense, rage-laced performance for a kid's film: this isn't the Carrey of Batman Forever, it's the one who went method in 1999's Man on the Moon or who rattled conservatives with his unflattering caricatures of Sarah Huckabee Sanders and Donald Trump.
10 worst films based on video games, ranked

Show all 10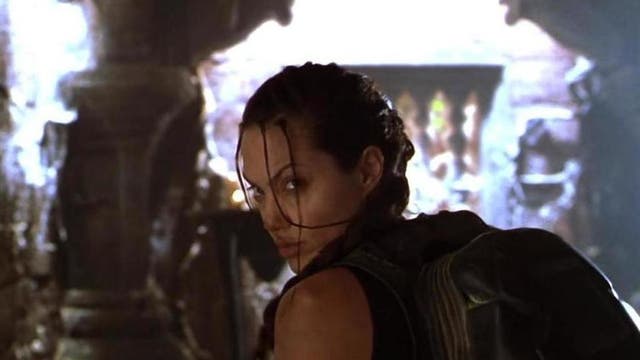 But it's the kind of edge a film like Sonic the Hedgehog desperately needs. Otherwise, you're stuck with an avalanche of jokes that instantly age themselves (hipsters, flossing, and Vin Diesel's role in the Fast and Furious franchise are all referenced) and aggressive product placement for Olive Garden. File this one away next to the live-action Alvin and the Chipmunks, the live-action Yogi Bear, and the live-action Rocky and Bullwinkle. It's nothing we haven't seen before.
Join our new commenting forum
Join thought-provoking conversations, follow other Independent readers and see their replies