Star Wars review: The Force Awakens is the sequel you're looking for
It's the texture. It just feels like Star Wars.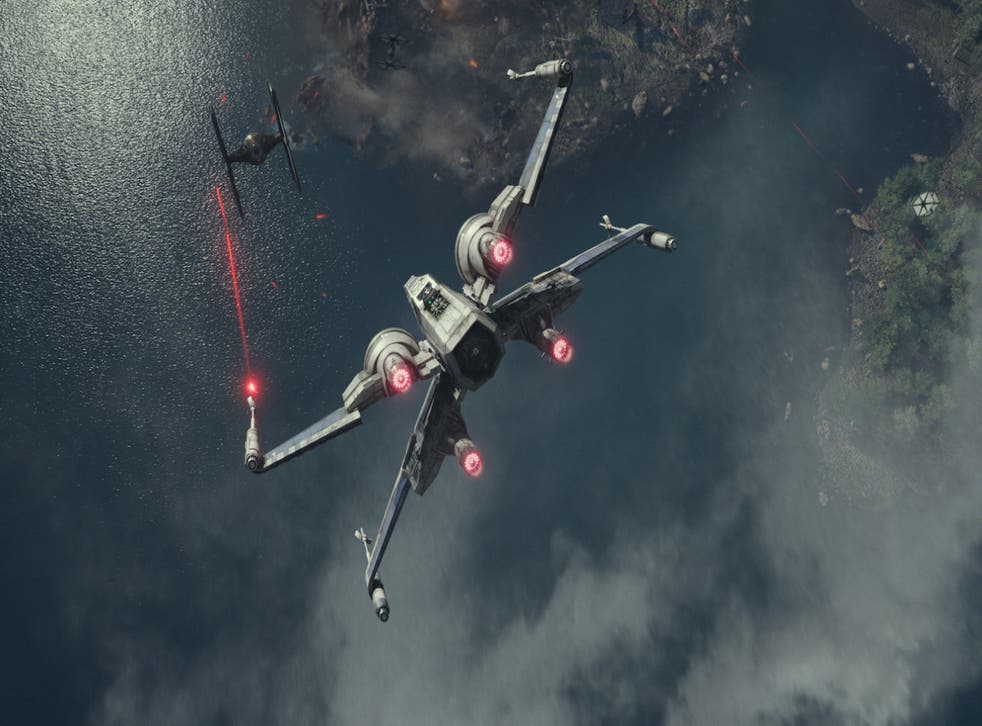 It's strange sitting down to watch a film that is certainly going to be the biggest of all time, a pending box office record Star Wars: The Force Awakens could potentially hold forever, at least in the traditional sense, if filmed content continues to coalesce and virtual reality, gaming and other unknowable future technologies continue to advance toward art at such a rate.
What is it about the franchise that can draw over one million pre-sale tickets in the UK alone, much less cause a long queue of critics, usually pampered at screenings, to wait for an hour in the pouring rain on a Tuesday night, iPhones confiscated, just to see it?
It's its generational quality, I decide, ringing out my jacket and sitting down in the IMAX, the familiar gold Star Wars logo looming before me coaxing the beginnings of a childish grin on my face. Bond is iconic but dragged back out so frequently he should probably negotiate better hours and Star Trek is beloved but has been re-envisioned so many times fans are mostly dismayed beyond all hope. Star Wars however, has until now been treated a little more carefully and revisited less regularly, (although R.I.P. now Disney has the rights - you'll be getting new content twice a Tatooine sunset).
But enough of this, you just want to know if the film is any bloody good.
Yes. There you are. This is the film fans were hoping for, and it's an indisputable improvement on the abhorred prequels.
It transpires JJ Abrams wasn't just conscious he needed to stick to the style of the originals, he was obsessive about it. From the classic sparks of a misfired laser blast to the wipe cuts between scenes and the practical effects puppetry, The Force Awakens oozes the style and composition of the first trilogy, and will not look awkward stood next to your well-worn Return of the Jedi DVD. All characters that could be brought back with purpose have been, the score is warmly familiar and crucially doesn't sound like a coach load of timpani crashing, and the tone returns to a mixture of wild-eyed adventure and comedy and relies substantially less on the martial arts, overbearing, swiftly outdated CGI and general tangential d*cking around that dogged the prequels.
Star Trek and Star Trek Into Darkness (Abrams' previous stabs at re-enlivening a sci-fi franchise) this ain't. There is zero lens flare and not as much overwrought action. It's the texture. It just feels like Star Wars.
Plot-wise there are some very dramatic moments (don't worry you won't find spoilers here, though there are some big ones amazingly not given away by the 5,800 trailers and TV spots) and a lot is left unanswered, though not to the point where you feel unsatisfied with what is parcelled out in this first instalment.
Star Wars: The Force Awakens - Trailer
Star Wars: The Force Awakens world premiere

Show all 35
No, it doesn't say anything profound about the human condition, but what did you want? A drama about a droid's unique and unsatisfying experience of consciousness? The story of two Jedi's love made toxic by telepathy? A complicated war of bureaucratic attrition among the Trade Federation? This is Star Wars as you enjoyed it as a child, before cynicism took hold, and as it should be.
A word on the performances: Adam Driver is refreshingly different, Daisy Ridley is a blossoming star (and her character Rey is strong - previous accusations of sexism made against Abrams are absurd, if anything the film strains to show you how progressive it is), while John Boyega does an okay job. Peter Mayhew gets the most laughs as Chewbacca, who has grown somehow even more curmudgeonly over the years.
Access unlimited streaming of movies and TV shows with Amazon Prime Video Sign up now for a 30-day free trial
Sign up
You could argue that the film is at times over-reverential and referential of IV, V and VI, often paying off old jokes rather than creating new ones and being housed under a plot that is pretty damn similar. The dialogue is sometimes a bit stock and I don't know if it creates new characters that will be as beloved as Han Solo and Chewie, but that fondness always requires time to develop anyway (I suspect the BB-8 droid will be a huge hit with kids, and so expensive on eBay this Christmas he may as well be made out of saffron as circuitry).
Star Wars: The Force Awakens is very probably the best Star Wars yet, and would be held up as untouchable had it come first. So let's not let ourselves get too bloody internet-y about it and start it tearing to pieces, and enjoy what is a fun, well-executed and thoroughly corrective sequel.
Join our new commenting forum
Join thought-provoking conversations, follow other Independent readers and see their replies