Sully review: Tom Hanks offers Oscar-worthy performance as heroic pilot
It's a tale of quiet, unfussy heroism; of highly trained professionals doing their jobs in the most challenging circumstances imaginable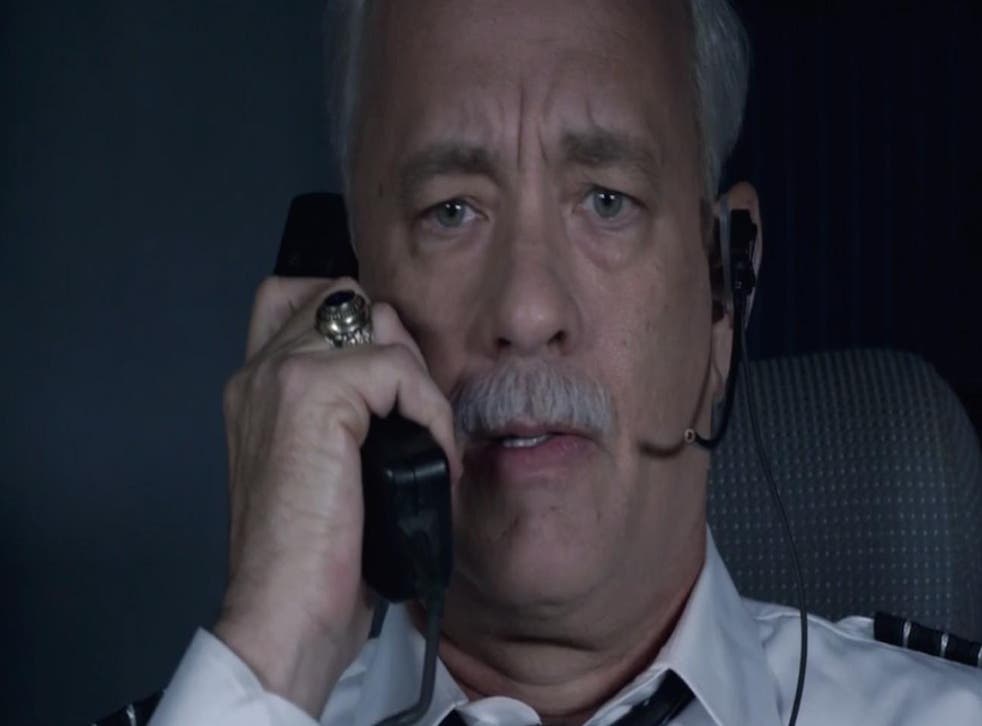 (12A) Clint Eastwood, 96 mins, starring: Tom Hanks, Aaron Eckhart, Laura Linney, Anna Gunn, Autumn Reeser
Sully is the kind of film that Howard Hawks might have made in times gone by. It's a tale of quiet, unfussy heroism; of highly trained professionals doing their jobs in the most challenging circumstances imaginable.
It is one of its 86-year-old director Clint Eastwood's finest and most unshowy features, just over 90 minutes long and as efficient in its exposition as Captain "Sully" Sullenberger (Tom Hanks) was in crash landing his stricken plane on the Hudson river on a freezing January day in 2009. The engines had cut out after the plane was hit by birds but not a single one of the 155 passengers was lost.
On the face of it, there is hardly a story here. Disaster movies hinge on death and destruction. The images in Sully of the plane flying low over the New York skyline can't help but evoke memories of 9/11, when there was a dismaying feeling of utter powerlessness in the face of impending catastrophe. We know, though, right at the outset that the crew and the passengers survive.
The ingenious screenplay by Todd Komarnicki isn't just about the incident itself. It uses flashbacks and flashforwards. It's at once a celebration of Sully's deeds and a forensic examination of just how and why he behaved as he did. Like the classic Japanese movie Rashomon, it shows how many different versions people can tell of the same story.
From the point of view of The National Transportation Safety Board (NTSB), whose inquiry into the crash forms the major part of the drama, Sully might not be a hero at all. Their data analysis suggests he could have turned the plane back and reached the airport. In choosing to land on the Hudson, he wasn't saving the passengers at all but was recklessly putting their lives at risk.
As an audience, we know intuitively that Sully did the right thing. (He is being played by Hanks after all.) The NTSB stands for the big, bad bureaucrats, the people upstairs who haver no understanding of everyday problems. In Hollywood terms, they're the equivalent of the studio bosses, second-guessing and micro-managing the director's decisions without realising the pressures that director is under. The plot here is heavily loaded against them. They fulfill the necessary role of villains although they are really just doing their job.
Hanks surely deserves another Oscar nomination for his performance. This isn't just a case of playing another all-American hero. Hanks convinces us of Sully's quick thinking efficiency and bravery as a pilot but also shows us his character's inner doubts. He is coming to the end of his career. There's an obstinacy verging on arrogance about his confidence in his own abilities.
As the NTSB asks more and more questions, he begins to wonder if, just maybe, he could have acted differently. Hanks also hints at Sully's vulnerability. Like every other passenger on the plane, he knows that he was only whiskers away from death. He is stuck in a hotel in New York, thousands of miles away from his wife (Laura Linney) with whom he conducts hurried phone conversations. Their small talk can't hide the fraught emotions that both are feeling.
Access unlimited streaming of movies and TV shows with Amazon Prime Video Sign up now for a 30-day free trial
Sign up
For all his outward calm, Sully is clearly traumatised. One of the scariest, most juddering moments in the film has nothing to do with the crash. It's when a distracted Sully, out jogging in Manhattan, doesn't look where he is going and very nearly runs into an oncoming car.
Sully is Hanks at the height of his powers. It's one of a number of recent performances he has given (alongside those in Bridge Of Spies and A Hologram For The King) in which he has played middle-aged characters assailed by doubts and difficulties.
Early Oscars 2017 contenders

Show all 19

He retains the genial everyman quality that helped make him a star in the first place but late in his career, at least when he is not appearing in half-baked thrillers like Inferno and The Da Vinci Code, he is ready to take on emotionally complex roles.
As its title suggests, Sully is the dominant figure here. Eastwood, though, goes out of his way to show almost everyone else on US Airways Flight 1549 behaving in an equally admirable fashion. Aaron Eckhart plays Eastwood's new but doggedly loyal co-pilot who keeps his calm at the most fraught moments.
The air stewards (chanting "brace, brace, brace" as the plane comes close to the water) are likewise thoroughly efficient in the moments of crisis. The passengers themselves refuse to succumb to hysteria and everyone else - from the life guards to the air traffic control execs - does their job too.
That's one of the strange attractions of the movie. It's a "good news story" which not even the NTSB snooping can tarnish. Of course, it would have been much better if the birds hadn't flown into the engines in the first place but, in a world of chaos, inefficiency and buck-passing, the protagonists manage to remain level-headed. For once, human error is not to blame.
There's an understated quality to the behaviour of the characters that evokes memories of plucky Brits in Second World War movies. Nonetheless, the reason the film has such an impact is that we are always aware of just how close to oblivion Sully, his crew, and passengers actually came. For all the professionalism of the captain, there's that lingering suspicion that it was luck as much as fate or judgement that saved them.
Register for free to continue reading
Registration is a free and easy way to support our truly independent journalism
By registering, you will also enjoy limited access to Premium articles, exclusive newsletters, commenting, and virtual events with our leading journalists
Already have an account? sign in
Register for free to continue reading
Registration is a free and easy way to support our truly independent journalism
By registering, you will also enjoy limited access to Premium articles, exclusive newsletters, commenting, and virtual events with our leading journalists
Already have an account? sign in
Join our new commenting forum
Join thought-provoking conversations, follow other Independent readers and see their replies