Sunset Song, film review: Different voices, still Terence Davies
(15) Terence Davies, 133 mins. Starring: Agyness Deyn, Peter Mullan, Kevin Guthrie, Jack Greenlees, Ian Pirie, Hugh Ross
Geoffrey Macnab
Friday 04 December 2015 00:40 Comments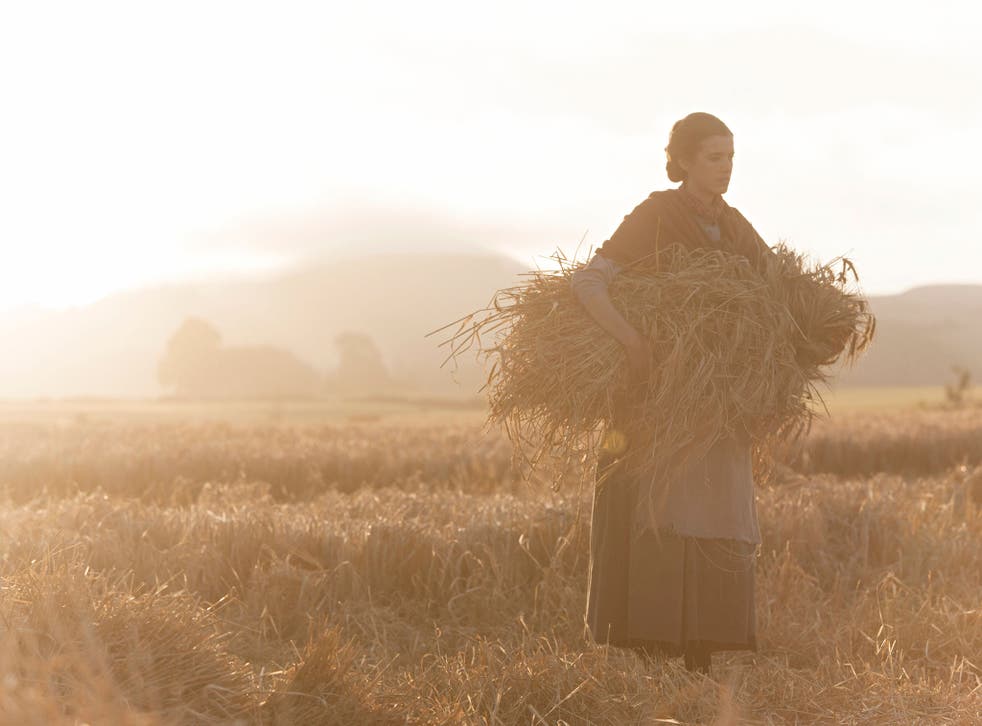 What is most surprising about Terence Davies' film adaptation of Lewis Grassic Gibbon's Sunset Song is how close the director seems to his material. The novel, published in 1932, is the story of a sensitive young woman growing up in a rugged, rural community in the north-east of Scotland just before the First World War. It is a world away from the working-class Liverpool of the director's own childhood in the late 1940s, so movingly depicted in his autobiographical Distant Voices, Still Lives (1988), and yet the two films sit together as companion pieces. They are both deeply felt family dramas with the same mix of lyricism and extreme brutality. They both feature abusive father-figures who terrorise their wives and children. There is plenty of music and communal singing in each of the films. The interior of the little farmhouse in which the family lives in Sunset Song isn't so different from that of the home depicted in Distant Voices.
At its best, the new film is the equal of its predecessor. The first half in particular has extraordinary visual grace. Davies, shooting in luxuriant colour on 65mm film, contrasts the beauty of the landscapes with the violence that the characters inflict on one another. The subject matter may appear dour but there are some magical shots of golden fields of crops. The casting of the model-turned-actor Agyness Deyn, who gives a very fine performance as the main character Chris Guthrie, lends the film an unlikely glamour. Davies seems as besotted by her as Josef von Sternberg was by Marlene Dietrich. Between the shots of fields being ploughed and cows being milked, the director never wastes the opportunity to throw in as many lambent close-ups of his beautiful young star as possible. Chris is the "bonniest thing ever seen in Kinraddie" and Davies is determined to remind us of the fact. Deyn plays her with sensitivity – and the Mancunian actor even manages to pull off a convincing enough Scottish accent.
The very first shot is of Chris emerging like a young goddess out of a field of corn. She is an inquisitive, highly intelligent teenager who excels at school and dreams of becoming a teacher. Her father (Peter Mullan) is a spiteful, violent man, every bit as malevolent and full of self-loathing as the patriarch played by Pete Postlethwaite in Distant Voices. As John Guthrie, Mullan is the dark heart of the film, a bearded, brooding presence who retains his capacity for malice even on his sick bed. There is a chilling moment here in which Chris tries to tend him and he grabs her by the wrist and hisses at her: "You're my flesh and blood and I can do with you what I will." He picks any opportunity he can to whip his son and treats his wife like "a breeding sow".
Culture news in pictures

Show all 33
Mullan, who has talked in interviews of his troubled relationship with his own alcoholic and abusive father, portrays this sullen man brilliantly. Even at his weakest, when he is suddenly taken ill and is seen writhing in the mud, his fury at those around him remains.
Davies has always excelled at depicting sickness and death. There is nothing cosy or sentimental in the way he shows childbirth, or characters in extreme physical pain, here.
On one level, this is a coming-of-age story. Chris is learning familiar lessons about life, love and sexuality. We see her looking at her own naked body in the mirror. She is courted by Ewan Tavendale (Kevin Guthrie), a young farm worker whom she eventually marries.
Sometimes, Davies' attempts to convince us of Chris's passion for, and identification with, the land on which she has been raised become a little strained. There are portentous voice-overs. "Everything was changing and as the land changed, so did Chris," we are told at one stage. "The land endured and she felt she was the land," is another solemn observation taken directly from the novel.
In its second half, the narrative gait becomes ever more jerky. As we lurch forwards in time, the film stubbornly resists its director's attempts to give it an epic quality. Certain themes are treated in sketchy fashion. There are references to socialism and to the tensions between the farm-workers and the gentry, but these are not developed in any depth. One moment, Chris is still a schoolgirl. The next, she is a married mother with a young child.
"You'd hear it like the North Sea," the voice-over tells us of the ominous rumble of war. At first, cocooned in their little farmhouse in Kinraddie, Chris and Ewan can ignore the upheavals elsewhere but soon he is accused of cowardice for not enlisting.
Access unlimited streaming of movies and TV shows with Amazon Prime Video Sign up now for a 30-day free trial
Sign up
There is a pessimism in the storytelling. Just as the natural world is cyclical, so is the behaviour of the humans who dwell in it. Each generation repeats its predecessors' mistakes. Gradually, as he is worn down by the grind of family life and the prospect of having to fight in the war, Ewan behaves more like Chris's detested father. The contrast between the rolling fields of Kinraddie at harvest time and the muddy, barbed wire-covered trenches in the First World War is drawn in a glib way.
Sunset Song may be uneven but it's a film no other British director would have made in the same way as Davies. One of the reasons Davies has struggled to get his work financed is that he resists the pressure from interfering front-office executives to tailor his movies in the way that they demand. His films, whether they're autobiographical or adapted from Edith Wharton (The House of Mirth) or Grassic Gibbon novels, or even if they're nostalgic, newsreel-based documentaries such as Of Time and the City, always feel utterly personal. His new feature is entirely consistent with its predecessors both in its intimacy and in its ability to be lyrical and harrowing at the very same time.
Register for free to continue reading
Registration is a free and easy way to support our truly independent journalism
By registering, you will also enjoy limited access to Premium articles, exclusive newsletters, commenting, and virtual events with our leading journalists
Already have an account? sign in
Join our new commenting forum
Join thought-provoking conversations, follow other Independent readers and see their replies