The Girl with the Dragon Tattoo, David Fincher, 158 mins, 18 (released 26 Dec)
Jonathan Romney
Sunday 18 December 2011 01:00 Comments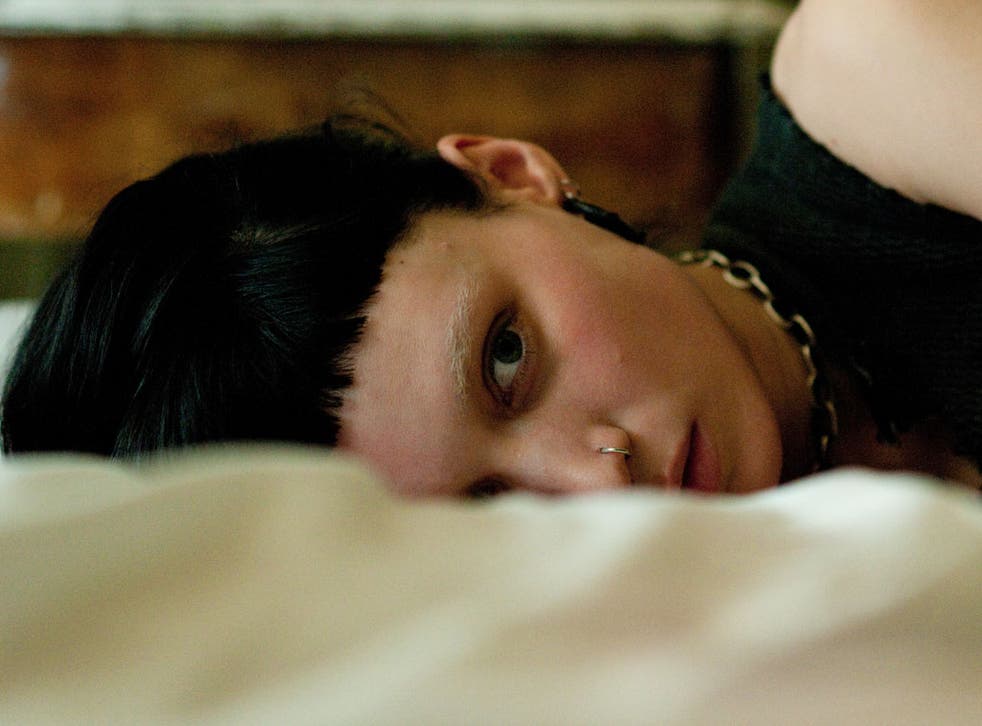 Audacious! Dynamic! Inspired! David Fincher's The Girl with the Dragon Tattoo is all of these – if only for its first three minutes.
The opening credits are an impressionistic montage à la 007, in sleek shades of black. Modishly fetishistic textures of oil and rubber slither across the screen in an extended explosion of fists, wasps and computer leads, all to a thumping electro version of Led Zeppelin's "Immigrant Song": the punchiest thing I've seen and heard in ages.
What follows is thoughtful, beautifully shot by Jeff Cronenweth, and idiosyncratic – but dramatically inert. The second take on Stieg Larsson's bestseller, Fincher's film is at least elegantly cinematic, where Niels Arden Oplev's 2009 adaptation was functional at best.
Here, Daniel Craig (right) is beleaguered reporter Mikael Blomkvist and Rooney Mara is goth/punk hacker Lisbeth Salander. Fincher and writer Steven Zaillian keep the action in Sweden, even play up the Swedishness. The wintry atmospherics are sumptuously bleak: the best sequences take place on the island home of the wealthy Vanger dynasty, whose dark history Blomkvist is hired to investigate by arch-patriarch Henrik (Christopher Plummer, affably enigmatic and quite mesmerising).
There's one major Swedish name on board (Stellan Skarsgard), while everyone else looks plausibly Swedish, with Geraldine James and Joely Richardson brilliantly cast as sisters (a subtle but uncanny resemblance). Everyone speaks with a Swedish accent, which sometimes pays off wonderfully: with delicious cadence, someone warns Blomkvist to expect to be told to "Føck. Øff". Craig, the glummest screen Swede since Max von Sydow, maintains his accent for about 10 minutes before letting it drop altogether; he obviously thought, "Føck this for a gåme of søldiers."
Salander makes a striking entry; for her first scene, she sits in moody profile, all the better to display her proudly lacquered cockatoo crest. In the original, Noomi Rapace was a Vogue version of a King's Road postcard punk circa 1979; Rooney Mara is far more believable, and the film's prime asset. Speaking with dead clipped diction, her face bleached and blank, Mara's combat-ready waif is androgynous and lizardly; she brings out the salamander in Salander.
But the film still contrives by the end to tame and soften Salander, all but cute-ify her. As for her rape and ensuing revenge, what had a polemical thrust in Larsson's book again fails to convince on film. The abusive lawyer Bjurman is played as a softly insinuating teddy bear (Yorick van Wageningen), making the assault all the creepier, but the glossy solemnity of Fincher's approach simply embellishes fundamental tackiness with a high-fashion veneer.
There are some fine scenes: Salander's subway skirmish goes like the clappers. But as a mystery, the film is dead. After a luxuriously leisured set-up, you sense Fincher looking at his watch and realising he has to hit us with a shock climax before the plot has even begun to thicken.
The problem is, the detection involved here isn't that cinematic. Salander isn't an investigator so much as an analyst; she runs data on her laptop and in her head, which leaves us at a loss to keep up with whatever it is she's working out. The film winds up a lugubrious, stately affair, although sonically at least, this is unmistakably a Fincher film: he's forever layering the soundtrack with broiling, churning electro-noise. But the cyber-sleuthing is ponderous stuff, disappointing from the director of The Social Network. If only Fincher could have brought in Mark Zuckerberg to trade laconic geek talk with Salander – they would have got on so well.
Register for free to continue reading
Registration is a free and easy way to support our truly independent journalism
By registering, you will also enjoy limited access to Premium articles, exclusive newsletters, commenting, and virtual events with our leading journalists
Already have an account? sign in
Join our new commenting forum
Join thought-provoking conversations, follow other Independent readers and see their replies