The Hateful Eight, review: A blood-spattered Western only Quentin Tarantino could have made
In his familiar style, Tarantino uses stock characters and situations from old Westerns but pushes them to new extremes
Geoffrey Macnab
Wednesday 16 December 2015 15:42 Comments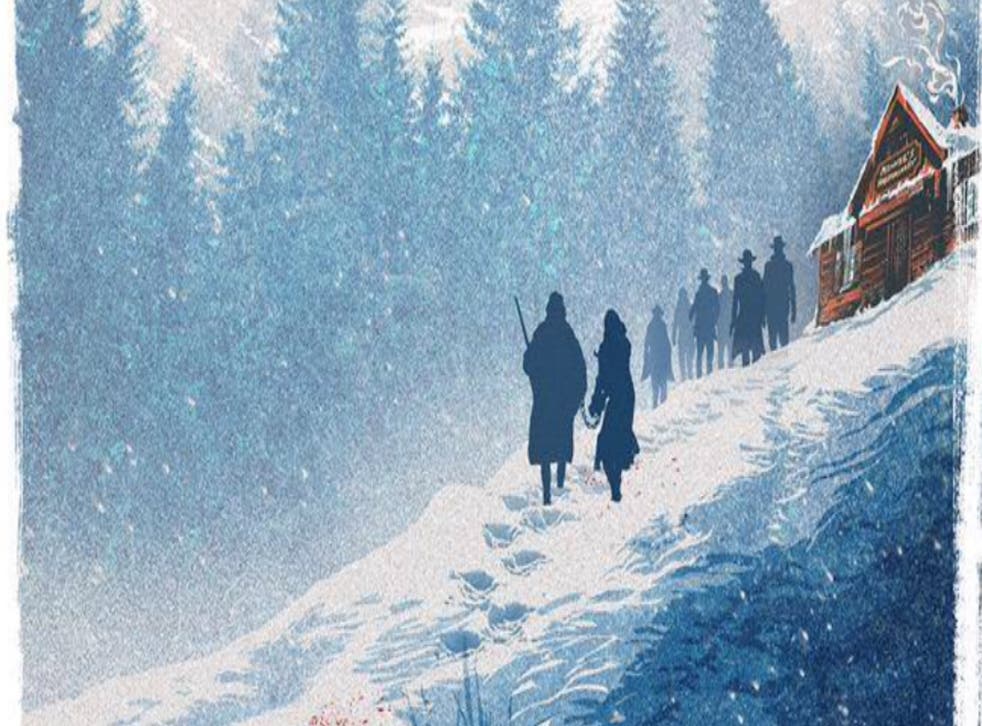 Quentin Tarantino's latest feature (only his eighth as the credits tell us) is a thoroughly contradictory affair and one that only he could have made: an epic shot on 70mm which is also an intimate chamber piece; a blood-spattered Western in which there is actually far more talk than there is action.
If you watch the roadshow version, which lasts for over three hours, you'll get a musical overture and an intermission. If you're expecting a Sergio Leone-style saga along the lines of Once Upon A Time In The West, you'll be disappointed. What the film does offer is brilliant writing and some wonderfully eccentric and lively performances from another of Tarantino's ensemble casts. Samuel L. Jackson, Tarantino's long-term collaborator, excels yet again but there are tremendously vivid turns, too, from everyone else.
This is a film that will make you feel as if you're suffering from hypothermia. It is set in the frozen reaches of the far west. Bounty hunters are on the prowl in snowbound Wyoming.
The Hateful Eight - Trailer 2
John "The Hangman" Ruth (Kurt Russell sporting some magnificent whiskers) is accompanying his prisoner, the vicious and slatternly Daisy Domergue (Jason Leigh) to Red Rock. He is determined to keep her alive so that she can be properly hanged when he gets there. He agrees to give a lift to another bounty hunter, Major Marquis (Samuel L. Jackson) and to the varmint-like Chris Mannix (played by Walton Goggins from The Shield) who claims to be the new Sheriff of Red Rock. The weather worsens, there is an almighty blizzard and everybody ends up in Minnie's Habedashery, sheltering from the storm. There are several strangers already there.
It's at this point that the film begins to resemble Tarantino's own twisted and macabre version of Agatha Christie's And Then There Were None. No-one is quite what they seem. We know that someone is going to try to rescue Daisy. As the winds whistle and howl outside, the cavernous interior of the habedashery becomes the battleground. Tarantino being Tarantino, words are, at least at first, the weapons. Somehow, as the mystery thickens, the film manages to deal in surprisingly trenchant fashion with racial politics in post Civil War America.
Major Marquis takes a virulent dislike to a a racist confederate General (Bruce Dern) who sits morosely in an armchair. Tim Roth is the well-spoken Englishman. Michael Madsen is in familiar psychopathic groove as Joe "The Cow Puncher" Gage." Demián Bichir is the volatile Mexican, Bob.
In his familiar style, Tarantino uses stock characters and situations from old Westerns but pushes them to new extremes. He elicits humour from the most unlikely situations. For example, John Ruth and Daisy are handcuffed together for much of the film. Although they detest one another, they can't help behaving like an old married couple.
We all know that the talk is just a prelude to some extreme bloodletting. When the violence begins in earnest, Tarantino stages it with his usual cartoonish glee. At 188 minutes, The Hateful Eight may seem absurdly long given its relative lack of incident but with dialogue and performances as fine as they are here, the film doesn't outstay its welcome in the slightest.
Register for free to continue reading
Registration is a free and easy way to support our truly independent journalism
By registering, you will also enjoy limited access to Premium articles, exclusive newsletters, commenting, and virtual events with our leading journalists
Already have an account? sign in
Join our new commenting forum
Join thought-provoking conversations, follow other Independent readers and see their replies