The Hobbit: The Desolation Of Smaug review
For all its use of 3D and digital technology, this is an old-fashioned romp at heart – a piece of pure cinematic escapism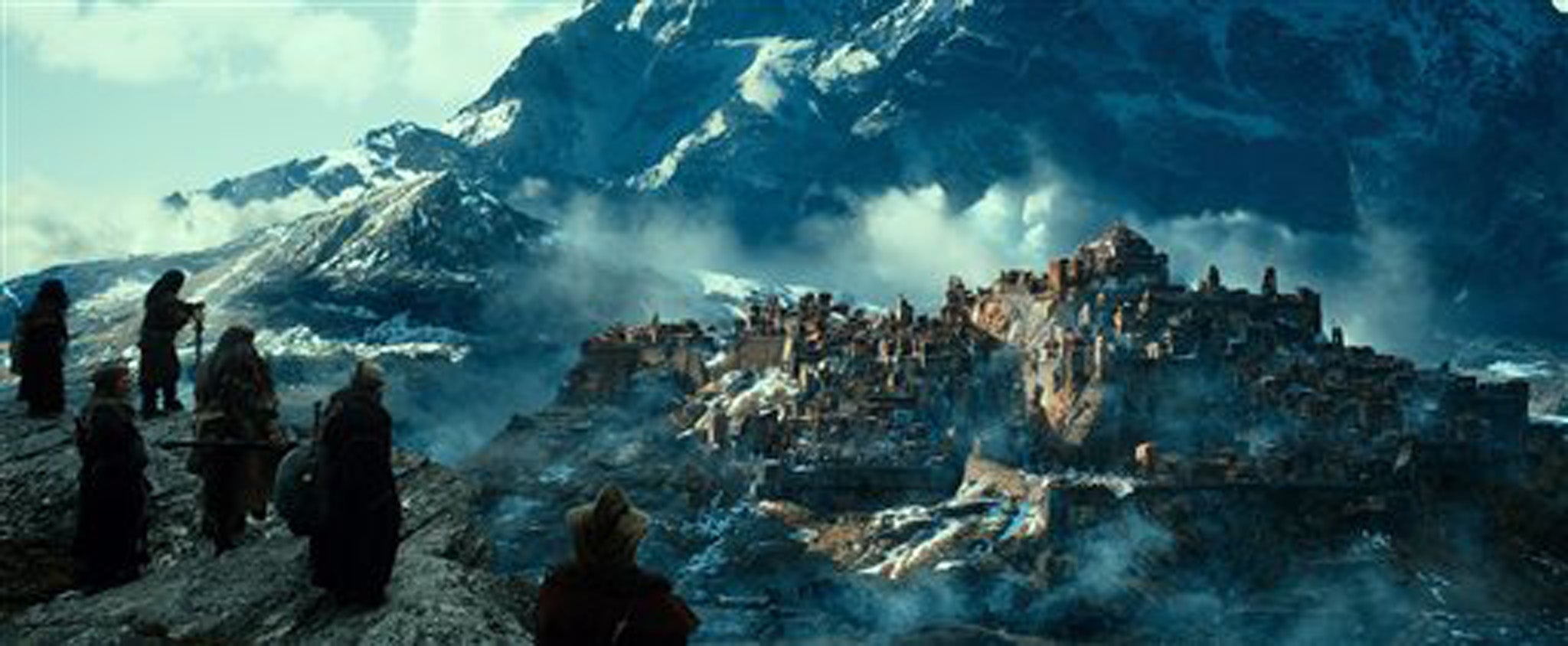 The Desolation of Smaug is the meat in the Hobbit sandwich – the middle part in Peter Jackson's gargantuan, three-film adaptation of J R R Tolkien's slender novel. It is every bit as difficult to digest as its predecessor. With more than a dozen principal characters and a stringy plot that pulls in all sorts of different directions at once, Smaug is sometimes very gristly fare, indeed. Nonetheless, what makes it palatable is the relish with which it is served up.
Jackson gives us rousing, matinee-style action, which rekindles memories both of old Ray Harryhausen creature-driven fantasies and of Douglas Fairbanks swashbucklers. For all its use of 3D and digital technology, this is an old-fashioned romp at heart – a piece of pure cinematic escapism. It starts confusingly, ends abruptly and doesn't even begin to tidy up all its own loose ends but Smaug still has enough spectacle, sleight-of-hand, action and lyricism to enrapture most viewers.
As the film begins, Bilbo Baggins (Martin Freeman), the wizard Gandalf (Ian McKellen) and the 13 dwarves are still on the way to the Lonely Mountain in their bid to reclaim the lost dwarf kingdom of Erebor. They're being preyed on by orcs, the verminous creatures that look like more muscular versions of Nosferatu. Bilbo has the magic ring he took from Gollum, which grants him the gift of invisibility.
The Desolation of Smaug is close to three hours long and takes its time to build up momentum. In the early scenes, the absurdly bombastic declamations of Thorin (Richard Armitage) sometimes grate. We're not sure why the dwarves are seeking refuge with Beorn (Mikael Persbrandt), a skin-changer who, moments before, in the guise of a bear, has been trying to eat them.
It's only when the dwarves enter the deep, dark forest of Mirkwood that the tempo begins to pick up. In the film's first really memorable set-piece, we see Bilbo fighting a swarm of giant black spiders who've taken his friends captive and have them wrapped up in their silky webs, ready to be eaten. These spiders are very creepy and life-like. They tend to mutter away and salivate before meal time. Jackson uses the 3D to heighten their predatory quality and to give viewers a sense that they are coming after us with their over-sized mandibles as well.
The dwarves are "rescued" by Wood-elves whose intentions toward them turn out to be far from amicable. Among them is the beautiful Tauriel (Evangeline Lilly), who seems to be the franchise's answer to Katniss Everdeen from The Hunger Games. She, too, is a warrior princess type who can shoot arrows from her bow with a machine gun-like rapidity.
The further the dwarves' mission progresses, the more complicated and convoluted the plot becomes. One of Jackson's problems is that he can't tell multiple stories at once. His focus for the greater part of the film is on Bilbo and the dwarves. Gandalf embarks on his own solo mission. When he does so, he all but slips out of mind.
There are disconcerting cameos. (This must be one of Cate Blanchett's shortest screen appearances). As if worried that the audience might begin to wilt under an overload of information and too many close-ups of men with extreme amounts of facial hair, Jackson very wisely throws in plentiful chases and battles to pep matters up. In one tremendous sequence that could come straight out of an old Western, we see the dwarves in wine barrels bobbing down a fast-flowing river with the orcs in murderous pursuit. There is an equally effective and atmospheric scene in which Bard the Bowman (a soulful Luke Evans) smuggles them to Lake-town. This crumbling port seems modelled by the production designers on the London of Samuel Pepys and is presided over by the louche and venal Master (Stephen Fry).
Jackson's attempts at leavening a dark and gothic story with humour are only fitfully effective. While Armitage plays Thorin as a saturnine figure with a taste for war, the other dwarves sometimes seem as if they're on leave from Dad's Army or an Asterix cartoon. One talks of needing "just a jiffy" to complete a crucial task. Others grumble about the money they have to pay Bard. Their joshing seems incongruous given the Wagnerian tone of much of the film (heightened by Howard Shore's solemn and portentous music).
Access unlimited streaming of movies and TV shows with Amazon Prime Video
Sign up now for a 30-day free trial
Sign up
Access unlimited streaming of movies and TV shows with Amazon Prime Video
Sign up now for a 30-day free trial
Sign up
The one character here who is given at least some depth and complexity is Bilbo, for whom the journey here is a rite of passage. He has an everyman quality that the dwarves lack. In the first Hobbit film, he was pitted against Gollum in a battle of wits. Here, his antagonist is Smaug (Benedict Cumberbatch), a very well-spoken and conceited dragon whom he encounters deep inside the Lonely Mountain. Their verbal jousting – in between moments of fire-breathing – provides the film with its longest sequence in which two characters actually talk together. The very idea of loquacious dragons invokes memories of old British TV Listerine ads and whimsical Disney films but the scene between Smaug and Bilbo is well-handled. Helped by Cumberbatch's sardonic delivery, Jackson manages to show us Smaug's narcissism without undercutting the character's menace.
Making The Hobbit as a three-film trilogy was always going to be a messy endeavour. There are aspects to The Desolation of Smaug that are very clunky, indeed. You have the sense of Jackson and his team struggling to get a big and unwieldy machine moving again. However, once the film is properly underway, we stop noticing the mechanics. Audiences hope that a fantasy such as The Hobbit will take them into another world in which they can lose themselves. On this front, Jackson and his team certainly deliver what they promise, even if they take their time to crank the engines up.
Peter Jackson, 161 mins Starring: Ian McKellen, Martin Freeman, Richard Armitage, Mikael Persbrandt
Join our commenting forum
Join thought-provoking conversations, follow other Independent readers and see their replies