The Hunger Games (12A)
Starring: Jennifer Lawrence, Josh Hutcherson, Liam Hemsworth
Anthony Quinn
Friday 23 March 2012 01:00 Comments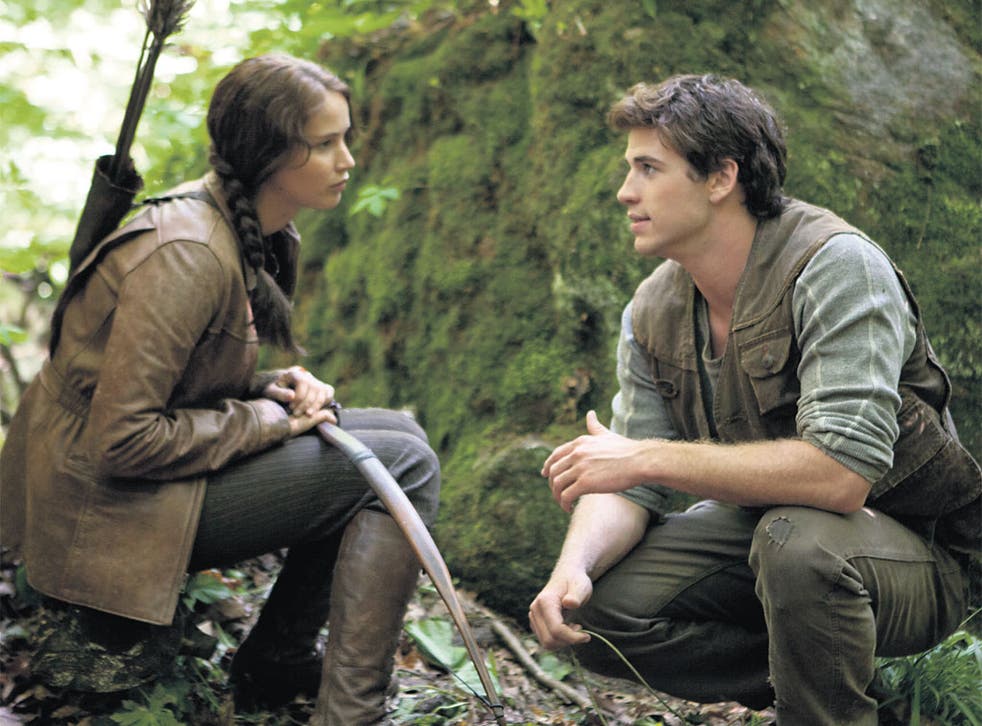 There's an ironic message at the centre of The Hunger Games, a satirical futurist fable about a state-run TV talent show with a twist.
The gimmick is a macabre one. Twenty-four teenagers, selected at random, are let loose in a fight to the death: the winner is the last one left alive. As the story's heroine (Jennifer Lawrence) says, "If no one watches, they don't have a game." But everyone does watch, and that will include the audience for this movie, which, if sales of Suzanne Collins's source novels are any indication (26 million and rising) should soon be around the Twilight/ Harry Potter mark.
Is it convincing? Up to a point. We are in a future North America now called Panem, a two-nations dystopia. Outside the capital the population scrape by in impoverished rural communities, divided into districts. One such, District 12, is pretty much the Appalachian mountains, home to Katniss Everdeen (Lawrence), a feisty lass whose father died in a mining accident. In retribution for an old uprising, the state each year selects two teenagers to compete in a gladiatorial knock-out contest, The Hunger Games. Twenty-three combatants will be killed, live on TV. Think of it as "Popped Idol".
When her kid sister is picked in the lottery, Katniss volunteers to take her place, believing herself to have a better chance of survival – she's useful with a bow and arrow, for starters. Off she's whisked to the Capitol, a modernistic fleshpot where the foppish citizenry grin like clowns and dress like Vivienne Westwood on acid. Here she and her fellow sacrificial victim Peeta (Josh Hutcherson) are readied for the games by a boozy past winner (Woody Harrelson) and a stylist (Lenny Kravitz), apparently because the better you project the more chance you have of "sponsorship" (this is left rather vague).
This long middle section gets very involved in the PR razzmatazz surrounding the Games, though I found the grotesquerie of it silly rather than sinister: Stanley Tucci as a TV compere in a frizzy blue periwig and Elizabeth Banks as a powdered floozy look like random emanations from the dressing-up cupboard. In the background lurk Wes Bentley as the Games designer and Donald Sutherland as the President who's stuffing this bread-and-circuses diet down the public's gullet.
What keeps the film on track, and may be key to its success as a franchise, is Jennifer Lawrence, who's already won her spurs as the resourceful, quick-witted firebrand of Winter's Bone. She has a great movie face, puffy-eyed yet open, and able to catch the fleeting currents of toughness and vulnerability required for a modern action heroine. She scrubs up well, of course, but more in her favour is that she doesn't really look like any other actor. Her trembling just before she's pitched into the tangled woodland of the Games is effectively done: just like Russell Crowe standing in the Colosseum arena and wondering what on earth will come out of the cages, the terror is all in the imagining.
Or at least it should be. The scriptwriters – director Gary Ross, Collins and Billy Ray – seem to have put this together in willed ignorance of its predecessors. But the idea of human prey laid on for public entertainment is far from new. Terminal TV gameshows have been the basis of Rollerball and The Running Man, and more recently Series 7: The Contenders.
But it's actually the Japanese horror Battle Royale (2000) that casts the longest shadow, with its adolescent combatants and unequal distribution of weapons. What Kinji Fukasaku's film examined so chillingly was the different attitudes to survival among the group. Some, charged with killing their peers, preferred a suicide jump from the cliffs. Others regarded the ordeal as a zero-sum game, in which the elimination of fellow contestants would improve their own chances. It came down to a brutal equation: me or you.
The Hunger Games bottles out of such Darwinian savagery, though it's true the initial dash for the weapons and survival gear at base camp causes instant casualties. The 12A certificate has ensured that none of the killing is graphic. I know we're supposed to tut-tut about levels of cinematic violence, but this seems to me one of the rare occasions when the film needed to be bolder, and nastier. The combatants, called "Tributes", will face challenges enough from arrows and javelins, killer wasps and wildfires, but it refuses to consider the ultimate dilemma – whether it is better (safer) to kill or to form allegiances.
Access unlimited streaming of movies and TV shows with Amazon Prime Video Sign up now for a 30-day free trial
Sign up
One of the fiendish mindgames Battle Royale played on us was to let the characters emerge from their anonymity just before they were slaughtered. Here there's hardly an attempt to give a personality to the kids, apart from a little moppet whose fate will become important to Katniss. Nor is any mention made of the hopeless disparities in the Tributes: how is an 11-year-old girl expected to win a fight with an 18-year-old boy?
Aside from the opening 20 minutes, in which the Tribute selection process carries sinister echoes of the Holocaust, the film backs off from complication. At first it looks to be commenting on the American appetite for reality TV and the confections of celebrity, but its heart isn't really in it. The Hunger Games is playing variations on the Twilight formula of a lovers' triangle-with-violence, plus a lot of daft art design. And the irony of its finger-wagging remains. "If no one watches, they don't have a game." If no one watches this they don't have a movie. But the hype points to long queues everywhere.
Register for free to continue reading
Registration is a free and easy way to support our truly independent journalism
By registering, you will also enjoy limited access to Premium articles, exclusive newsletters, commenting, and virtual events with our leading journalists
Already have an account? sign in
Join our new commenting forum
Join thought-provoking conversations, follow other Independent readers and see their replies