The Imitation Game, film review: Benedict Cumberbatch's Alan Turing is superb
But the film is evasive about the character's sexuality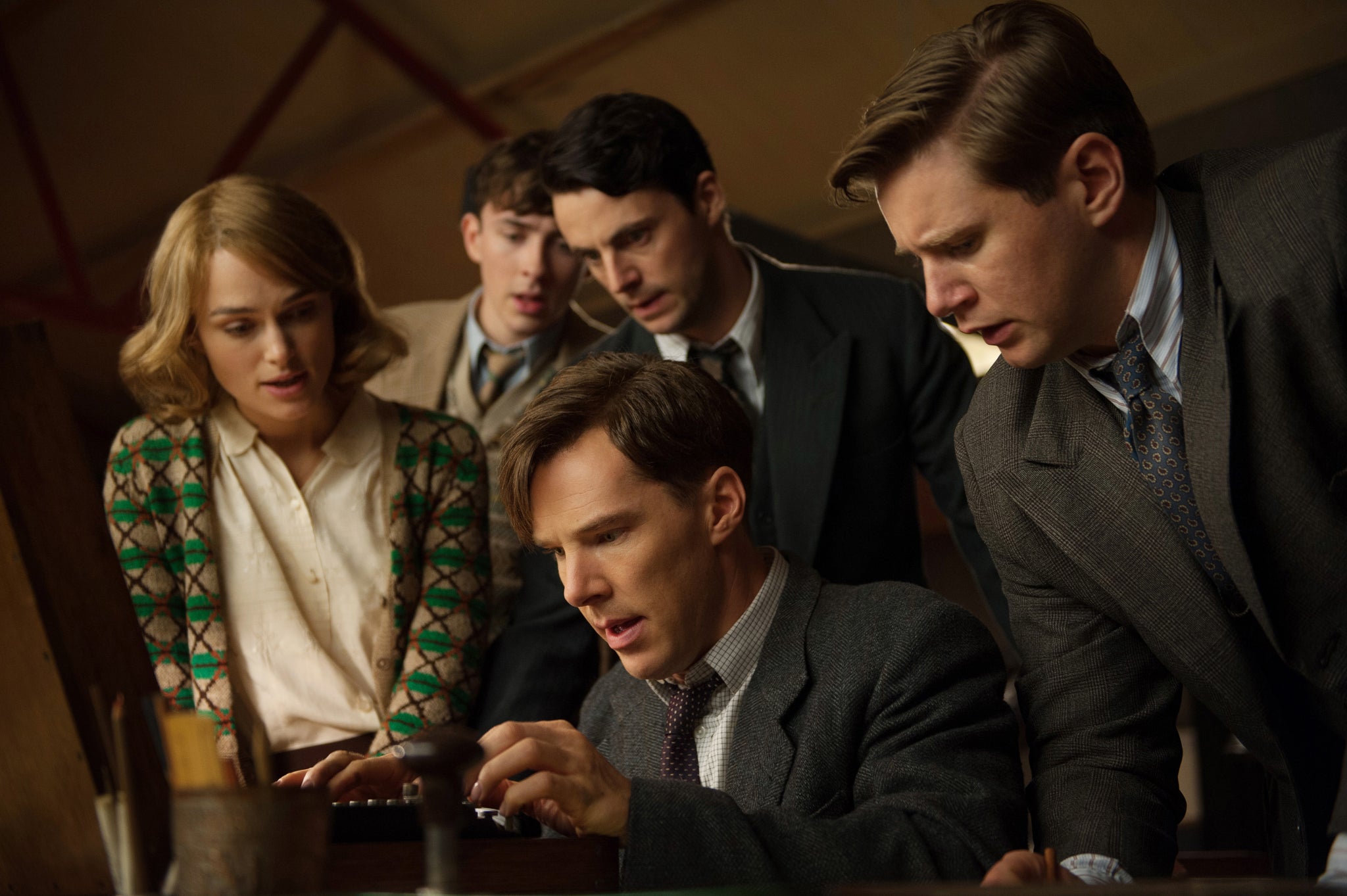 "Did he really deserve a place in here?" a mourner at St. Paul's Cathedral asks of T.E. Lawrence at the beginning of Lawrence Of Arabia. David Lean's epic argued the case that Lawrence, for all his foibles, was worthy of being celebrated alongside other great British heroes. The Imitation Game, does something similar for Alan Turing, the brilliant cryptanalyst and mathematician credited with cracking the codes of the Nazis' Enigma machine.
Turing, superbly played by Benedict Cumberbatch, is every bit as odd and ornery a figure as the Lawrence portrayed by Peter O'Toole in Lean's film. "Give you a quid if you can name a more insufferable sod," one of his fellow codebreakers remarks. Turing (an enthusiastic long-distance runner) shares Lawrence's self-obsession and aloofness as well as his drive. The obvious difference is that Turing isn't leading Arab forces across the desert. He is in charge of a group of "crossword enthusiasts in a tiny village in England."
American screenwriter Graham Moore, who based his screenplay on Alan Turing: The Enigma by Andrew Hodges, combines biopic and thriller elements with an impassioned defence of his protagonist and a veiled love story.
"Are you paying attention? Good. You will listen closely and you will not judge me until you are finished," Cumberbatch's Turing is heard in a voice-over early in the film. (We learn later that he is addressing the detective who has arrested him.) The film starts in Manchester in 1951, not long after his flat has been broken into. The police are baffled by the incident and even more startled by Turing himself, who is arrogant but furtive. From here, we are taken in flashback to the war years at Bletchley Park and fleetingly to his school days at Sherborne in the late 1920s.
Norwegian director Morten Tyldum (who came to international attention for his 2011 screen version of Jo Nesbø's thriller Headhunters) strikes a very brisk narrative pace as we are whisked from early 50s Manchester to London in 1939 andf from there to "Bletchley Radio Manufacturing." There is a wonderful early scene in which naval commander Alastair Denniston (Charles Dance) interrogates Turing to see if he might be suitable to join Bletchley's top secret team of codebreakers. The two men talk at cross purposes. Denniston's withering sarcasm and attempts at humour are entirely lost on Turing. "Mother says I can be off putting sometimes," Turing blandly parries the officer, who grows more and more exasperated.
The film is as contradictory as its lead character. If you lopped off the post-war Manchester scenes and those of Turing's schooldays, this would be a conventional Second World War adventure thriller about the race against time to break the Enigma code. In the wartime scenes, Tyldum contrasts the bucolic world of Bletchley Park with footage of submarines and bombings. Britain is under siege and slowly starving. The 1940s are recreated in loving but fussy detail. We are in a world of tweed jackets, cardigans and sleeveless jumpers. All the male codebreakers wear the top buttons of their shirt undone. When we see footage of blitzed out London, there is the inevitable doughty housewife having a cup of tea on the rubble. The language is quaintly archiac. When Joan Clarke (Keira Knightley) turns up late at the crossword competition Turing organises to identify the best puzzle solvers, she apologises, saying "the bus 'caught' a flat tire."
Hut 8 at Bletchley Park exists in its own version of Groundhog Day. At midnight, if the cryptanalysts have failed again to crack the code, they have to start all over again. They get hold of their first "intercepts" at 6am, which gives them 18 hours. There are 159 million million possible permutations.
The many faces of Benedict Cumberbatch
Show all 12
The romance here isn't between Turing and Joan, although he does propose to her. The real object of Turing's affection is Christopher, a boy with whom he was very close at school and whose memory has haunted him ever since. When he builds his own machine, he christens it after Christopher. We see him looking longingly at it, as if this huge computer with its red wires, levers and rotors somehow possesses the spirit of his lost friend.
Parts of The Imitation Game don't stack up. Turing is portrayed as apolitical and without emotional intelligence but, at several key moments of the film, he is the only one who sees the bigger picture. His homosexuality is dealt with in strangely evasive fashion. In the war scenes that make up the bulk of the movie, his sexuality is skirted over. Tyldum is more interested in portraying the camarderie and tensions between the codebreakers (among them Matthew Goode's dashing Hugh Alexander and Allen Leech's cheery John Cairncross) than in exploring Turing's emotional anxieties. Turing is referred to as "a fragile narcissist," but he is so busy with his machine that he has little time for introspection. Given that Turing was criminally prosecuted for homosexuality after the Second World War, chemically castrated and died of cyanide poisoning aged only 41, the tone is disconcertingly cheery. Two or three times in the film, we hear the same line, "it's the people no-one imagines anything of who do the things no-one can imagine." This implies that Turing has somehow been underrated but his brilliance, like his eccentricity, is recognised by everyone.
Access unlimited streaming of movies and TV shows with Amazon Prime Video
Sign up now for a 30-day free trial
Sign up
Access unlimited streaming of movies and TV shows with Amazon Prime Video
Sign up now for a 30-day free trial
Sign up
Cumberbatch must be in the frame for major awards. His Turing has the same mix of vulnerability and irascibility that Colin Firth brought to the stuttering Bertie in The King's Speech. He captures the character's intellectual drive while also bringing subtle comic touches to the role (for example, his attempts to ingratiate himself with his colleagues by bringing them apples or when he misreads social signals in the pub or when he climbs through Joan's window like a clumsy suitor, bringing her puzzles instead of roses.) For all the ingenuity of its structure, the film itself is sometimes sketchy and superficial. What it does do emphatically, though, is make the case for Turing as a very British kind of hero.
Join our commenting forum
Join thought-provoking conversations, follow other Independent readers and see their replies