The Innkeepers, Ti West 101 mins (15)
Check in for a modern twist on the haunted hotel chiller, and enjoy some creepy, classy thrills
Jonathan Romney
Saturday 09 June 2012 19:30 Comments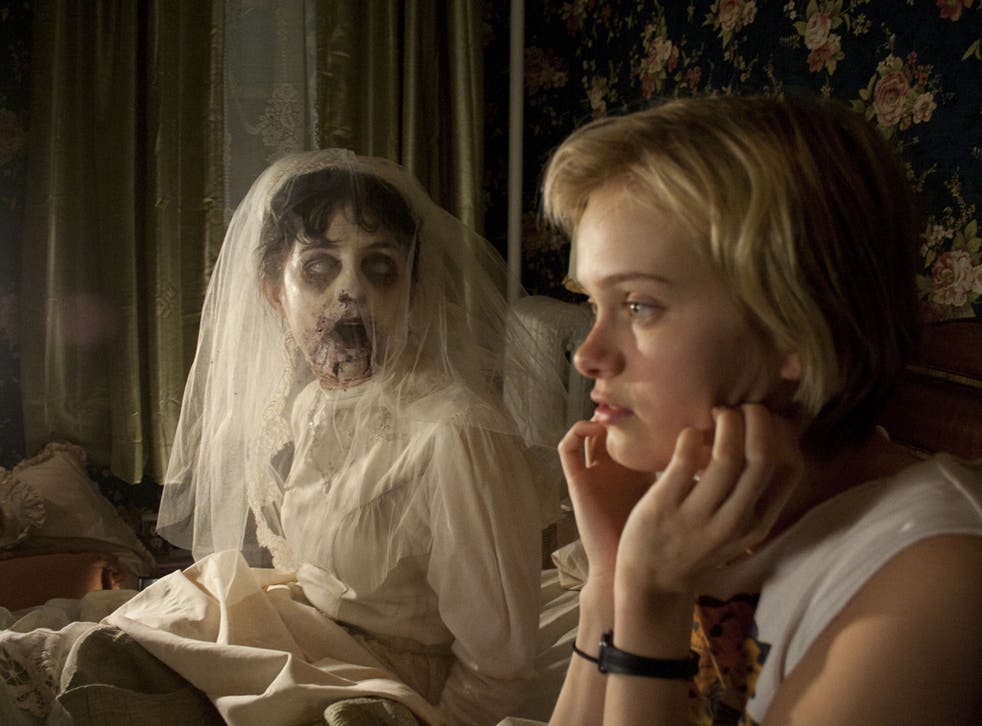 A ghost story film set in a deserted hotel? Nah, couldn't possibly work ... In fact, despite the familiarity, The Innkeepers works very nicely, though not in the way we expect of a contemporary horror film. There's no gleefully protracted butchery, no winking self-consciousness of The Cabin in the Woods "genre studies" variety. The Innkeepers is a plain old-fashioned ghost story – which isn't to say that it's not a rather knowing one.
The writer-director-editor is Ti West, a young American who's made his reputation with a devotedly retro brand of horror. The Innkeepers is almost archaically restrained, harking back to traditional genre values, to the days when it wasn't so much about what you saw as what you thought you were about to see. His breakthrough film was the 1980s-styled The House of the Devil, in which practically nothing happened in the first hour, except the heroine slowly working herself into a state of high, and very justified, anxiety.
The Innkeepers may come across like a garage-sale version of The Shining, but there's a site-specific twist. It's both set and shot in an old Connecticut hotel named The Yankee Pedlar, where West stayed while shooting The House of the Devil and where he was convinced ghostly presences lurked.
The premise: The Yankee Pedlar (the hotel keeps its real name) is about to shut due to lack of custom. It's the last weekend of business, and the place is manned by two bored time-servers: chipper, gauche Claire (Sara Paxton) and blasé Luke (Pat Healy), whose faintly camp, sarcastic manner is the textbook definition of the term "snarky".
The Yankee Pedlar is allegedly haunted by a phantom bride, and since Luke runs a hauntings website, he and Claire are determined not to leave the hotel without capturing evidence of ghostly activity. The hotel has only a handful of guests, among them a television actress turned medium, and an unnerving last-minute arrival, an old man (George Riddle) with a coffin-creak of a voice and the whiskery face of a prehistoric catfish.
There is one strident shock early on – a snipe at the boo-scared-ya tactics of the Paranormal Activity school – but West doesn't want to treat us like children at Halloween: he likes to develop atmosphere and character. Eliot Rockett's camera prowls along corridors, hunting for something elusive and dreadful. The film has a wonderful eye for décor, for the unsettling power of moth-eaten Edwardian chintz. West is clever enough to let us gradually acclimatise to the desolate mood – only to crank up the dread by taking us to the unfurnished third floor.
Where most contemporary horror uses its young protagonists as interchangeable chainsaw-fodder, West wants us to enjoy spending time with his characters, sharing their fear. His leads are a winningly oddball duo, and the bored banter is top-notch: joking, bickering, getting drunk, Claire and Luke could have walked out of any low-slung, low-budget slacker comedy of the "mumblecore" school. I suppose this is what you'd call a mumblechiller, and it features a droll cameo by quintessential mumblista Lena Dunham, of Tiny Furniture and Girls, as a garrulous café worker.
The Innkeepers feels like a comedy of emotional vulnerability that happens to have been cast in the form of a ghost story. Sara Paxton is terrific as Claire: gangling, wide-eyed, intrepid and a touch dykey. There's a terrific scene in which she babbles adoringly at an unimpressed, vodka-chugging ex-star, Leanne, played by Kelly McGillis, both butch and maternal (the one-time Top Gun vamp recently, prominently, came out). The scene touchingly depicts Claire's indirect confession of a crush and suggests why, when Luke professes his fondness to Claire, he's probably wasting his breath. In fact, this very female-centred film is altogether sceptical about the possibilities of heterosexual union.
The way that West builds tension – through camerawork, pacing and brilliant use of sound – makes for a creepy, classy pleasure, even if the pay-off doesn't match the masterly set-up. This is less a horror film per se than an essay on apprehension, superstition and what people's fears reveal – which recalls a classic of eerie understatement, The Haunting (1963), also big on sapphic subtexts.
Access unlimited streaming of movies and TV shows with Amazon Prime Video Sign up now for a 30-day free trial
Sign up
As for the owners of the real Yankee Pedlar, they were either crazy to let West shoot there (he makes the place look pretty crummy) or astute gamblers, banking on the film attracting hosts of fans. They may not find themselves welcoming them by the coachload, but those who do check in at the old place will do so with fondness. And I'm sure the management can be trusted to put up a sign – "Warning: Keep out of the basement".
Register for free to continue reading
Registration is a free and easy way to support our truly independent journalism
By registering, you will also enjoy limited access to Premium articles, exclusive newsletters, commenting, and virtual events with our leading journalists
Already have an account? sign in
Join our new commenting forum
Join thought-provoking conversations, follow other Independent readers and see their replies