The Killing$ Of Tony Blair, film review: 'As inscrutable and as contradictory as media baron Charles Foster Kane in Orson Welles' film'
Sanne Van Den Bergh, Daniel Turi, Greg Ward, 89 mins, featuring: George Galloway, Peter Oborne, Stephen Fry, Will Self, Clare Short
Geoffrey Macnab
Thursday 28 July 2016 13:05 Comments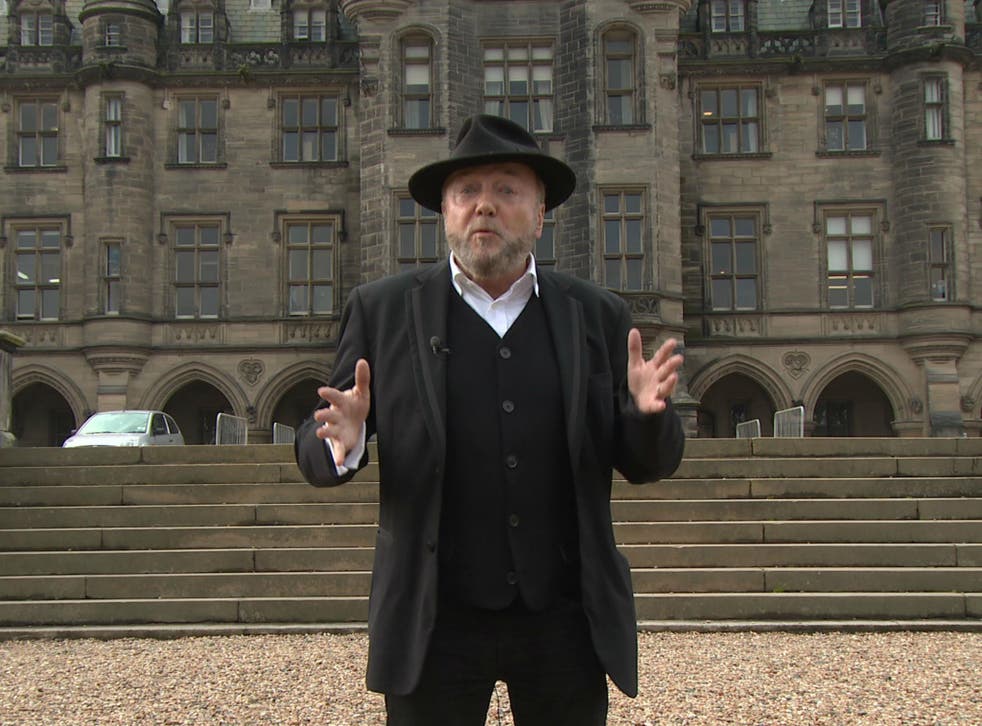 At the end of this evisceration of former Prime Minister Tony Blair, its narrator and producer George Galloway calls Blair "a mere symptom of the west's wider malaise – an economic system run by and for the super-rich".
Blair may be just a "symptom", but that doesn't stop Galloway from holding him personally responsible for the "near killing of the Labour party", the "killing of Iraq" and for making a "huge financial killing" since he left office. Galloway even blames him for the emergence of Isis.
To say Blair emerges badly from this crowdfunded documentary would be an understatement. Galloway's self-set remit stretches far further than that of the recent Chilcot inquiry into Britain's role in the Iraq War. Blair is portrayed as a money-grubbing war criminal, a pariah who has left misery in his wake wherever he has gone.
One of the weaknesses here is that there is nobody to argue Blair's case. When Galloway comes knocking at the door of the Blair offices in Mayfair asking for an interview with his subject, the terrified receptionist hangs up and won't come to the door. This isn't remotely a balanced film, but it is a compelling one.
In making his case, Galloway has assembled a formidable list of witnesses for the prosecution. There are former ambassadors, Tory and Labour politicians, newspaper columnists, novelists, intelligence experts and human rights lawyers. Stephen Fry has his say too. We are taken through Blair's property interests (31 UK homes worth £25m); we are briefed on his holding companies Windrush Ventures and on his relationships with banks and oil companies; we are told about the jaw dropping amounts he is paid for his consultancy work for some very unsavoury regimes. Alongside the axe-grinding and settling of scores, many interviewees seem genuinely dismayed that such a popular politician, in whom so much hope was once vested, is now seemingly so devoted to the pursuit of making money.
What the film doesn't provide is an explanation of its subject's behaviour. Novelist Will Self says on camera that he is "staggered by Blair's avarice". Where does this avarice come from? Galloway suggests it may be a legacy of his school days in Edinburgh at the Hogwarts-like Fettes College where he first became aware that his family was significantly less well-off than those of his schoolmates. He learned "that he would only feel truly secure" when he had as much money as them. Blair's religion is also touched on, his conversion to Catholicism and the suggestion that he and George W Bush prayed together privately in the run-up to the war in Iraq.
The talking-head interviews are interspersed with often horrifying archive footage of all the death and destruction that happened on Blair's watch.
No one is going to mistake The Killing$ Of Tony Blair for Citizen Kane, but the Blair portrayed here is as inscrutable and as contradictory as media baron Charles Foster Kane in Orson Welles's film. Some talk of his Messiah complex. Others see him as cynical to a monstrous degree.
There is obvious pathos in Blair's story. Teflon Tony may have won three elections but passers-by are as likely now to want to make a citizen's arrest of him as to congratulate him on his achievements. He has even managed to fall out with Rupert Murdoch. "In the court of public opinion, he is despised," Clare Short says of him with grim finality.
Register for free to continue reading
Registration is a free and easy way to support our truly independent journalism
By registering, you will also enjoy limited access to Premium articles, exclusive newsletters, commenting, and virtual events with our leading journalists
Already have an account? sign in
Join our new commenting forum
Join thought-provoking conversations, follow other Independent readers and see their replies