The King review: impassioned and fascinating Elvis documentary
A probing and provocative analysis of US culture combined with a more conventional account of Presley's musical career
Geoffrey Macnab
Thursday 23 August 2018 13:15 Comments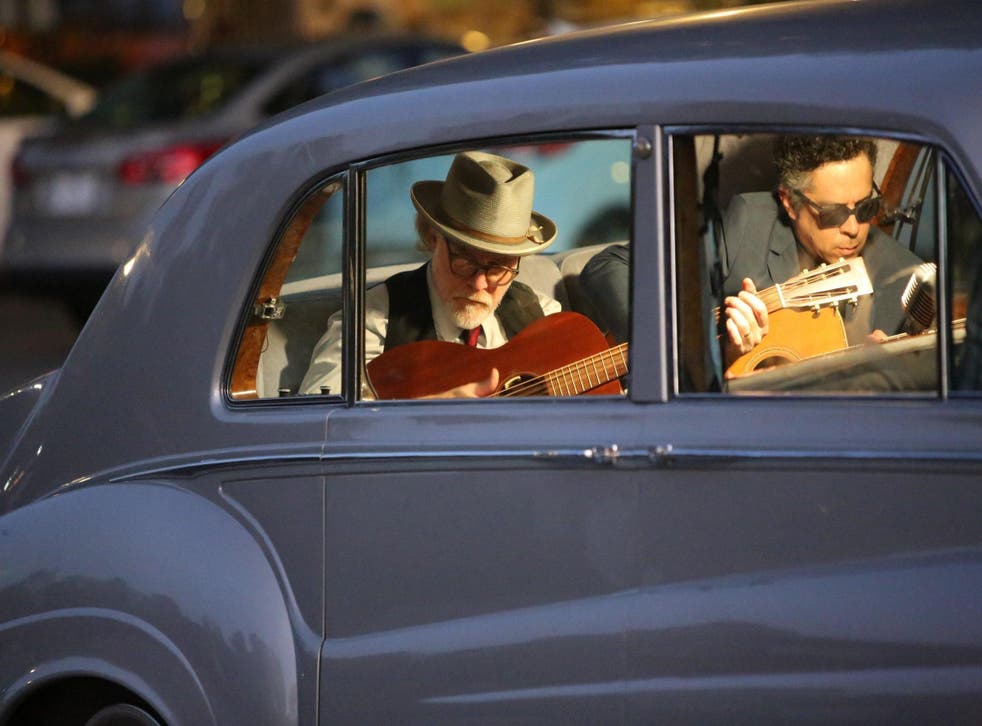 Eugene Jarecki, 108 mins, featuring: Ethan Hawke, Alec Baldwin, Tony Brown, James Carville, Chuck D, Maggie Clifford, Lana Del Rey, Emmylou Harris
Eugene Jarecki's impassioned and fascinating feature documentary is a road movie in which the filmmaker travels around America in Elvis Presley's old Rolls Royce, attempting to work out what has happened to the American dream in the 40 years since Presley died.
Jarecki is clearly a passionate Elvis fan but not an uncritical one. In the course of his rambling journey, he is joined by actors, academics, musicians and journalists, most of them fellow lovers of Presley but some fierce detractors.
One of the most articulate voices here is Chuck D of Public Enemy, whose song "Fight The Power", has the notorious lines: "Elvis was a hero to most/But he never meant shit to me." The rapper explains the sentiment behind the song but puts it in context.
He accuses Elvis of allowing himself to be made into a hero by white society at the expense of black artists like Little Richard and Bo Diddley, who did as much as him, or more, to create rock and roll. However, he also acknowledges that "culture is culture", and that Public Enemy itself owed a debt to the Beastie Boys.
In his life and career, Elvis, several interviewees suggest, showed the US at its very best and at its absolute worst. He appears here in many different guises: as a champion of the working man, as the James Dean-like rebel with the quiff, as the GI, as the anodyne Hollywood star and as the lounge lizard of the Vegas years.
He was also someone who, as Ethan Hawke notes, always took the money when it was offered. He was a willing accomplice in his own degradation. In spite of his debt to black music, he didn't appear on Civil Rights platforms and he made dozens of cheesy movies.
Country singer Emmylou Harris compares him to a Greek tragic figure. Even President Trump is seen here as a bloated reflection both of Elvis and of his ultra-cynical manager, Colonel Parker – the mountebank-like showman and fixer from the Netherlands who stood for excess and consumerism run riot.
Jarecki combines probing and provocative analysis of US culture with a more conventional account of Presley's musical career. We hear the familiar story of how he came to record at Sun Records with Sam Phillips.
Access unlimited streaming of movies and TV shows with Amazon Prime Video Sign up now for a 30-day free trial
Sign up
The director visits the now rundown Tupelo community where Elvis was born and speaks to Presley's old classmates and neighbours. In the course of the journey, it becomes clear this is a story of a paradise lost. Jarecki argues that the same forces which eventually destroyed Elvis – unchecked corporatism and rampant consumerism – have blighted US culture as a whole.
The conclusion, repeated more than once, is that the old American dream that anyone could work hard, pursue happiness and make something of him or herself, has long since been shattered.
The King hits UK cinemas 24 August.
Register for free to continue reading
Registration is a free and easy way to support our truly independent journalism
By registering, you will also enjoy limited access to Premium articles, exclusive newsletters, commenting, and virtual events with our leading journalists
Already have an account? sign in
Join our new commenting forum
Join thought-provoking conversations, follow other Independent readers and see their replies