The Lady in the Van - Film review: Maggie Smith shines in odd couple comedy
Freewheeling: Maggie Smith and Alex Jennings buddy up in 'The Lady in the Van'
Kaleem Aftab
Sunday 20 September 2015 14:53 Comments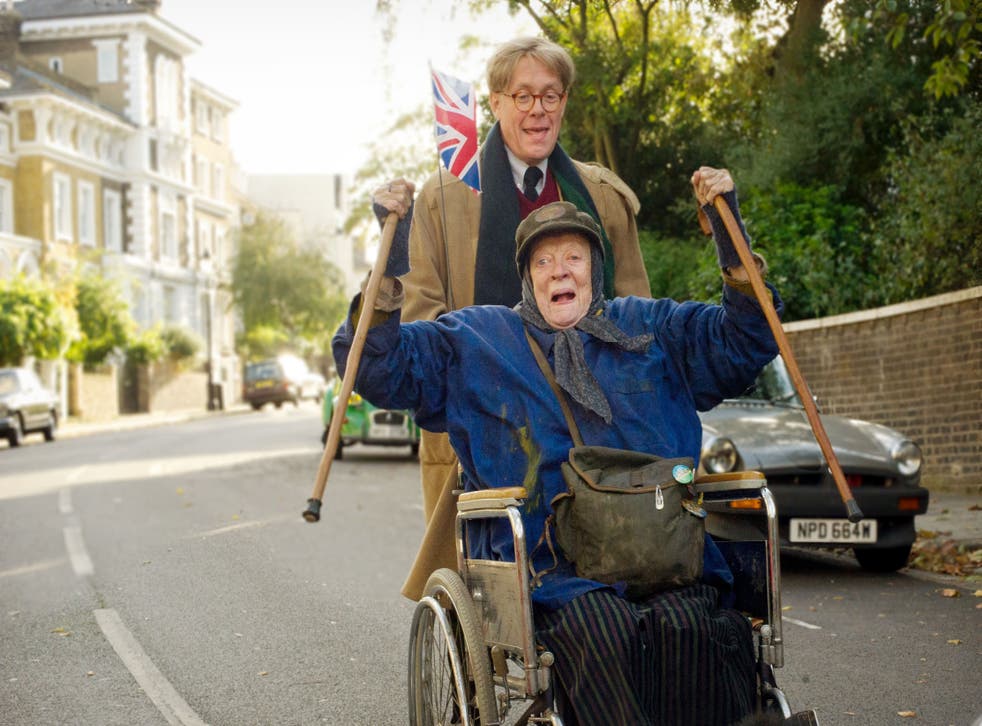 Nicholas Hytner has once again mined his time as the artistic director of the National Theatre to adapt a stage hit for the big screen. The Lady in the Van sees Maggie Smith reprise the role she first played in the 1999 stage production of the Alan Bennett play. She is Miss Shepherd, who lived in her automobile on the driveway of Alan Bennett's north London house between 1974 and 1989. If the set looks authentic, that's because the movie was shot on location in the real street and house where the events really occurred.
Buddy films have been a staple of cinema ever since Butch Cassidy and the Sundance Kid. While Hollywood has favoured putting unlikely bedfellows together in crime capers, some of the best British pairings – think Withnail and I – simply put two eccentrics into the same fish bowl. In Lady in the Van it's the unlikely friendship of a homeless woman and a writer who talks to himself that catches our attention.
This is a genteel comedy, heavy on whimsy. Alex Jennings sets the tone as Bennett, in duplicate; the film has two versions of the writer who talk to each other, a device that allows us to understand what is going on in his head. On the one hand he is a timid, good-natured neighbour who puts politeness above all other traits. And then there is the astute, observational writer, able to see the foibles of himself and others. We only ever see the writer at his desk, looking out on the world. It's to Hytner's credit as a director that the use of the two Bennetts never seems clumsy and elucidates without feeling like exposition.
Smith dominates the picture as stubborn Miss Shepherd. She's frail only when it's in her interest to be so. A master manipulator, she has Bennett wrapped around her finger. It's a good performance, but played for laughs it is also bereft of too much emotional depth. Smith delivers, but it's a necessarily one-note performance. She is reluctant to give details about how she came to be living in a van, her convent past and the artistic reasons as to why she has an affinity with Bennett. These details come out piecemeal and it's the constant revelations that give the film its forward propulsion.
Away from the central performances the film occasionally breaks down. There is a flashback sequence to when Miss Shepherd was young that seems unnecessary. A side-story involving a mystery character played by Jim Broadbent is another needless addition. Also unnerving is a number of tiny cameos from actors who were in Hytner's stage and film versions of The History Boys. When James Corden and Dominic Cooper pop up, it's like seeing the teacher's pets being given a run-out.
The minor characters who add to the film are the nosey neighbour played by Roger Allam, and best of all Cecilia Noble as a social worker. Bennett's mother is omnipresent despite her lack of screen time. Old and frail, she is sent to a nursing home and Hytner suggests that Bennett's desire to look after Miss Shepherd was connected to his failing to be with his mother.
It's all good fun, it's just a shame about the attempts to impose drama on what is essentially a comic character study.
Register for free to continue reading
Registration is a free and easy way to support our truly independent journalism
By registering, you will also enjoy limited access to Premium articles, exclusive newsletters, commenting, and virtual events with our leading journalists
Already have an account? sign in
Join our new commenting forum
Join thought-provoking conversations, follow other Independent readers and see their replies