The Mauritanian review: An urgent condemnation of the evils of Guantanamo Bay
The film's power lies in its direct confrontation with the ideology that underpinned it all, as American flags flutter above a prison yard
Dir: Kevin Macdonald. Starring: Jodie Foster, Tahar Rahim, Shailene Woodley, Benedict Cumberbatch. 15, 129 mins
America's refusal to take responsibility for its own history means it'll take decades – perhaps even a century – for it to fully reckon with the evils of Guantanamo Bay. Despite public knowledge of the torture and inhumanity that bred within its prison walls, and the Biden administration's own intentions to shut it down, the facility remains open and continues to house 40 prisoners.
The Mauritanian, which tells the story of just one of its detainees, Mohamedou Ould Salahi (Tahar Rahim), sees a visiting lawyer look around the maze of barbed wires and lookout posts and remark that, one day, this will all be a tourist attraction. In that sense, there's still a need for films such as The Mauritanian. We cannot allow the horrors to fade. Director Kevin Macdonald, known for the political rawness of his films The Last King of Scotland and One Day in September, has kept things fairly conventional here – significantly more so than 2019's The Report, a recent critical portrait of the war on terror.
But the film's power lies in its direct confrontation with the ideology that underpinned it all. Lingering shots of American flags fluttering above a prison yard speak to a protective kind of nationalism; the vague, frantic manner with which government officials brush away doubts remind us that a public desire for blood, post 9/11, superseded all sense of justice. The Mauritanian is notable, too, for how much of its perspective is actually granted to Salahi – who's given depth thanks to a phenomenal, Bafta-nominated performance by Rahim.
Although the film's screenplay is written by Rory Haines, Sohrab Noshirvani and MB Traven (the pen name of investigative reporter Michael Bronner), it's based heavily on Salahi's own 2015 memoir Guantánamo Diary. The Mauritanian begins in 2011, when Salahi is picked up by police outside a family wedding. "Save me some tagine," he tells his mother. He'll never see her again. He's detained for the next 14 years on the accusation that he was a key recruiter for 9/11, based on a few flimsy crumbs of evidence. One of the hijackers spent a night on his couch when he lived in Berlin. His cousin may have called once using Bin Laden's phone.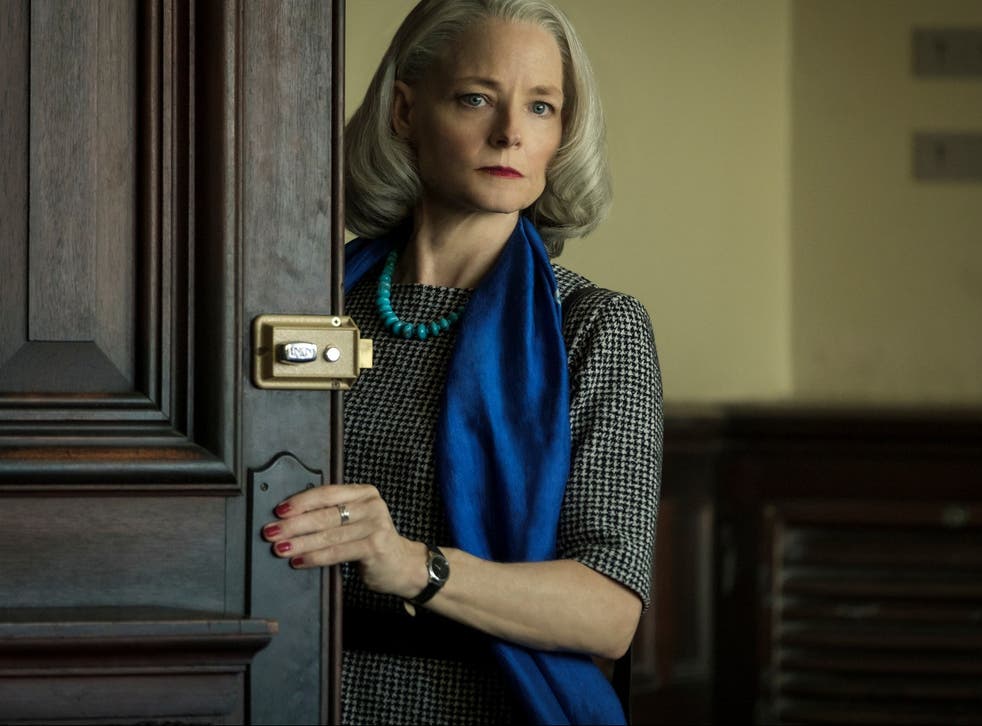 Salahi's perspective sits side-by-side with that of his lawyers, Nancy Hollander (Jodie Foster) and Teri Duncan (Shailene Woodley). Foster welcomes in memories of Clarice Starling here, albeit with a grey bob and strong red lip. She's firm, but compassionate when necessary. In her mind, it doesn't matter whether Salahi is guilty or not – having invoked habeas corpus, the government must now charge him with a crime if they intend to continue his imprisonment. Hollander's inclusion adds necessary context, and the film is rigorous enough in its presentation of her work, including the government's attempts to withhold vital evidence, that it avoids the pitfalls of a "white saviour" narrative.
Lt Colonel Stuart Couch (Benedict Cumberbatch, with a mildly distracting southern twang), head of the prosecution, is shown to be grounded and decent – but it's not too generous a conclusion considering the role he must play in this story. The Mauritanian isn't particularly innovative but, with Rahim at its centre, it still serves as an emotionally urgent document of a time we cannot be content with treating as past tense.
Join our new commenting forum
Join thought-provoking conversations, follow other Independent readers and see their replies