The Painted Bird review: A circus of the grotesque without cause or direction
Set in Eastern Europe during the Second World War, Vaclav Marhoul's new film perceives hatred as humanity's defining feature. But its message is decontextualised and depoliticised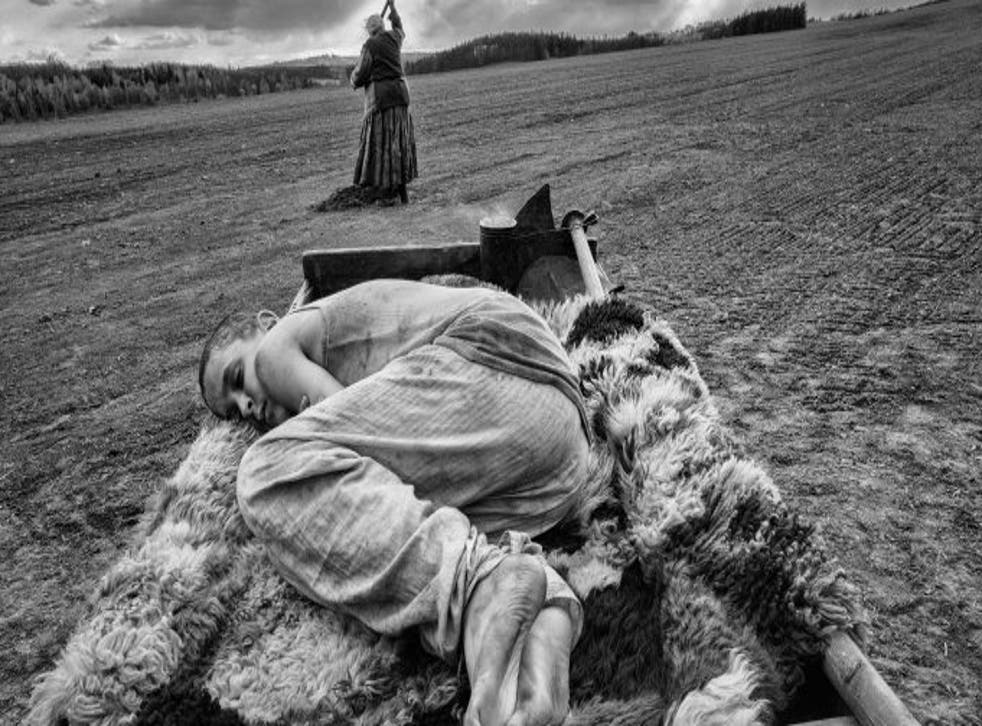 Dir: Václav Marhoul. Starring: Petr Kotlár, Nina Šunevič, Ala Sakalova, Udo Kier, Michaela Doležalová, Stellan Skarsgård, Harvey Keitel, Julian Sands. 18 cert, 169 mins
The Painted Bird creates a sort of Bayeux Tapestry of human perversion – 169 minutes long and repulsive enough to trigger mass walkouts during its Venice Film Festival premiere. A war epic of sorts, it centres itself on a single image: the bird of the title, wings daubed white, is thrown to the sky, as a lesson from an old man (Lech Dyblik's Lekh) to the boy in his care (Petr Kotlár). The bird rejoins the flock, but its difference is perceived as a threat. The others spiral around it, forming daggers out of beak and feather. They tear it to pieces and send it plummeting back to Earth. Lekh needs his ward to see things as they are – he's a Jewish boy, alone in Eastern Europe in the last days of the Second World War. He will find no friends here.
Lekh's demonstration, with all its matter-of-fact cruelty, captures both the fierce power and moral weakness of Václav Marhoul's film. It perceives hatred as humanity's defining feature, but never truly absorbs the warnings of the "painted bird". In Marhoul's world, everyone hates everyone, no matter what separates them or binds them together. German soldier, Russian sniper, impoverished farmer – there's little difference to be found. The most merciful of them all is a Nazi officer.
This is Marhoul's world, since he serves as both writer and director, as he did on his previous films, Mazany Filip (2003) and Tobruk (2008). But it's also the world of author Jerzy Kosinski, who published his novel The Painted Bird in 1965. That book's horrors have had a staying power, even if its legacy is tainted by claims the author lied about the autobiographical nature of his story. But Marhoul frees himself of the pressures of historical and emotional veracity. What he offers is a circus of the grotesque – it is Fellini-esque, without any of the joie de vivre.
The boy tries to carve out some indeterminate path home, to the parents who left him behind for his own protection. Again and again, he falls under the shadow of cruel and untrustworthy guardians. The faces of recognisable actors loom out the darkness: Udo Kier, Harvey Keitel, Barry Pepper, Julian Sands, and Stellan Skarsgård. The boy, meanwhile, remains entirely mute. His eyes occasionally bulge in terror. His face hardens as the trauma starts to set in (the film was shot over several years, so that Kotlar ages onscreen).
Much of the violence in The Painted Bird takes on a symbolic nature. Crows peck at the boy's head, after he's buried up to his neck by a local mystic (Ala Sakalova). A man has his eyes carved out with a spoon. A woman has sex with a goat. Vladimir Smutny's black-and-white cinematography adds otherworldly beauty to these atrocities – the shadows feels cavernous, the sunlight deathly cold. Faces look like cragged cliff faces. But why should a film about the nature of evil look this exquisite?
It's natural to compare The Painted Bird to the likes of Elem Klimov's Come And See – its star Aleksei Kravchenko has a small role here. But that film, about a young teen in the Belarusian resistance, is both more harrowing and defiantly anti-war in its message. Marhoul here presents brutality without cause or direction, entirely decontextualised and depoliticised. There are no oppressors, no oppressed – simply monsters eating each other whole. It's not only a deeply nihilistic view, but one that shuns the hard work of unpicking the systems and structures that let such mass evil breed. It's much easier, says The Painted Bird, to simply throw our hands in the air and declare humanity doomed.
Register for free to continue reading
Registration is a free and easy way to support our truly independent journalism
By registering, you will also enjoy limited access to Premium articles, exclusive newsletters, commenting, and virtual events with our leading journalists
Already have an account? sign in
Register for free to continue reading
Registration is a free and easy way to support our truly independent journalism
By registering, you will also enjoy limited access to Premium articles, exclusive newsletters, commenting, and virtual events with our leading journalists
Already have an account? sign in
Join our new commenting forum
Join thought-provoking conversations, follow other Independent readers and see their replies