The Sapphires, BFI London Film Festival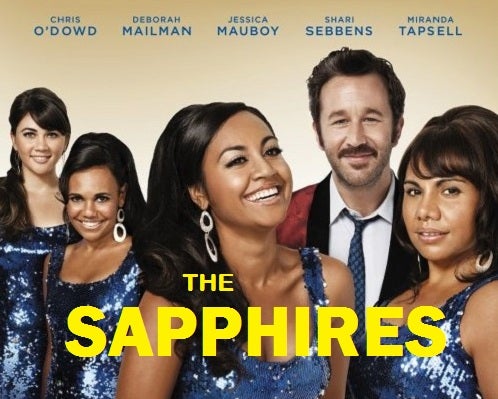 The Sapphires, an odd sort of cross between Dreamgirls and Good Morning Vietnam, is not really a very original film, but then, where musical dramas are concerned that never seems to matter much at the box office.
This feelgood flick will almost certainly be an international hit and it is undeniably uplifting, the joyousness of soul music smoothing out the odd shifts in tone that arise as a result of the strange genre conflict.
It is, like many improbable plots, based on fact. A troupe of Aboriginal soul singers (the three sisters and a cousin are played here by Deborah Mailman, Miranda Tapsell, Jessica Mauboy and Shari Sebbens) did indeed leave their rural outback home to sing in to troops in war torn Vietnam in the late sixties.
At the time it was extremely brave not just because of the dangers of war but because singing was not really something that Aboriginal girls did full stop. An opening scene where they lose a singing competition to a vocally inferior middle class white girl is just one small example of the widespread institutional racism suffered by the indigenous Aboriginal population at the time. Forget The X Factor; these girls really are performing against the odds.
When the girls arrive in Hanoi, the tempo kicks up a notch and simple threads and dreams are exchanged for glitter, mics and men. Cynthia (Tapsell), "the sexy one" according to manager Dave Lovelace (Chris O'Dowd) who hangs role cards round their necks Simon Cowell-style, is off galavanting with a member of the backing band and Kay (Sebbens) meets a cute G.I. Only Gail (Mailman) - and intermittently Dave - have the foresight to remember that they are in fact in a warzone.
Script-wise there are a few holes, and although the racism dimension adds depth overall it often feels shoe-horned in, for example when we learn the truth about the sisters' long-standing feud with their cousin. But on the whole, the performances match their moment - frivolous or down-to-earth as required. And the voices, including that of Australian Idol winner Mauboy as Julie, really are superb. No doubt the soundtrack will do just as well as the film
The real saving grace here is O'Dowd. Man of the hour ever since his brilliant turn in last year's Bridesmaids, the Irish funnyman can do no wrong at the moment it seems, and here, as the boozy half-wit musician with a heart of gold, he brings a dry wit and boyish silliness to an elsewhere fluffy script. Watching him belt out a number with his eyes closed is worth the ticket price alone.
Join our commenting forum
Join thought-provoking conversations, follow other Independent readers and see their replies