The Secret Life of Pets review: With the bar set so high, this is a relative disappointment
For all the ingenuity and pathos of individual scenes, the storytelling soon tails off
Geoffrey Macnab
Wednesday 22 June 2016 10:33 Comments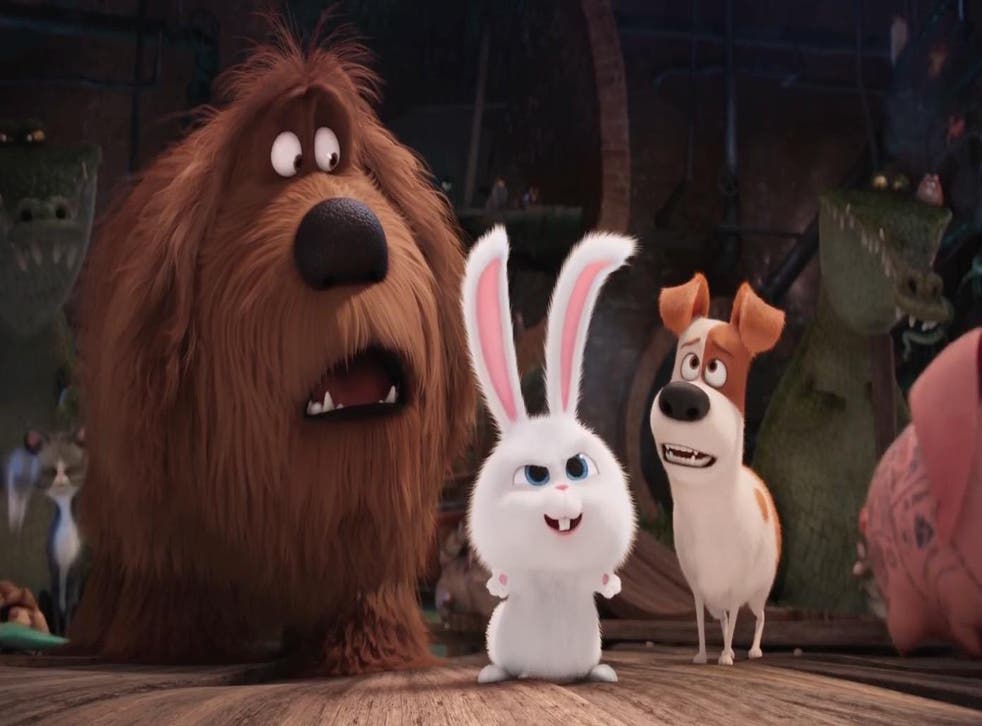 Yarrow Cheney, Chris Renaud, 104 mins, Voiced by: Jenny Slate, Ellie Kemper, Kevin Hart, Lake Bell, Louis CK
The bar has been set so high by recent animated features like Inside Out and Zootopia, that The Secret Life Of Pets is a relative disappointment. This latest effort from Illumination Entertainment and Universal (the team behind Despicable Me and Minions) boasts some inspired visual and verbal gags as well as plenty of very vivid characters but falls down in its storytelling, which is depressingly formulaic.
The premise here is that when pets are left home alone, they have their own social lives on the sly. They throw parties, listen to loud music, visit each other's apartments, sniff each others' backsides, have electric massages (using food processors for the purpose) and chew the fat (along with sticks and bones).
Max (voiced by comedian Louis CK) is a yappy, good looking and very gregarious little terrier who dotes on, and is doted on in turn, by his owner Katie (Ellie Kemper). The little mutt's carefree existence is threatened when Katie brings home another dog - big, brown, shaggy mongrel Duke (Eric Stonestreet), who vies for Katie's affection, eats all Max's food and, indignity of indignities, turfs him out of his dog bed.
A walk in the park and a few plot twists of the lead later, both dogs are on the mean streets of New York, fighting for survival and trying to work out how to get back home.
The film is driven along in very genial style by Alexandre Desplat's breezy Henry Mancini-like music. It's full of jokes and references to other movies (for example, Some Like It Hot). There's a class system in the animal world too. The wild cats, vicious rabbits, snakes, and bulldogs living in the city's sewers despise the pampered pets from Manhattan. Comedian Kevin Hart brings zest to his voice work as the bad tempered and vicious little rabbit, Snowball.
The Secret Life Of Pets Exclusive Interview With Eric Stonestreet
They're in open warfare with the dim-witted animal catchers who trundle along behind them, trying to put them into captivity. The filmmakers combine relentless anthropomorphism with very accurate observations of animal behaviour in the presence of humans. There is a hint of Victor Hugo and Charles Dickens in their depiction of the animal underworld.
For all the ingenuity and pathos of individual scenes (the escape through the sewers, Duke's visit to his old family home), the storytelling soon tails off. We're served up a couple of chases and a melodramatic set-piece on a bridge. Even the most throwaway Hanna-Barbera cartoons had better plots than this.
Register for free to continue reading
Registration is a free and easy way to support our truly independent journalism
By registering, you will also enjoy limited access to Premium articles, exclusive newsletters, commenting, and virtual events with our leading journalists
Already have an account? sign in
Join our new commenting forum
Join thought-provoking conversations, follow other Independent readers and see their replies