Thor: Ragnarok review: Fun comic book story lacking dramatic urgency
(12A), dir. Taika Waititi, 130 mins, starring: Chris Hemsworth, Mark Ruffalo, Cate Blanchett, Tessa Thompson, Idris Elba, Tom Hiddleston
Geoffrey Macnab
Thursday 19 October 2017 16:40 Comments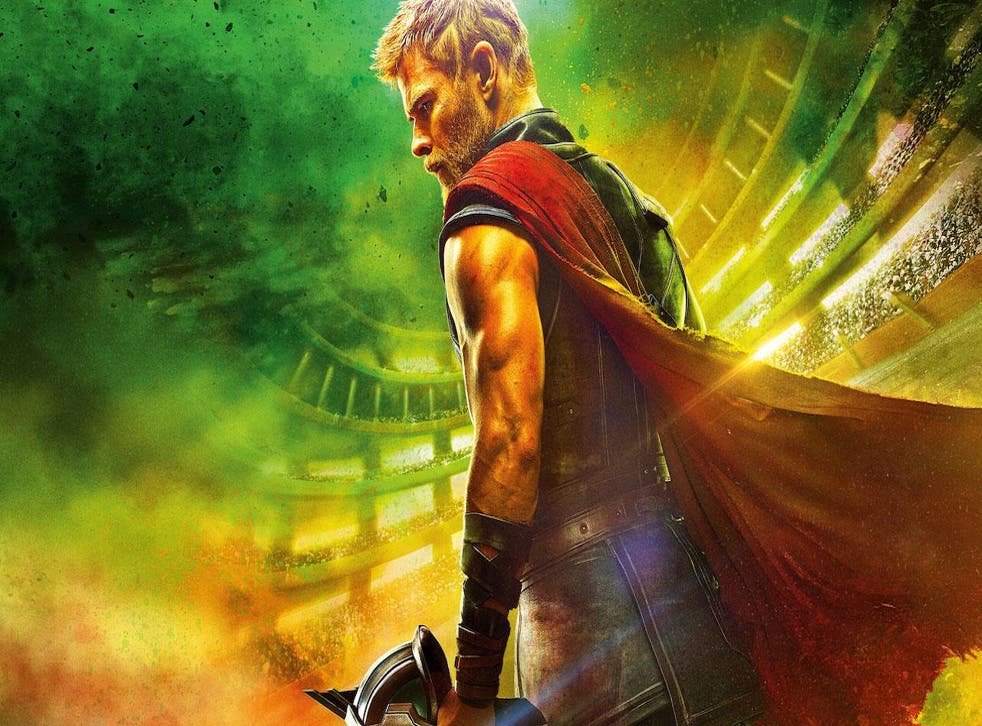 It has been a difficult year for Hollywood with summer box office dipping in alarming fashion and the Harvey Weinstein scandal casting a shadow over the independent sector. This is the point at which you need a good Marvel superhero film to come to the rescue. Thor: Ragnarok doesn't entirely fit the bill. It's kitsch and colourful. Its New Zealand director Taika Waititi accentuates the comedy and brings plenty of energy to proceedings but the in-jokes and self-mocking humour can't hide the fact that the action here seems little different from that in any other Marvel superhero film. As for the plot, that is very convoluted indeed.
The big departure here is that Thor goes through much of the movie without his beloved hammer. He is also made to suffer the indignity of a haircut. In his fifth outing in the role, Hemsworth plays the character in familiar tongue-in-cheek fashion. Thor may be a demi-god and Crown Prince of Asgard but he's not the type to take himself too seriously. The first time we encounter him, he is in chains, locked up in a cage and seemingly about to be toasted by an evil fire god. Even in such a predicament, he just can't stop the banter. When his oppressor refers to him as "son of Odin", he refers back to his fiery foe as "son of a bitch".
Thor comes from a very extended family. For once, his main source of grief in Ragnarok is not his endlessly deceitful and cunning adoptive brother Loki (Tom Hiddleston, as sleek as ever but not quite as malevolent as in previous Marvel movies). Thor's nemesis this time round is Hela, Goddess of Death. Cate Blanchett plays this character in high camp fashion as if she is a dominatrix version of the wicked witch from The Wizard Of Oz. In combat kit, she looks the spitting image of Angelina Jolie's Maleficent. Hela is very angry indeed and is determined to go on a wrecking spree. She is the one who will unleash "Ragnarok", which means "end of days".
Odin (Anthony Hopkins) has been sent to the Shady Acres care home in New York – not exactly where you expect to find a Norse god. However, that care home has been demolished and the one-eyed king now seems to be spending his final days by the seaside in Norway. It's thanks to Doctor Strange (Benedict Cumberbatch) that Thor is able to track down his old man. Thor's scene with Strange is enjoyably bizarre but also slightly pointless. Strange is only seen for a minute or two and his function is simply to bridge a gap in the storyline and to fill up by magic Thor's huge tankard of Scandinavian lager.
27 films to look out for in the first half of 2018

Show all 27
For a brief period, it is as if we are watching two separate films. On one side of the cosmos, Thor is a prisoner of the softly spoken but very nasty Grandmaster (Jeff Goldblum), ruler of the planet Sakaar, who likes to stage gladiatorial contests and to burn his enemies to death with his big melting stick. On the other, in far away Asgard, Hela is wreaking havoc. Heimdall (Idris Elba) is trying to protect the Asgardians but it's an uphill battle, even if he does have a magic sword. There are many thousands of miles between the two planets and the quickest route from one to the other is to find safe passage through a molten gap in the sky called the "devil's anus". (Cue the predictable sniggering.)
At least, the characterisation here is very vivid. One of the most engaging new protagonists is the hard-drinking warrior and bounty hunter Valkyrie (Tessa Thompson). She has very close connections to Asgard but has been drowning her sorrows on faraway Sakaar. Karl Urban also makes a strong impression as the opportunistic Skurge, a bit of a sleazeball but one with a good heart underneath it all.
Director Waititi himself plays Korg, a stoneman and would-be revolutionary who has been working as a gladiator. A wonderfully laidback type with a very wry turn of phrase, Korg is certainly more articulate than the Hulk (Mark Ruffalo), who has been the Grandmaster's champion in the gladiatorial arena for two years. In that period, he hasn't once been transformed back into scientist Bruce Banner.
As if taking his cue from Hemsworth's Thor, Waititi as director is always looking for an excuse for undercutting the darkest scenes with some comic business. The result is that the film seems a bit of a lark and there's very little sense of threat. Even when Hela summons back a gigantic, slavering dog from the dead, this vicious mutt is far less terrifying than you'd expect.
Thor is certainly put through the wringer here: beaten up, made to endure slavery and gladiatorial combat, taunted, tasered and subjected to the barber's scissors. Nothing affects his good humour. There is no sense that he is on a spiritual journey or is learning new lessons about himself. He's precisely the same genial, laidback presence at the end of the movie as he is as the start. Given that he is supposed to be saving the world from apocalypse, you might expect him to take matters just a little more seriously. Thor: Ragnarok is fun in its own kinetic, comic book fashion but it doesn't have any dramatic urgency whatsoever.
Register for free to continue reading
Registration is a free and easy way to support our truly independent journalism
By registering, you will also enjoy limited access to Premium articles, exclusive newsletters, commenting, and virtual events with our leading journalists
Already have an account? sign in
Join our new commenting forum
Join thought-provoking conversations, follow other Independent readers and see their replies