To Rome With Love, Woody Allen, 112 mins, 12A
Woody Allen's latest dispatch from Europe stars the Italian capital with the cliches laid on thick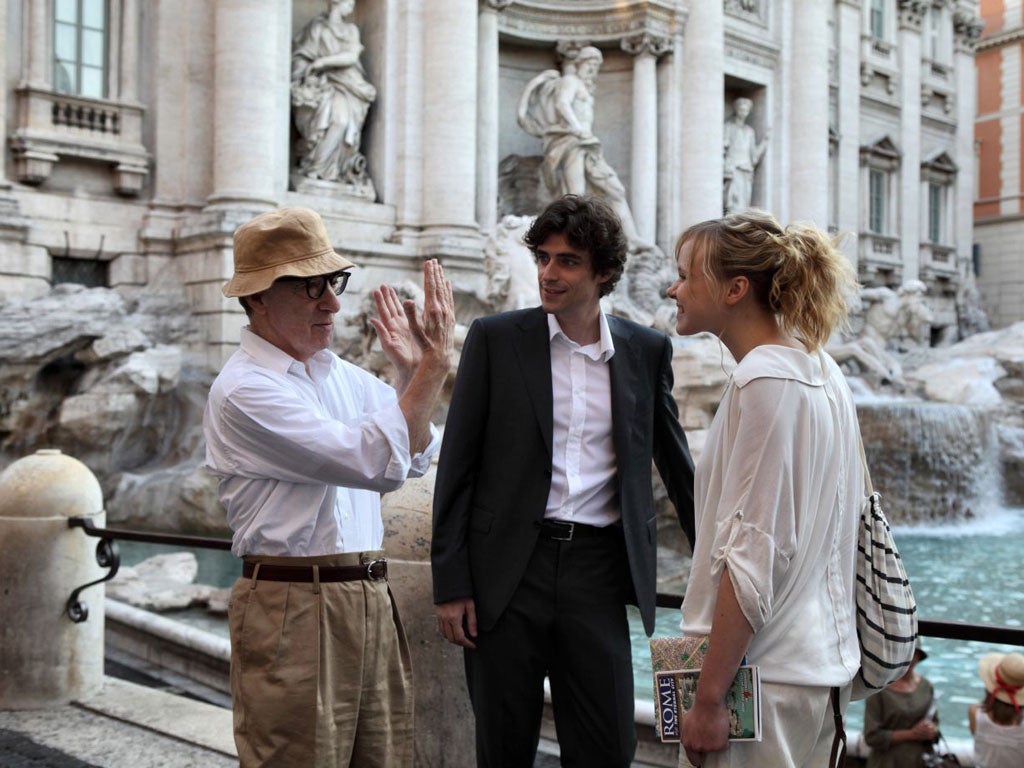 Does Woody Allen have any idea how corny he is these days? His latest comedy, set in Rome, begins and ends with a burst of "Volare" ("Oh! oh!"); he might as well have used "Roll Out The Barrel" in his London films. It's a bitter irony of Allen's career that he's making his most commercially successful movies at a time when he's not merely run out of inspiration, but is uninspired in a way that a film-maker might be who was only capable of doing threadbare Woody Allen pastiches.
To Rome With Love is the latest European stop on the extended Grand Tour on which Allen shuttles from city to city, finding absolutely nothing new in the places he visits. This four-story portmanteau sets the bar slightly lower than its predecessors. Vicky was would-be sophisticated, and Midnight in Paris flattered its viewers with in-jokes about bohemian Twenties Paris: both were luxury amusements aimed at the same audience as those upmarket cruise ads in the New Yorker. But the new film is more for retired Midwestern coach parties, a cinematic souvenir T-shirt of Rome as the capital of opera, vino and amore.
The film starts with the premise that there are a million stories in the Eternal City – as its chorus figure, a comedy carabiniere, tells us at the start. Allen tells four of them, mixing them up in fragments. Not that the stories are connected; rather than creating counterpoint, this structure just makes for a haphazard medley.
At least the tales aren't strictly all-American; two are in Italian. One is a wafer-thin skit on celebrity culture, in which an unassuming citizen (Roberto Benigni) inexplicably becomes famous and finds himself televised as he shaves; Benigni wears a boxy suit and his usual facial expression of a bewildered donkey. Then there's a nod to the Italian marital comedies of the Sixties and Seventies, in the tale of a gauche young out-of-town couple (Alessandra Mastronardi, Alessandro Tiberi); she finds herself pursued by a lecherous actor, he ends up escorting a glamorous prostitute (Penélope Cruz).
Before you object, Cruz is more than Roman enough; as her channelling of Sophia Loren in Volver showed, this Spanish star can be more Italian than the Italians, and she's about the best thing here, gamely bringing grit to the tart-with-a-heart stereotype. But is Allen knowingly playing with stereotypes, and his audience's appetite for them? Or are stereotypes all he's got these days? I fear the latter.
Allen himself plays an opera director with inept experimental leanings, who discovers that his daughter's father-in-law is another Pavarotti – but only in the shower. This episode, a tortuously extended set-up for a throwaway sight gag, shows how much Allen has dropped the ball. The moment he appears, you cringe to see him doing the same old schtick, carping away about his nerves and nausea.
The kvetching was funny in the Seventies, partly because you sensed that Allen's alter egos were actually urbane and confident behind the moaner's mask. These days, with his comic timing severely rusted, it's simply embarrassing. (Does he think we appreciate such self-parody? Is it perhaps a hey-folks-I'm-back gesture, like the moment when JR finally donned his Stetson in episode one of the relaunched Dallas?).
The fourth story carries moderately convincing echoes of the old worldly wisdom. John (Alec Baldwin), an architect nostalgic for his idealistic youth, meets Jack (Jesse Eisenberg), who could be his former self.
Happily co-habiting, Jack has his head turned by sexually upfront, intellectually pretentious actress Monica (Ellen Page). John warns Jack that she's a phony, and sure enough, Monica proves to be just another Hollywood flibbertigibbet beneath her culture-vulture breathlessness. So there are two sour lessons here: life will never match your youthful dreams, and you shouldn't trust a woman who claims to have a brain.
Access unlimited streaming of movies and TV shows with Amazon Prime Video
Sign up now for a 30-day free trial
Sign up
Access unlimited streaming of movies and TV shows with Amazon Prime Video
Sign up now for a 30-day free trial
Sign up
Although acted with grace by all concerned, this episode is hopelessly stale: Page's babbling pseud seems barely different from her counterparts in Allen's Seventies work.
Allen apart, there's only one really bad performance here, and that's Rome itself. The city tries too hard, but can't do anything except resemble the place we've seen time and time again – the Spanish Steps, the "Typewriter", the Trevi fountain …. But I suppose it's not Rome's fault if Allen and cameraman Darius Khondji lay on the golden glow so that every building seems to be made of caramel. Still, if you liked Allen's recent postcard movies, you're unlikely to object to this one, a film as innocuously sugary as the complimentary limoncello after your trattoria set menu.
Join our commenting forum
Join thought-provoking conversations, follow other Independent readers and see their replies