Truth, film review: Similarities with Spotlight but it's a dramatic muddle
(15) James Vanderbilt, 125 mins. Starring: Cate Blanchett, Robert Redford, Topher Grace, Dennis Quaid, Elisabeth Moss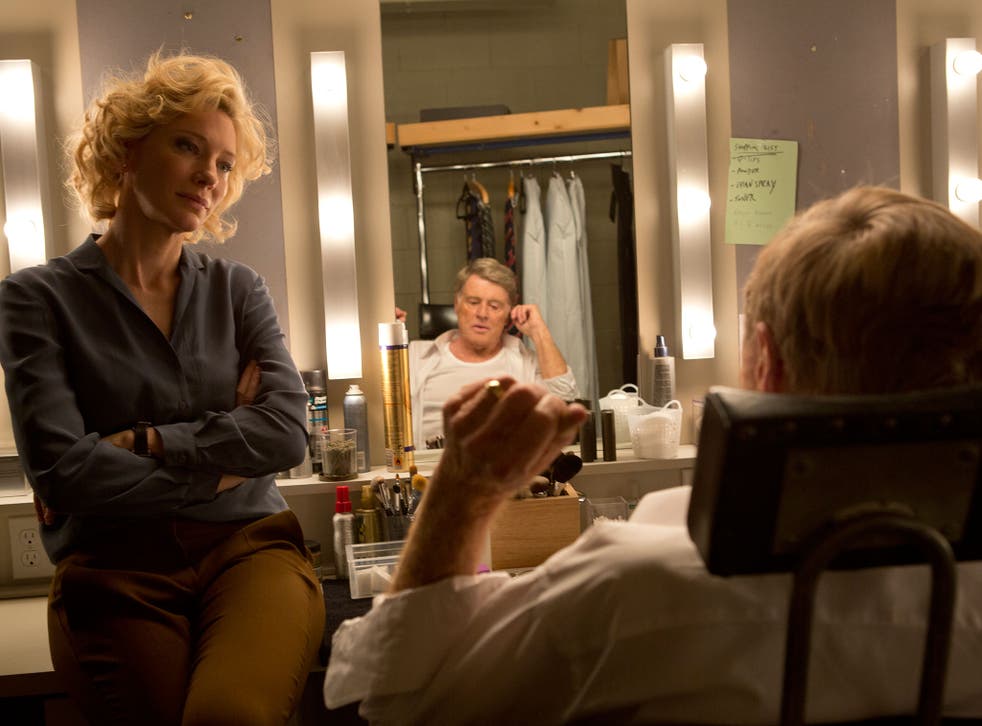 James Vanderbilt's new feature is titled Truth but it might just as well be called That Awful Sinking Feeling. The film shares several hallmarks of the typical Hollywood movie about crusading journalists. In its depiction of the news gathering, the cultivation of sources, and overworked researchers and reporters eating too much junk food as deadlines beckon, Truth has obvious similarities with this year's Oscar-winner for Best Picture, Spotlight. The difference here is that the journalists make a mess of their story. That is what makes Truth so unusual and so fascinating. It's a big Hollywood movie about failure. All the rousing speeches can't paper over the fact that Truth deals with what one former CBS President called, "The worst embarrassment in the history of CBS News."
Cate Blanchett gives another bravura performance as CBS News producer Mary Mapes, but there has been no talk about Oscars for either her or the movie this time round. It's as if the film itself has become tainted in the same way as the careers of its real-life protagonists.
Truth tells the story of how, during the run-up to the 2004 US Presidential election, 60 Minutes II, presented by news anchor Dan Rather (Robert Redford), reported that President George W Bush had shirked his duties while serving in the Texas National Guard. The report was based on the so-called Killian documents in which Bush's commander appeared to criticise the future President's behaviour.
Culture news in pictures

Show all 33
Truth opens with Mapes meeting a bearded, severe-looking man in an office. At first, it seems as if this is a job interview. (The man's real identity isn't revealed until much later.) Mapes is a mixture of distress and defiance. Blanchett captures brilliantly the character's conflicting emotions. We can tell by her bloodshot eyes, tousled hair and nervous manner that she is stressed and tired. At the same time, the actress still has that imperious quality we know from so many of her other roles.
The film-makers make sure we realise Mapes is an experienced and resourceful journalist. She played a key role in revealing American excesses at Abu Ghraib. She is not the type to betray sources or to cower in the face of authority. She's "a hell of a reporter," we are told.
The 60 Minutes team follow a trail of contacts and documents that appear to reveal Bush's wrongdoing. Their key source, wheezing former military man Bill Burkett (Stacy Keach), is plausible enough. Not only does he provide copies of memos, but he also gives Mapes and her team the names of people who can corroborate the allegations. The CBS team is painstaking in its research – or, at least, as painstaking as it can be given the very limited time they have before transmission date.
As in conventional, celebratory movies about journalists, there is glad-handing and exhilaration when the story elements fall into place. Mapes can't resist a "gotcha" feeling that she and her team have finally skewered Bush. Then, the backlash begins. The authenticity of the documents is called into question. Bloggers claim that they were typed using fonts and punctuation styles that only became widely available in the computer age. If this is the case, they may be forgeries.
Truth is very good at showing how managers at senior corporations try to shift the blame as soon as anything goes wrong. It is effective, too, in its satirical sideswipes at the media. The messenger becomes the story and Bush's misdeeds are conveniently forgotten. Mapes may not be able to prove the authenticity of the documents but none of the rival news organisations gunning for her can prove they are fakes. Instead of trying to find out if there is any truth in the allegations against Bush, these organisations (and, eventually, CBS itself) concentrate on the documents, asking why 60 Minutes used them if they weren't certain of their provenance.
This question can't be answered in a way that works satisfactorily for a big, mainstream Hollywood movie. We are in the realm of doubt, obfuscation and dirty tricks. As a case study in journalism and ethics, the film is intriguing. As drama, it stutters.
Access unlimited streaming of movies and TV shows with Amazon Prime Video Sign up now for a 30-day free trial
Sign up
We are never sure what kind of larger truth Vanderbilt (best known previously as the screenwriter of Zodiac, The Amazing Spider-Man and White House Down) is digging after. The script pulls in contradictory directions. On the one hand, it is a closely focused and very personal drama about an ambitious and brilliant woman whose career implodes. There are continual references to Mapes' family background: the abusive father who beat her up for asking too many questions, and her struggles to balance her family life with the all-consuming demands of her job at 60 Minutes, described as "the gold standard" for broadcast journalism.
At the same time, the film is a lament for the ending of Dan Rather's lengthy service at CBS. Rather is played by Redford as a man of loyalty, dignity and complete probity – a gruff, hard-drinking but avuncular figure who stands by Mapes. Like David Strathairn's Ed Murrow in Good Night, and Good Luck, he is the journalist as folk hero. In the aftermath of the 60 Minutes report, his reputation suffered and he stepped down from his job soon afterwards.
Truth also lurches off in other directions. There are elements of conspiracy theory. In one monologue, we hear speculation that Viacom, CBS's parent company, needed to keep the White House on side and didn't stand by its journalists. In another powerful but incongruous scene, the wife of a sickly man berates the 60 Minutes team for their callousness toward their own sources. They're too busy pursuing Peabody awards to pay attention to the "ordinary" people whose lives might be ruined by their reporting.
Nothing approaches resolution here. Mapes displays a Popeye-like stubbornness ("I am what I am") in the face of her critics but that doesn't make her right: and nor does it explain for just what purpose this film was made.
Register for free to continue reading
Registration is a free and easy way to support our truly independent journalism
By registering, you will also enjoy limited access to Premium articles, exclusive newsletters, commenting, and virtual events with our leading journalists
Already have an account? sign in
Register for free to continue reading
Registration is a free and easy way to support our truly independent journalism
By registering, you will also enjoy limited access to Premium articles, exclusive newsletters, commenting, and virtual events with our leading journalists
Already have an account? sign in
Join our new commenting forum
Join thought-provoking conversations, follow other Independent readers and see their replies