Vicky Cristina Barcelona, Woody Allen, 96 mins, 12A
Allen takes two girls on a summer holiday and produces his best work in at least a decade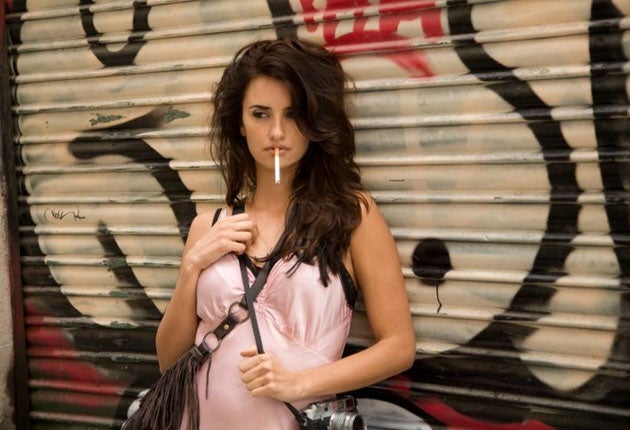 The 21st century has been tough for us Woody Allen fans. We've had to squirm through Small Time Crooks, Anything Else, Match Point and the rest, scanning the screen for the faintest trace of the great man's erstwhile genius, which is why the first few minutes of Vicky Cristina Barcelona are so tantalising. There's zesty flamenco music, and there's golden sunlight which makes both the actresses and the architecture look fantastic. Suddenly, we've got the prospect of something we never thought we'd see again: a new Woody Allen film that's not physically painful to watch.
It opens with two friends – Vicky and Cristina, of course – arriving for a summer holiday in a Spanish city you can probably guess. Vicky, played by Rebecca Hall with Mia Farrow's accent and Allen's own nerviness, is proudly sensible. Cristina, played by Scarlett Johansson, sees herself as the duo's free spirit. No sooner have they ticked off all the Gaudi buildings in the guidebook – and you get the impression that that's about as far as Allen's research went – than they're approached by a Catalan painter, Javier Bardem, who invites them with hilarious directness to spend the weekend with him. Vicky gives him short shrift, but Cristina jumps at the offer. Nothing could suit her bohemian, spontaneous self-image more than to dash off with a hot-blooded stranger. However, she hasn't reckoned on Bardem's volcanic ex-wife, Penelope Cruz, who knows more about being bohemian and spontaneous than Cristina ever will. By the time Cruz appears, Vicky Cristina Barcelona has delivered on those initial good omens: it's Allen's best film in at least a decade.
What separates it from his catastrophic recent work is that instead of straining for zany comedy or solemn drama, he lets the tone settle somewhere in between. As in the likes of Manhattan and Hannah and Her Sisters, the comedy and drama both flow naturally from characters who are as confused and contradictory as any of us. The wonderful performances help, too. Cruz is a worthy Oscar nominee, but all four of the main actors make Allen's sometimes clunky dialogue come alive. Bardem and Cruz's ability to do so in two different languages is quite something.
Allen's characters, with their untidy bundles of conflicting emotions, stand in stark contrast to the cardboard cut-outs in He's Just Not That Into You, an ensemble romantic comedy which also features Scarlett Johansson. An entire film spun out of the supposedly revolutionary insight that when a man is horrible to a woman then he probably doesn't like her very much; it reduces each of its characters to a single relationship issue: Jennifer Aniston wants to marry her reluctant boyfriend, Ben Affleck; Jennifer Connelly wants children with her reluctant husband, Bradley Cooper; Drew Barrymore wants to find love on the internet; and so on. It's depressing to see such charismatic actresses playing such pathetic, anti-feminist stereotypes, but the men tend to be loathsome Neanderthals, so at least the film is even-handed.
Two of Penelope Cruz's competitors in the Best Supporting Actress category are Amy Adams and Viola Davis in Doubt, a drama set in a Catholic school in the Bronx in 1964. Meryl Streep is the headmistress, a nun in a black bonnet who can freeze the blood of every child in the school, and half of its staff, with one peer down her nose. Streep's nun is a strict traditionalist who condemns "Frosty the Snowman" as a hymn to pagan black magic, and she's at odds with Philip Seymour Hoffman, a priest and basketball coach who wants the church to be friendlier and less formal.
A young nun, played by Adams, is torn between their two attitudes, but when she suspects Hoffman of abusing an altar boy – the school's first and only black pupil – she reports her concerns to Streep, even though she doesn't have any evidence.
Anyone who watches films for the acting should buy their ticket immediately. As well as Adams and Davis, who plays the boy's mother, both Streep and Hoffman are Oscar nominees, and Streep, in particular, is phenomenal: she begins as a witch-like villainess and becomes increasingly human with each tiny gesture. But Doubt is ultimately more a collection of electrifying confrontations than a fully realised film. The dia-logue strikes sparks, but what it's actually saying about doubt, or anything else, isn't clear.
Also showing: 08/02/2009
Bolt (101 mins, PG)
Bolt is a dog (voiced by John Travolta) who plays a bionic puppy in a TV spy serial. Thanks to some shamelessly contrived plotting, he believes that he has super powers in real life, so when he's accidentally flung out of the television studio and on to the streets of New York, it takes a streetwise cat and a (very funny) excitable hamster to teach him that he can't demolish buildings with a single bark. 'Bolt' is the first Disney cartoon to be made since Pixar supremo John Lasseter took charge, and both animation and script show every sign of the tender loving care that distinguishes Pixar's output. It's far better than any of Disney's last few cartoons, but it's still missing the timeless quality of its classics. All the hip Hollywood in-jokes about slimy agents and tyrannical network bosses are a long way from 'Snow White' and 'Cinderella'.
The Secret of Moonacre (103 mins, U)
Elizabeth Goudge's children's fantasy novel 'The Little White Horse' was one of the inspirations for the Narnia chronicles and the Harry Potter series, but this abominably shoddy adaptation won't be inspiring anyone. Dakota Blue Richards, who starred in 'The Golden Compass', plays a haughty orphan who is sent to live in the country with her grumpy uncle, Ioan Gruffudd. At the same time, she's given a book that reveals that her home is under a random curse that can be lifted only if she carries out some random task.
Nicholas Barber
Join our commenting forum
Join thought-provoking conversations, follow other Independent readers and see their replies