Victoria & Abdul review: Judi Dench stars in a poignant look at the end of Queen Victoria's reign
She also knows just how to portray the Queen as an ill and vulnerable old woman. Her performance feels utterly authentic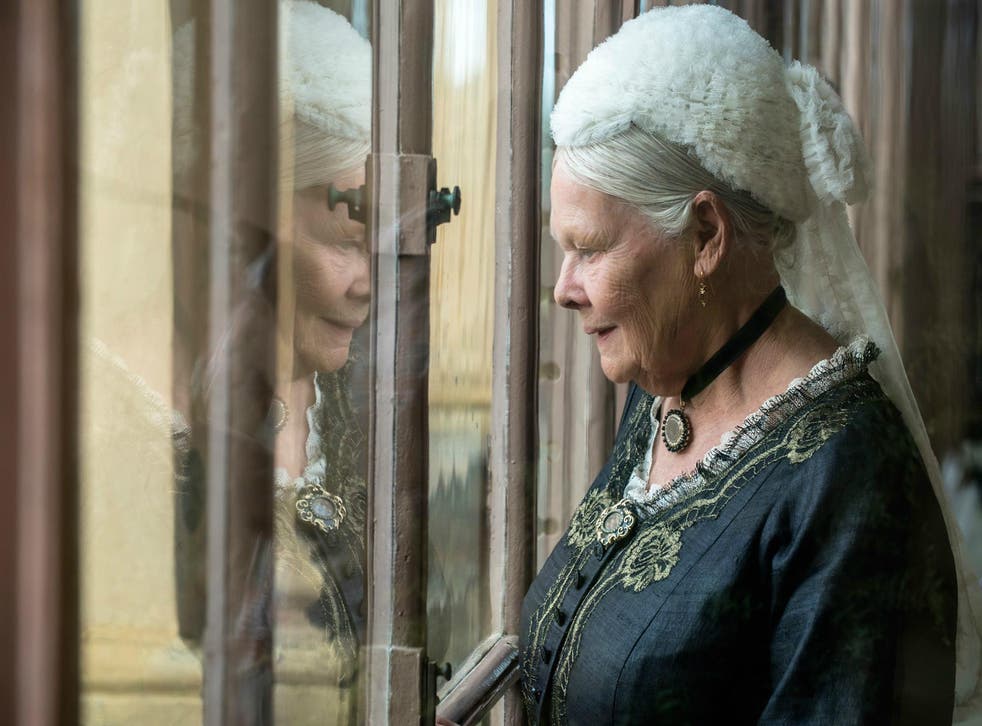 Stephen Frears, 112 mins, starring: Judi Dench, Ali Fazal, Michael Gambon, Eddie Izzard, Adeel Akhtar, Olivia Williams
She's 81 years of age. She has nine children and over 40 grandchildren. She is "fat, lame and impotent". At state dinners, she eats too much and then she falls fast asleep. She is continually bemoaning her own fate. "Everyone I really love has died and I just go on and on," she says at one stage, as if she is an old lithium battery that never quite runs out of juice.
This is Queen Victoria at the end of Stephen Frears' entertaining and poignant new drama, Victoria & Abdul. What the details above don't begin to acknowledge is that Victoria, at least as played by Judi Dench, is by far the most lively and attractive character in a movie in which almost everyone else is on the repulsive side.
The impression that the politicians and her own family give Victoria here is that she has long outstayed her welcome. She may be the figurehead of the British Empire but whether it's her private secretary Sir Henry Ponsonby (one of Tim Pigott-Smith's final performances before his untimely death), her scheming and self-centred son Bertie (an unusually sour faced and scowling Eddie Izzard) or Prime Minister Lord Salisbury (Michael Gambon), everyone wants her gone.
"The most important thing is you must not look at her," the Muslim servant Abdul (Ali Fazal) is told when he is recruited to make a presentation to Queen Victoria at a ceremonial event in India marking the Golden Jubilee. This is advice that he completely disregards. Surrounded by toadies who avoid her gaze and stare at her behind her back, she is delighted to lock eyes with Abdul. It helps, of course, that he is so personable and so good-looking.
Victoria & Abdul is clearly intended as a companion piece to John Madden's Mrs Brown (1997) in which Judi Dench was Oscar nominated for her performance as Queen Vic. Back then, the strapping Scottish ghillie John Brown put a bit of pep back in the ageing monarch's life after the death of her beloved Prince Albert. Twenty years on from that movie, Dench's Victoria is still pining for Albert and she still has an eye for tall and handsome younger men.
Lee Hall's screenplay is very witty but we know from the outset that Hall has taken considerable liberties with the facts in order to make a better story. The film is "based on real events… mostly." It is an account of how Victoria befriended Abdul and ended up giving him a position at court roughly akin to that enjoyed by Rasputin in the household of Tsar Nicholas.
Abdul (played with engaging boyish charm by Fazal) isn't exactly a mad monk. He is the Queen's "Munshi", which seems to mean he's her adviser, secretary and general toy boy. He has been brought to Britain against his will but, once stuck there, decides to make the most of it.
Victoria And Abdul - Trailer
Frears enjoys himself showing up the absurdities of court etiquette. Whenever there is a dinner at court, no one can eat until Victoria starts her food. Then, the moment she has wolfed it down, everyone else's plates are removed, regardless of whether they've finished or not.
Access unlimited streaming of movies and TV shows with Amazon Prime Video Sign up now for a 30-day free trial
Sign up
Her courtiers have spent many years learning how to fawn and walk backwards. We see the Queen having a very formal picnic in the heather on a cold, wet, Scottish summer day in the Highlands. Everything in Scotland is "scratchy," we are told as Abdul tries to get to grips with tweed.
In spite of the jaunty tone in the first half of the film, much of Victoria & Abdul is dispiriting. The white British are shown here to be insular and even downright racist. Aristocrats and servants alike are deeply suspicious of the Indian in their midst. "But he's a Muslim!" is a familiar horrified refrain once they've worked out that Abdul isn't actually Hindi as they had originally thought.
"He comes from a very low family and he is coloured," is another complaint. They're appalled when they discover his wife, summoned over from India, wears a burka. There are suspicions he has venereal disease. Only Queen Victoria herself is enlightened and tolerant enough not to indulge in good old-fashioned British prejudice and hypocrisy.
As Abdul's influence at court rises, Bertie and co conspire ever more bitterly against him. There are hints of a sexual attraction between her and Abdul but the film doesn't delve too far into what would be dangerous territory. Abdul himself is portrayed as charming but opportunistic.
One reason he has found such favour is that he is tall, dark and handsome. His long-suffering and diminutive friend Mohammed (Adeel Akhtar), who has come over to Britain with him, enjoys no such good fortune. By the end of the film, as his own health fails, Mohammed is every bit as exasperated with Abdul as Bertie himself. "He crawls up the stinky, creaking ladder of the shitty British," he complains of Abdul.
The final section of Victoria & Abdul is the weakest. The filmmakers belatedly try to convince us this is an epic love story, not a satirical comedy of manners. They strive after a big emotional pay-off which the story simply can't provide.
Dench, though, is magnificent throughout and surely deserves yet more award nominations for following Anna Neagle's example and playing Queen Vic for a second time. She is haughty and imperious when she needs to be but brings quiet humour and tenderness to the role too.
She also knows just how to portray the Queen as an ill and vulnerable old woman. Whatever liberties Frears and co may have taken with historical fact, her performance feels utterly authentic.
Victoria & Abdul hits UK cinemas 15 September.
Join our new commenting forum
Join thought-provoking conversations, follow other Independent readers and see their replies