Wander Darkly review: An enchanting supernatural romance that struggles to make sense of itself
Tara Miele's film wants to be about the messiness of love – but that's a riddle that can't be solved, and the film suffers for thinking otherwise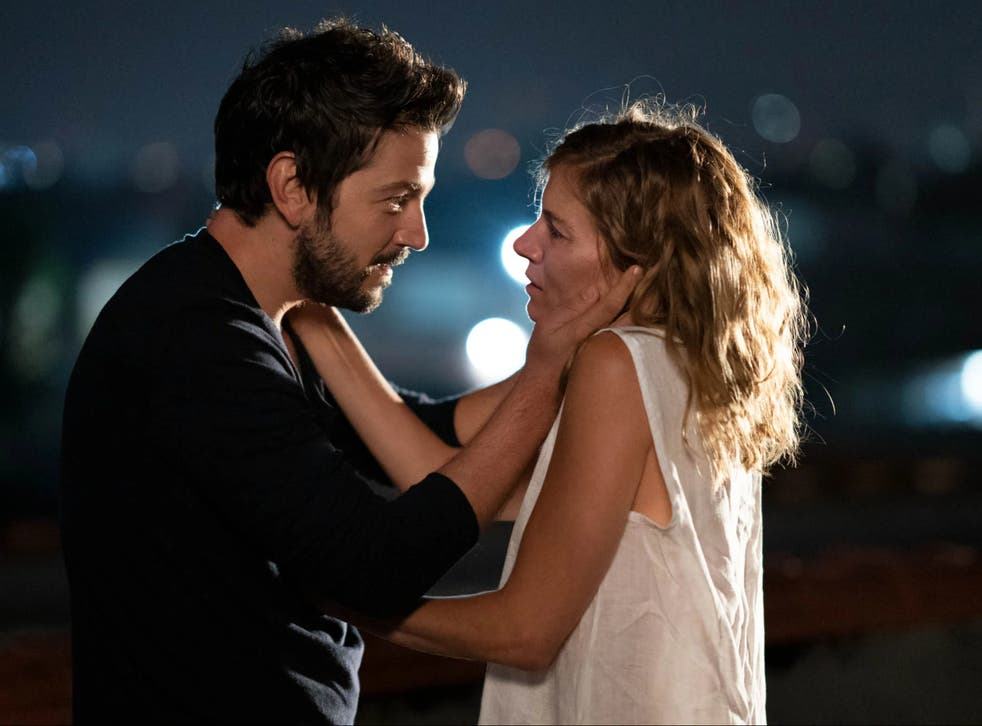 Dir: Tara Miele. Starring: Sienna Miller, Diego Luna, Beth Grant, Aimee Carrero, Tory Kittles, Vanessa Bayer. 15 cert, 97 mins
Wander Darkly is a romantic drama that waltzes with the metaphysical. It's an enchanting idea – a woman who's convinced she's dead retraces the rise and fall of her relationship – even if the film sometimes struggles to make sense of itself. We open on a date night between Adrienne (Sienna Miller) and Matteo (Diego Luna). It doesn't take long for the cracks to show; the six-month-old at home may represent a failed attempt at romantic resuscitation, and there's a whiff of infidelity in the air. On the car ride home, an argument erupts. And, just as Matteo admits they may have finally reached an impasse, a truck comes screeching into frame.
Adrienne wakes up in the hospital and finds herself staring down at her own corpse. What follows is an attempt to invoke the slippery quality of memory, as she travels back and forth in time – like busy fingers rifling through a filing cabinet, hungry for answers to a half-thought-out question. When did Adrienne and Matteo's love for each other die? Or is it still there, just weak and damaged? Matteo's backyard woodshop will suddenly be invaded by the waves of a Mexican beach, where the couple once travelled to meet his family.
The fluidity of Tamara Meem and Alex O'Flinn's editing here is astonishing, and heavily reminiscent of 2004's Eternal Sunshine of the Spotless Mind – though director Tara Miele never pushes for the same level of absurdity. It actually makes these sequences less believable – or at least a little too neat. Matteo and Adrienne are allowed to stand on the sidelines of her memories as observers and commentators, as they rehash the details of when they first met, when they first said "I love you", and when their eyes first started to wander.
But there's something beautiful, and almost lyrical, about how these characters relate to each other – Miller and Luna simultaneously convince us that their characters were once madly in love and that they might ultimately be incompatible. There's a quiet, restless romanticism to Luna's performance and a sharpness to Miller's. Her crumpled expressions and bitter laughter hint at a dissatisfaction she felt long before shuffling off this mortal coil. With Miller having already delivered a command performance in last year's American Woman, it seems the actor is finally getting her dues, having so often been underserved by her material in the past.
There is a twist in this story. Adrienne may not actually be dead, but suffering from Cotard's syndrome, which causes the delusional belief that one is dead or no longer existing. Some scenes take place in what appears to be an objective reality. They may or may not contain clues. There are sudden interjections of horror – Adrienne keeps seeing a hooded figure, perhaps the spectre of death. But Miele, who also wrote the film's screenplay, wraps her film up in knots in order to service a mystery that never strays beyond the conventional. Wander Darkly wants to be about the messiness of love – but that's a riddle that can't be solved, and the film suffers for thinking otherwise.
Join our new commenting forum
Join thought-provoking conversations, follow other Independent readers and see their replies