X-Men: Apocalypse, film review: 'Mind-bending trip of a movie is likely to exhilarate spectators'
Expect a tremendous final battle but a mind-boggling numner of loose-ends
Geoffrey Macnab
Thursday 19 May 2016 14:01 Comments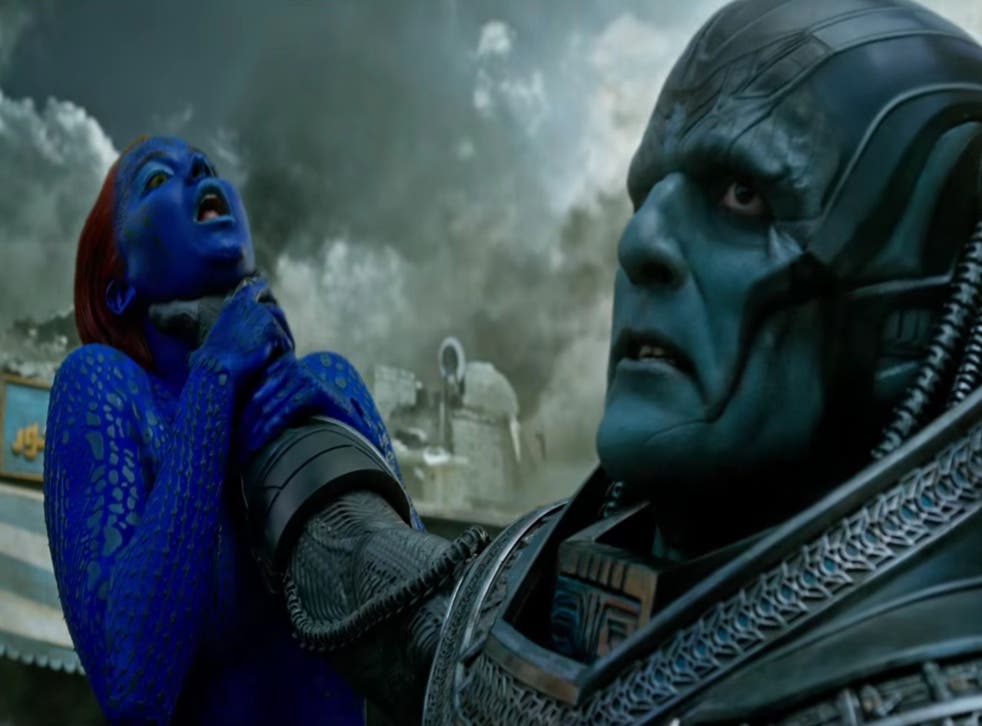 X-Men Apocalypse is a mind-bending trip of a movie, one likely both to exhilarate spectators and to leave many either with severe feelings of sensory overload or scratching their heads. Like its predecessors in The X-Men series, it combines extraordinary special effects with cartoonish characterisation; moments of very dark sturm und drang with scenes that might have been lifted from a kids' TV series. It is certainly spectacular. There is no sense at all that audiences are being short-changed or that the franchise is petering out; if anything, the film feels re-energised by the introduction of several new "mutant" faces.
The action begins here in the Nile Valley in 3600BC, where the original mutant Apocalypse (an unrecognisable Oscar Isaac) is first trying to wreak havoc. Over the credits, we are then whisked thousands of years through a time tunnel. In 1983, he reawakens. "I have returned," he growls in his impressively amplified and eerie voice. With his green cased armour plating, he looks like a more malevolent version of a teenage mutant turtle.
Apocalypse gathers together his four horsemen and prepares to bring the world to ruin.
X-Men: Apocalypse - Trailer
The film is set in the 1980s, the era of Reagan and Brezhnev. The period isn't recreated with any great conviction, although we do hear the Eurythmics' "Sweet Dreams" on the soundtrack at one stage.
Sophie Turner (Sansa Stark from Game Of Thrones) is very impressive as a younger version of the telepathic Jean Grey whose blessing (or curse) is to know "what everyone feels". Tye Sheridan also registers strongly as a young Cyclops, first seen as a high-school student with a hint of James Dean about him, who is trying to come to terms with the fact that he has a gaze fiery enough to burn trees in half. Kodi Smit-McPhee is the young, long-tailed Nightcrawler with a neat knack of disappearing at moments of danger.
Newcomers in villainess roles include Olivia Munn, looking a little like a dominatrix version of Wonder Woman as Apocalypse's sidekick Psylocke and Alexandra Shipp as fiery, mohawk-haired Egyptian street punk Storm.
Many of the old-timers are here too. Michael Fassbender's Erik/Magneto has re-invented himself as a blue-collar factory worker in a picturesque part of Poland and is living an idyllic life with his wife and daughter – at least until his past catches up with him. Jennifer Lawrence's Raven/Mystique still turns a glistening blue whenever there is an action sequence. Wolverine is seen, very briefly. Rose Byrne is back as CIA agent Moira MacTaggert, severe but glamorous. She has no recollection of wheelchair bound mutant genius Charles Xavier/Professor X (James McAvoy) but he still dotes on her.
One of the problems with the X-Men, at least for non-devotees, is the bewildering number of protagonists and interlinking plot-lines far more embroiled than those of even the longest-running Reg Grundy soap operas.
When Apocalypse finally begins his wrecking spree, top ranking US military bosses work out with the help of their scientists that anything built since the bronze age is likely to be destroyed. That, someone helpfully glosses for us, actually means "the whole goddam world." At least, we know where we stand.
The final battle here is staged with tremendous ingenuity. It's both a war of minds, being waged in the Alice In Wonderland-like world of the joint consciousnesses of Armageddon and Professor X, and a very physical affair in which the mutants set about each other in predictably explosive fashion. In amid the shots of bridges collapsing and skyscrapers turning to dust in best 3D slow motion, there is lots of scientific jargon as well as philosophical discussions between Professor X and Magento about the nature of good and evil. Director Bryan Singer is a past master at mixing hokum with highbrow elements – in combing scenes of cosmic destruction with scenes in which characters manage to save themselves by the simple, old-fashioned expedient of hiding behind a wall. X-Men Apocalypse is very rousing fare even if it does leave a mind-boggling number of loose ends and unanswered questions.
Click here to preorder an exclusive X-Men: Apocalypse Limited Edition Steelbook from HMV
Register for free to continue reading
Registration is a free and easy way to support our truly independent journalism
By registering, you will also enjoy limited access to Premium articles, exclusive newsletters, commenting, and virtual events with our leading journalists
Already have an account? sign in
Join our new commenting forum
Join thought-provoking conversations, follow other Independent readers and see their replies